2017-2018 Player Profile: Justin Smith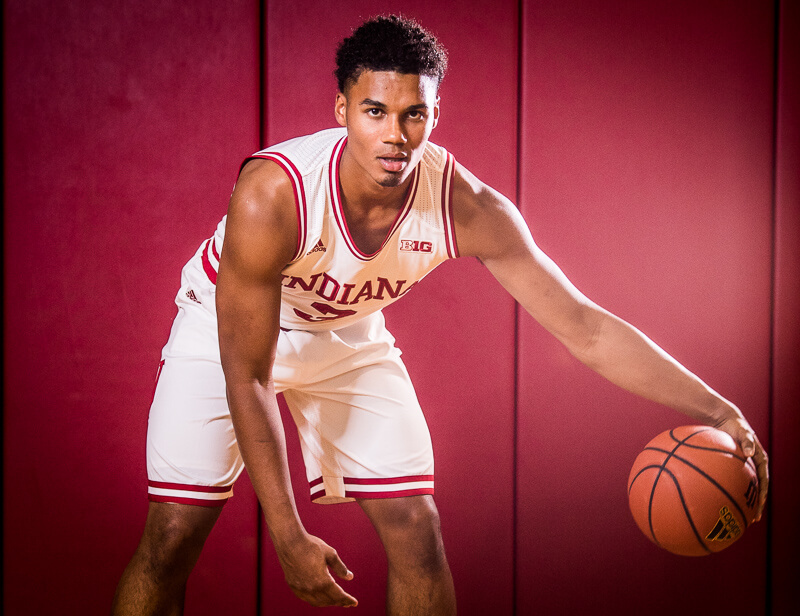 With the start of college basketball season on the horizon, we've transitioned from our look at other Big Ten programs to our player-by-player previews of the 2017-18 Indiana roster. Today, our profiles begin with a look at Justin Smith.
Adlai Stevenson (Ill.) product Justin Smith is Indiana's highest ranked incoming player and the athletic, high flying forward should challenge for a rotation spot immediately in Bloomington.
The 6-foot-7 forward averaged 21.7 points and 10 rebounds as a senior at Stevenson and was named second team All-State in Class 4A by the Associated Press.
Smith was one of the first major recruiting wins for Archie Miller and the new Indiana coaching staff. After Tom Crean was dismissed in March, Miller and his staff made it a priority to keep the talented wing in the fold.
It didn't take long for Smith to decide that he wanted to stick with his commitment.
"Archie Miller looked each of us in the eye and he didn't sugarcoat anything," Smith's father, Edward, told Inside the Hall in April. "He said it's going to be tough, it's going to be hard, but with hard work, the rewards will be there. And he said it with conviction and honesty. That's what you look for in a guy. And he's prepared. My gosh is he prepared."
As is the case with most freshmen, it may take some time for Smith to adjust to the college game, particularly in the Big Ten.
But from a strength and conditioning standpoint, he appears to be ahead of most of his peers and doesn't look like a typical 18-year old.
"(Smith) won't be the normal freshman that's kind of too skinny and too weak," Patrick Ambrose, the head coach at Adlai Stevenson, told Inside the Hall in early September. "Not that he'll be Caleb Swanigan and throwing people around, but he's not going to come in as a weakling. He is a strong, strong high school graduate. I think he's got a real bright future at Indiana."
Smith topped Indiana's max vertical testing in July with a 42.5-inch leap and as a senior at Adlai Stevenson, he threw down 75 dunks.
In his final year on Nike's Elite Youth Basketball League (EYBL) circuit, Smith averaged 9.4 points on 47 percent shooting on 2s and 19 percent shooting on 3s. At Indiana's media day last month, he acknowledged that working on his perimeter shot has been a major focus since arriving on campus in June.
"Right when I came in, we started working on it," Smith explained. "We kind of made some tweaks. I'm working on it every day after practice, before practice, just trying to get it to where it needs to be for when the season starts."
As for the speed of the college game, Smith said it didn't take long to get acclimated after a brief adjustment period.
"You have to really be paying attention, especially during drills and stuff like that," he said. "So I mean, the speed was quite an adjustment, but after a couple weeks, you kind of get used to it."
Bottom Line: Smith is already Big Ten ready from an athleticism standpoint, but he'll need to prove himself capable of hitting perimeter shots to keep defenses honest. He's a tremendous finisher at the rim and in transition and should provide energy off the bench as a freshman. Defensively, he has the tools to succeed in Miller's pack-line defense and is an unselfish player who should quickly grow into a fan favorite.
Quotable: "Justin Smith, from Illinois, is probably the guy I've seen the most. Probably comes in as an elite athlete, talent. About 6-foot-6. Can really play above the rim. Oozes with potential. I think the one thing is to redefine him, is to figure out how he impacts the game shooting the ball and doing some things as a freshman. From a talent perspective, he's one of the more talented guys entering the league." – Miller on Justin Smith in June.
Filed to: 2017-2018 season preview, Justin Smith