Freshman Focus: Justin Smith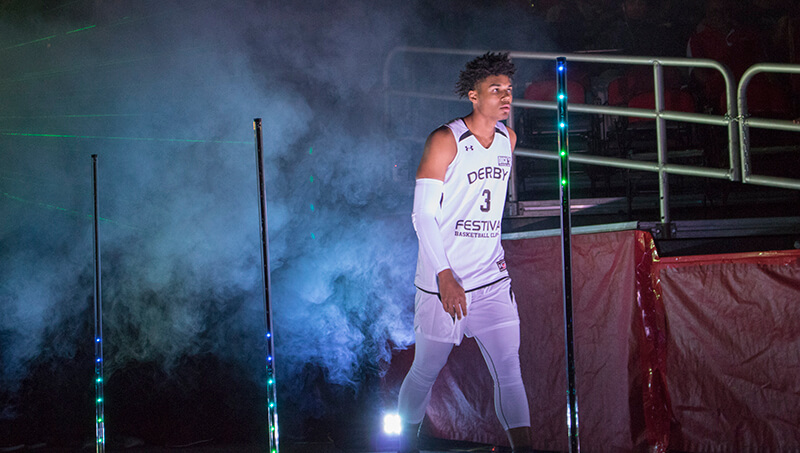 "Freshman Focus" is an Inside the Hall series on each of Indiana's incoming freshmen. Today: Justin Smith.
Justin Smith has been electrifying gyms since he walked through the doors of Adlai Stevenson High School as a 6-foot-5 freshman.
"You could see that kind of bounce, that explosion his freshman year," said Patrick Ambrose, the head coach at Adlai Stevenson. "By his sophomore year, he was really dunking very well already. He was 6-foot-6 and had a tremendous vertical. By junior year he was just dunking with absolute ease. By senior year, almost everything was a dunk in close. If you threw any lobs to him his senior year, it was exciting and through the roof where he could catch it that high and dunk it as well. It's incredible. He's really got an exceptional vertical leap."
When Clif Marshall, Director of Athletic Performance for IU basketball, tested the team's maximum vertical leaps back in June, it should come as no surprise that Smith topped the charts.
But make no mistake, dunking is not the only weapon in Smith's arsenal. Smith's defensive capabilities, skill set and frame allowed him to play three positions in high school.
Throughout his time at Adlai Stevenson, Smith lit up the stat sheet and helped lead his team's deep into the playoffs. As a senior, Smith posted 16 double-doubles, including a 32-point, 16-rebound performance on senior night.
"Anytime there was a bigger game, Justin would be willing to step up," Ambrose said. "When his motor was really high, it was very, very hard to stop him."
During his sophomore year, Smith, playing alongside point guard Jalen Brunson, was part of a team that won the Class 4A Illinois State Championship. Brunson, now a junior at Villanova, helped instill in Smith the qualities necessary to succeed at the next level.
"Even as a high school junior and senior, (Brunson) was more like an adult," Ambrose said. "I think Justin really realized that you've got to bring it every day, you have to be a great leader, you have to take the hits, and even though you're the superstar, you have to be that face of the program. Justin really learned those things from Jalen. There's not a better person in the world to learn it from than Jalen Brunson."
The only top 100 player in the class of 2017 to commit to Indiana, Smith passed up offers from Villanova, Stanford, Wisconsin, Xavier and Illinois (where both of his parents graduated). Ambrose said when Smith committed to the Hoosiers in Sept. 2016, his relationship with Tom Crean, the academics and the short distance from home were major factors.
After the coaching change, Ambrose said that Archie Miller and his staff did an excellent job at 're-recruiting' Smith.
"Archie and (assistant coach) Bruiser Flint came in and did a great presentation on where he fits in and how he'd be utilized in the Archie Miller offense and defense," Ambrose said. "I think there was no walking away for Justin. There was just hesitation, like 'Who is this new guy? What's he going to do and how is he going to use me?' Archie really assured him that there are so many great things at Indiana that are still there. The business school, the university, the distance, the Big Ten. Us coaches, we're going to treat you right. And the opportunity, also, for Justin, too. He recognizes this. He's on the ground floor of something great happening there."
Although Smith still needs to significantly improve his handles and passing abilities, Ambrose said Smith has been working for years on getting his body in 'Big Ten shape.'
"(Smith) won't be the normal freshman that's kind of too skinny and too weak," Ambrose said. "Not that he'll be Caleb Swanigan and throwing people around, but he's not going to come in as a weakling. He is a strong, strong high school graduate. I think he's got a real bright future at Indiana."
Filed to: Freshman Focus, Justin Smith