2017-2018 Player Profile: Devonte Green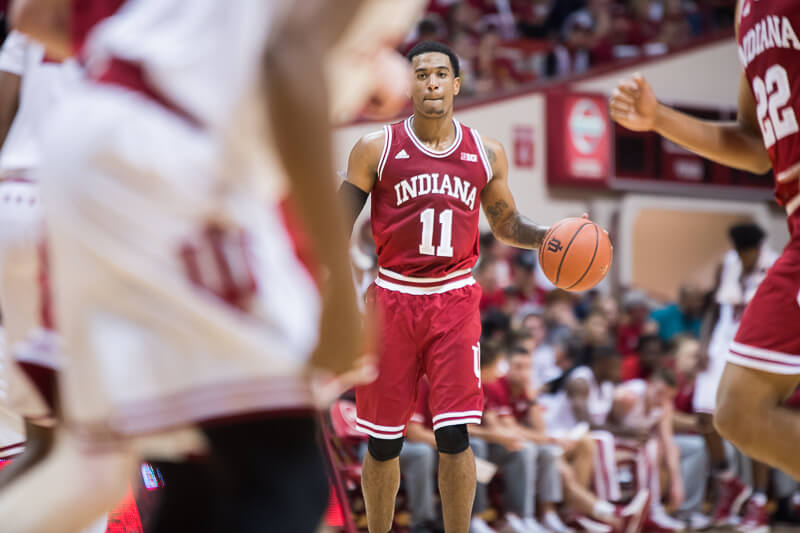 With the start of college basketball season on the horizon, we've transitioned from our look at other Big Ten programs to our player-by-player previews of the 2017-18 Indiana roster. Today, our profiles continue with a look at Devonte Green.
If Saturday's scrimmage at Hoosier Hysteria is a sign of what's to come this season for Devonte Green, the sophomore guard appears to be in line for a breakout campaign.
He led all scorers in Indiana's first public scrimmage with 14 points and was the best player on the floor for the red team, which prevailed 40-31.
Green didn't lack confidence as a freshman as he averaged 4.4 points in 15.2 minutes per game, including three starts. The New York native shot 43.6 percent on 3s, 45.1 percent on 2s and 70.4 percent from the free throw line in his first season.
Where he struggled, however, was taking care of the ball. Green had a turnover percentage of 28.8 percent, the highest mark on the team. At media day in late September, Archie Miller hinted that he'd like to see Green attempt to make the simple play more often.
"He's definitely an East Coast guard. He's got a lot of confidence in himself," Miller said. "He's got a lot of city in his game, in terms of how he maneuvers, plays. He's got a lot of style. Now, we've got to take a little bit of the style and tone it down. Just to get a layup, it doesn't need to be that pretty type of thing. Or don't try to make the play every single time.
"But he's done a really nice job, and I think, in identifying him here early, he's a guy that I think he can really thrive with how we play. He's got to do it within our framework, but I think he can. He's definitely got a little East Coast to him. He's competitive as well, especially in the practice setting."
The competitiveness Miller referenced doesn't just come from Green on the offensive end.
Green was very solid defensively as a freshman and has continued to blossom in the offseason.
"The thing I like about Devonte, when focused, he has been tremendous defensively," Miller explained. "He's given me great confidence that he could be an Indiana defender, maybe here earlier than some of the other guys. He's got great instincts, great quickness, physical, tough."
Assuming Green can cut down on the turnovers – an objective for the entire roster – he should figure heavily into the rotation on Miller's first Indiana team.
Although Robert Johnson and Josh Newkirk appear to have the inside track on the starting guard spots, Green should be in the mix to take over some of the minutes vacated by James Blackmon Jr.
Bottom Line: Green is a capable playmaker and had some impressive passes as a freshman, but his primary strength offensively is his ability to score. He can handle the ball, but he's not a point guard. On a team that will be looking to replace the offensive production of Blackmon Jr., Green could shoulder some of the load. Defensively, he has the ability to make a positive impact and as Miller said, early indications are that he could be ahead of some of his peers.
Quotable: "Well, being recruited, a big part of my game was my defense. I've always taken pride in it. So I just bring it every day, and I guess he (Miller) sees that." – Green on his defense at media day.
Previously: Justin Smith, Clifton Moore, Al Durham Jr., De'Ron Davis, Curtis Jones
Filed to: 2017-2018 season preview, Devonte Green