2017-2018 Player Profile: De'Ron Davis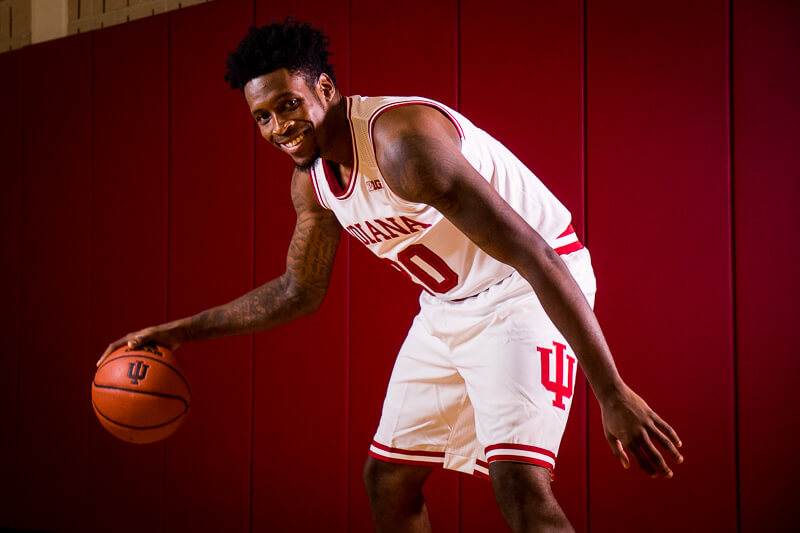 With the start of college basketball season on the horizon, we've transitioned from our look at other Big Ten programs to our player-by-player previews of the 2017-18 Indiana roster. Today, our profiles continue with a look at De'Ron Davis.
When Indiana sophomore De'Ron Davis takes the floor on Saturday night at Hoosier Hysteria, the 6-foot-10 forward from Colorado will debut his new look to Hoosier fans.
After a freshman season in which he struggled with his weight, conditioning and ability to stay on the floor for consistent minutes, Davis got serious about getting into shape over the summer. Rather than spending any time at home, he spent the entire summer in Bloomington with director of athletic performance Clif Marshall getting into better shape.
"I didn't have to think about it (staying for the summer)," Davis said last month. "The only thing is I had to talk to my mom about it. She kind of wanted to see me, especially after the long year. When I told her that, for us to — for me to reach my goals, for me to do what I want to do, I've got to get in shape, I've got to be ready to dominate this year. So she was all for it."
As a result of his productive offseason, Davis will enter his second season in Bloomington down more than 20 pounds and with a chance to break out in an Indiana frontcourt full of opportunity for playing time.
With the departure of Thomas Bryant for the NBA, Davis is the clearcut option to take over in the post for the Hoosiers.
"De'Ron just needs to stay calm and collected," Bryant told Inside the Hall of his former teammate over the summer. "He's a real good player. He knows he's good, too. And everybody else knows he's good as well. If he just takes it one day at a time, he'll be fine."
In the limited minutes he played as a freshman, Davis showed that he can be incredibly productive. He has soft hands for a big man and can carve out space around the basket with his frame. He's also a willing passer and an above average shot blocker.
When he was able to establish position a season ago, it was typically either a bucket or a foul drawn. Davis had a free throw rate (FTA/FGA) of 66.2 percent in his first season and he knocked down 75.6 percent of his attempts from the line.
The challenge for Davis – and the wildcard in whether or not he reaches his potential this season – is learning to defend without fouling.
As a freshman, he averaged seven fouls per 40 minutes. That's a number that won't work for Indiana this season, particularly with limited depth in the post.
"I think I'm going to be way better," Davis said. "In high school, I took pride on defense, and me coming in late (last fall), out of shape, kind of hindered that a lot. Just really focus on the fouling, keeping my hand straight up, just not getting any little fouls to take me out of the game."
Bottom Line: Davis isn't being talked about much nationally or around the conference, but he's one of the most talented post players in the Big Ten. He's a former top 50 recruit who got a late start as a freshman and was playing catchup all of last season. With a full offseason to get his body healthy while also dropping weight, he should be a totally different player in his second season. If he can play extended minutes – 25 or more per game – he'll be one of Indiana's leading scorers. His defense should also improve as he proved that he can be elite shot blocker when healthy.
Quotable: "We'll be really on top of De'Ron in terms of the technique and the effort level because, when you don't have those two things, you foul, and we can't afford that from him. From an offensive perspective, he has great feel. We have to be able to get him the ball. I think the more he touches the ball, the better our team will be because he can pass, he's got great feel. I think he can score the ball and get fouled. But he also to me has a presence. To me, I'm really hopeful that De'Ron, in talking to him, is ready to try and take this on because it's not going to be as easy as he thinks it is." – Archie Miller on Davis last month at media day.
Previously: Justin Smith, Clifton Moore, Al Durham Jr.
Filed to: 2017-2018 season preview, Deron Davis