2017-2018 Player Profile: Al Durham Jr.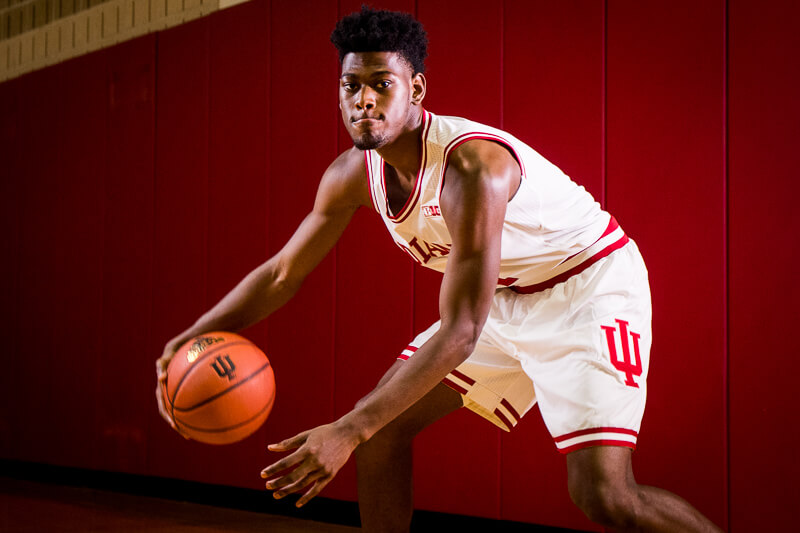 With the start of college basketball season on the horizon, we've transitioned from our look at other Big Ten programs to our player-by-player previews of the 2017-18 Indiana roster. Today, our profiles continue with a look at Al Durham Jr. 
Berkmar (Ga.) guard Al Durham Jr. was Indiana's first commitment in the class of 2017. Durham committed to the Hoosiers in the fall of 2015 a few weeks after a visit to Bloomington.
But more than 17 months after his commitment and five months after he signed a National Letter of Intent with Indiana, Durham was forced to reconsider his options. Indiana fired Tom Crean after nine seasons and the assistant coach who was instrumental in recruiting him, Chuck Martin, was also let go.
The hiring of Archie Miller – and his decisive action to push to keep Durham Jr. in the fold – resulted in the left-handed guard reaffirming his commitment just two weeks into Miller's tenure.
"If you look at what he did at Dayton, with the type of guards he had at Dayton, Al fits right in," Durham's father, Al Sr., told Inside the Hall in early April. "Open floor system, lots of pick and rolls. That's Al's game. Shooting, getting to the basket and drawing contact. All of that fits into what he does and what he coached at Dayton. It was almost like a no-brainer. He fits in perfectly for the style of play and what he's looking to bring to Indiana and what he wants."
In his final season at Berkmar, Durham was named first team all-county while averaging 20.8 points, 5.3 rebounds, 4.1 assists, 2.7 steals and 2.8 blocks per game.
His coach, Greg Phillips, told Inside the Hall earlier this fall that Durham's work ethic was a major reason he continued to improve over his prep career.
"He worked for four hard years on strength, continuing to get stronger," Phillips explained. "Whenever a weakness or something he needed to improve upon came about in his game, he made sure to work on it. A lot of time at 6 a.m. in the gym before school started. A lot of time after school and individual workouts. No matter what someone said was a weakness for him, he chose to get in the gym and work on it and make sure it was not a weakness anymore."
At 6-foot-4 and 175 pounds with length and athleticism, Durham has a chance to crack the rotation as a freshman in Bloomington. The Hoosiers have just four other guards on scholarship entering the season in Robert Johnson, Josh Newkirk, Devonte Green and Curtis Jones. At media day last month, Miller mentioned Durham as a potential fit this season at point guard.
While Durham continues to work on his perimeter shot, he comes into college as one of the nation's best at getting into the lane and drawing fouls.
In his final season on the Nike Elite Youth Basketball League (EYBL) circuit, where he played for his father in the Southern Stampede program, he drew an average of 5.9 fouls per game. That was the third highest mark in the EYBL, according to Krossover. The two players ahead of him – Collin Sexton and Hamidou Diallo – were consensus five-star prospects nationally.
Here are your #EYBL2016 leaders in Fouls Drawn. Getting to the line is as important, if not more, than hitting FTs. pic.twitter.com/dtTBB4lFWf

— Krossover TV (@krossovertv) June 9, 2016
Bottom Line: Durham has two key components to his game that could earn him minutes as a freshman. He's effective at getting into the lane and scoring at the rim or drawing fouls and he can also use his length to get into the passing lanes. With a newfound emphasis on defense under Miller, the latter could help set Durham apart from the others he'll be battling for minutes.
Quotable: "I got a chance to see Al play … he's a long, slender, athletic guard who can score. He's got really good size. He's got a frame that I think is going to fill out. And I think he's a guy, with the skill set and how he plays, will fit in nicely with what we do." – Miller over the summer on Durham.
Previously: Justin Smith, Clifton Moore
Filed to: 2017-2018 season preview, Aljami Durham