2017-2018 Player Profile: Curtis Jones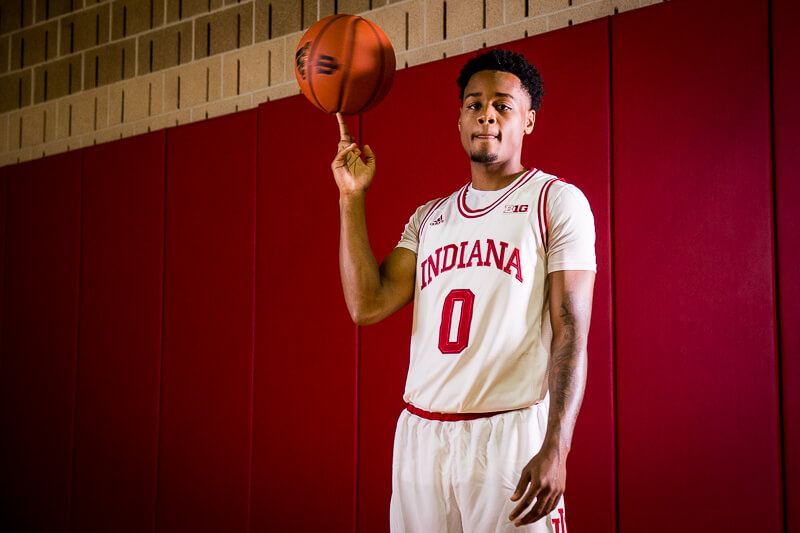 With the start of college basketball season on the horizon, we've transitioned from our look at other Big Ten programs to our player-by-player previews of the 2017-18 Indiana roster. Today, our profiles continue with a look at Curtis Jones.
In Indiana's thrilling 103-99 overtime win over Kansas to open the 2016-17 season, Curtis Jones showed why he was a coveted recruit nationally in the 2016 class.
Jones went for 15 points in just 16 minutes off the bench and made several key plays to help lift the Hoosiers to a win that catapulted them into the top 10 nationally. The Richmond (Va.) native hit a trio of 3-pointers and had the highest offensive rating of any Hoosier in the game.
Unfortunately for Jones and for Indiana, that win was the high mark of the season. Jones scored in double figures just once more as a freshman and by the end of the season, he was a fringe rotation player.
As he enters his second season in Bloomington, Jones has a fresh start with a chance to play under a new coaching staff and on a roster that has a need for perimeter scoring. The departure of James Blackmon Jr. means that Indiana has 30.5 minutes and 17 points to replace in its rotation.
The first order of business in the offseason for Jones was better preparing his body for the rigors of the Big Ten. Archie Miller talked about the need for Jones to change his body in late May at the IU Tailgate Tour stop in Borden.
"We have to change Curtis' body for his game to change," Miller said on May 31 at Huber's. "He's on that. When he goes out there, people should say, 'wow, he looks a lot different.' And that's going to give him a chance to be a better player. But he's working hard at it."
In order to accomplish that goal, Jones opted to stay on campus for the summer with the coaching staff and director of athletic performance, Clif Marshall, rather than spending four weeks at home.
"Curtis was going to go home for about a four-week period of time," Miller said in late May. "He changed his mind and now he's been back the whole time. Just getting a chance to get to know him a little bit better and being with him everyday, great kid, tremendous energy level, is working extremely hard."
The challenge for Jones now becomes translating a productive offseason to the court.
As a freshman, he shot a respectable 35 percent on 3s, but struggled inside the arc. Jones made just 35.4 percent of his 2s last season and just 48 percent at the rim, the lowest percentage of any IU player.
In Saturday's Hoosier Hysteria scrimmage, he was one of the more assertive offensive players on the floor, which is something Indiana will need to continue once the regular season tips off.
Bottom Line: Indiana has five guards competing for rotation spots and all of them bring different things to the table. Jones will need to prove he can capably defend under a new coaching staff that demands it. Offensively, he's one of the best pure shooters on the roster and as he showed at times as a freshman, is capable of getting hot from the perimeter. On a team that will be looking for offense, Jones has a chance to take a major step forward as a sophomore.
Quotable: "I really just wanted to get the most out of summer. I wanted to come in and have a good impact this year on the team and help the team as much as I could. So I felt like staying, getting to know the coaches better, working out with some of my teammates was a good decision for me." – Jones at IU's media day in late September.
Previously: Justin Smith, Clifton Moore, Al Durham Jr., De'Ron Davis
Filed to: 2017-2018 season preview, Curtis Jones