2017-2018 Player Profile: Juwan Morgan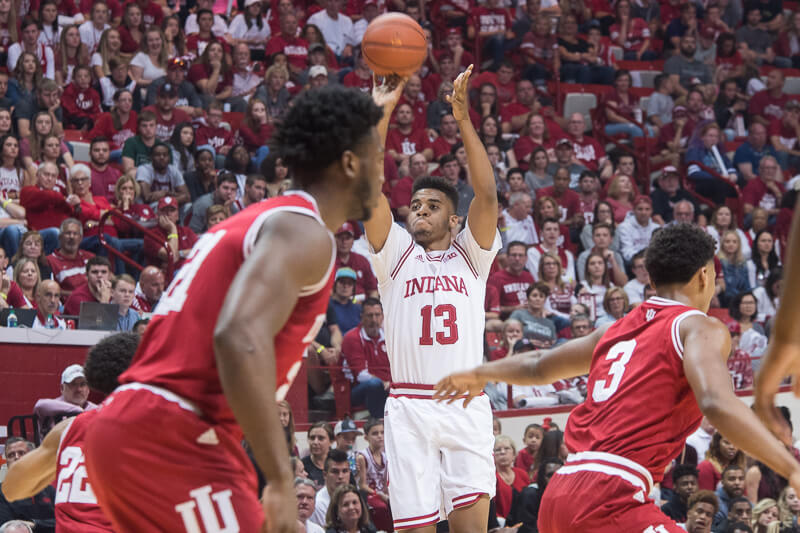 With the start of college basketball season on the horizon, we've transitioned from our look at other Big Ten programs to our player-by-player previews of the 2017-18 Indiana roster. Today, our profiles continue with a look at Juwan Morgan.
If the Hoosiers are going to contend for a spot in the 2018 NCAA Tournament, Juwan Morgan will have to have a breakout season.
The 6-foot-7 forward struggled to stay healthy during his first two years in Bloomington, suffering a variety of injuries. He's only missed eight total games but has been ineffective in others when not at 100 percent.
When healthy, however, there is perhaps no player as vital to the Hoosiers' hopes. Morgan's 122.2 offensive rating was the 2nd best on the team last season, behind James Blackmon Jr. (per KenPom).
As the Hoosiers wilted down the stretch of Tom Crean's last campaign in Bloomington, Morgan was one of a few Hoosiers that consistently produced. In the final four games of the 2016-17 season, Morgan played 26.8 minutes per contest, posting averages of 12 points, 6.3 rebounds, one assist and two blocks while hitting on 68 percent of his field goal attempts (17-of-25).
Over the summer, Morgan was a college counselor at the Adidas Nations in the Houston. Morgan had the opportunity to play several games against some of the best upperclassmen and newcomers in college basketball.
In the three games Morgan played, he displayed an improved 3-point shot, connecting on 8-of-13 triples he attempted. It was a limited sample size, but a positive indicator his shot is progressing.
"It was a great experience just playing all the top players from college basketball and then even a few coming into college basketball like (Michael) Porter," Morgan said at media day. "It was just a great experience being able to guard those guys. I think we played four or five games that whole weekend. And just being able to go against the best, it just really gave me, I guess, a measurement of where I'm at."
Now a junior, Morgan knows he will be counted on to be one of the leaders for Archie Miller's squad.
"I just have to take more responsibility and not just sit back and try to help on the side," Morgan told the media in July. "I think I have to take initiative and actually put myself out there more and show the guys how it's supposed to be done."
In the Hoosier Hysteria scrimmage, Morgan struggled from deep but wasn't afraid to shoot. Although his first two attempts from three were off, his willingness to shoot from deep was encouraging.
Bottom line: Morgan's versatility will be key for the Hoosiers in Miller's first season in Bloomington. The junior will be relied on to be productive on both ends of the floor and to cause matchup problems for the opposition. If he's able to stay on the floor and hit on over 35 percent of his shots from three, it's possible he earns Big Ten accolades come March.
Quotable: "Juwan really has an opportunity to create a new vision for himself from a basketball perspective. He's a tremendous kid, a hard worker. But I think he's having to learn a little bit about responsibility of production. He's going to be asked to do things and get production in a way that he hasn't, and that's been interesting to kind of see how he's developed, you know, not getting down on himself if things aren't going well because he's going to be needed to do things, not only with his voice, but his game," Archie Miller on Morgan at IU media day last month.
Previously: Justin Smith, Clifton Moore, Al Durham Jr., De'Ron Davis, Curtis Jones, Devonte Green
Filed to: 2017-2018 season preview, Juwan Morgan