2017-2018 Player Profile: Zach McRoberts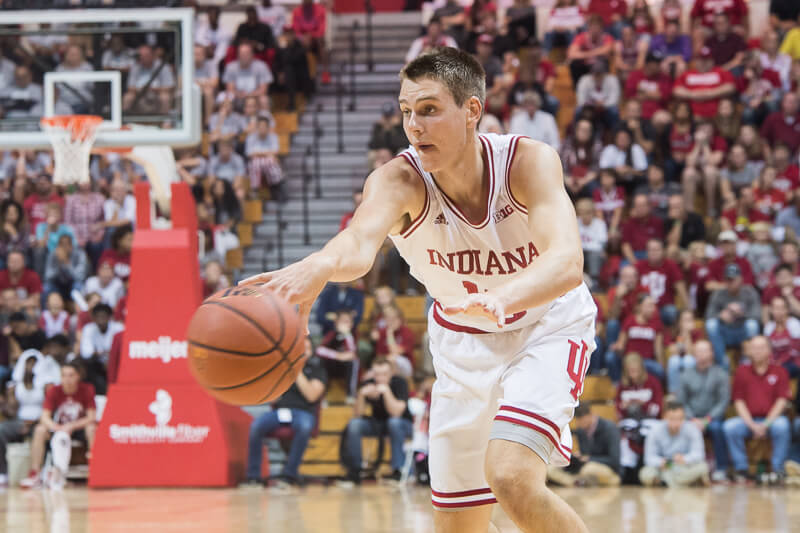 With the start of college basketball season on the horizon, we've transitioned from our look at other Big Ten programs to our player-by-player previews of the 2017-18 Indiana roster. Today, our profiles continue with a look at Zach McRoberts.
After sitting out the 2015-16 season from college basketball altogether, Zach McRoberts returned to the hardwood for the Hoosiers last winter.
"I would just watch the games on TV and listen to all of my friends talking about it," McRoberts said in the summer of 2016. "And then just watching the (NCAA) tournament, that competitive spirit, you don't get that anywhere else."
The Carmel graduate, who originally signed with Vermont out of high school, joined the IU program as a walk-on last season. The 6-foot-6 forward produced modest statistics – 0.8 points, 1.5 rebounds and 0.9 assists in 11.3 minutes per game – but those numbers don't tell the full story of his impact.
On a team that struggled defensively, McRoberts was a bright spot. He would often come in off of the bench and provide a spark simply by being in the right place at the right time.
The former Indiana all-star played a bigger role than originally expected due to injuries to Collin Hartman and OG Anunoby. He ended up playing more minutes than four of IU's scholarship players and also showed himself to be a capable passer. He finished the season with 29 assists and just eight turnovers.
As a junior, it's unclear how McRoberts will figure into the rotation under IU's new coaching staff. Archie Miller mentioned at media day that McRoberts, along with several others, had a "great" offseason.
His path to playing time this season appears to be a bit more daunting with the return of Hartman and the additions of Clifton Moore and Justin Smith, who will also be competing for frontcourt minutes.
McRoberts is a very capable defender, but is limited offensively and often passed up open shots last season, which allowed opposing defenses to key more on his teammates.
If he's going to play regularly as a junior, he'll need to become more comfortable in taking open looks when they arrive. Last season, he knocked down just four 3-pointers (on 12 attempts) and shot just 33.3 percent on 2s.
Bottom Line: Whether McRoberts again claims a rotation spot or is just used for spot minutes because of his defense, it's fair to expect that he'll have a positive impact on the IU program. He's experienced, unselfish and understands the game.
Quotable: "Just sort of the same it was last year, just come in and try to make a difference any way possible. Not really a totally clear role, not really a goal, not really anything specific. Just come in and make a difference is my plan." – McRoberts on his role this season at last month's media day
Previously: Justin Smith, Clifton Moore, Al Durham Jr., De'Ron Davis, Curtis Jones, Devonte Green, Juwan Morgan
Filed to: 2017-2018 season preview, Zach McRoberts