2017-2018 Player Profile: Robert Johnson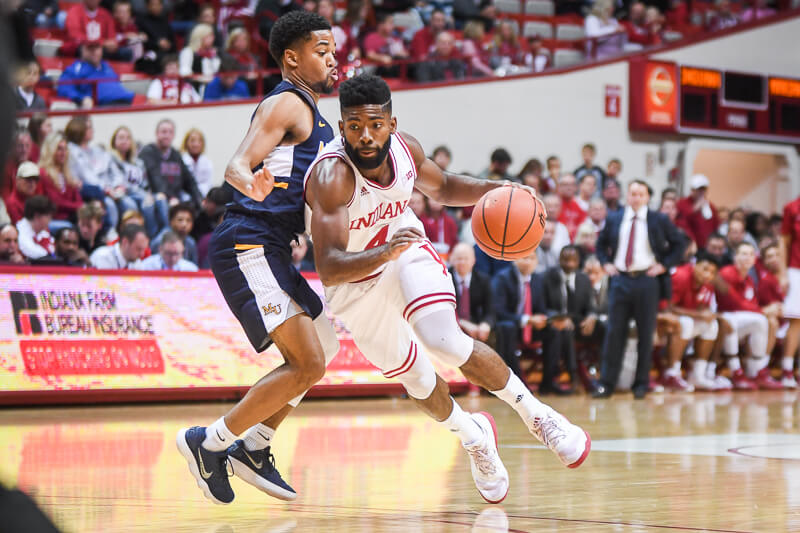 With the start of college basketball season on the horizon, we've transitioned from our look at other Big Ten programs to our player-by-player previews of the 2017-18 Indiana roster. Today, our profiles continue with a look at Robert Johnson.
It's a new era for Indiana basketball with the dismissal of Tom Crean and subsequent hiring of Archie Miller last spring. But the Hoosiers have a constant in the backcourt entering the 2017-18 season: Robert Johnson.
The 6-foot-4 Johnson, who committed and signed with Indiana in the fall of 2013, has been through a lot during his time in Bloomington.
He's won a Big Ten championship, reached a Sweet Sixteen and also dealt with injury and disappointment. After going through the NBA pre-draft process last spring, Johnson opted to return to Bloomington for his senior season and enters his final collegiate season as the leader of IU's backcourt for the first time in his career.
In his first three seasons, Johnson was often forced to defer offensively to Yogi Ferrell or James Blackmon Jr. That won't be the case this season as the Richmond (Va.) native is IU's leading returning scorer at 12.8 points per game.
In addition to taking on a bigger scoring load, NBA personnel told Johnson in the spring that they'd like to see how he handles the point guard position as well.
"They wanted to see if I could play point guard at a high level," Johnson said last month. "They wanted to see how I will handle being one of the primary scorers this upcoming year. And I think, as far as Archie's system, with some of the things that we've already went over, I think it will help me as far as getting in the open court and handling the ball more and pick-and-roll and things like that."
A career 40 percent 3-point shooter, Johnson will surpass the 1,000 career point plateau early in his senior campaign.
In addition to bumping his scoring average up a few points in his final season, the Hoosiers will need Johnson to progress in two key areas: lowering his turnovers and getting to the foul line more often. In his first three seasons, Johnson has posted a free throw rate (FTA/FGA) under 20 percent and has also had a higher turnover percentage over 20.
Johnson will also be expected to be a leader on defense in a new system that is a significant departure from what he's been used to in the past.
"I think we're going to have a philosophy that we build and we stick to no matter what," he said. "I think that's going to be a big part of our identity, and that's one thing that Coach Miller has made clear."
Ultimately, Johnson hopes he'll be remembered by IU fans as a player who gave everything possible to the program over his four years in Bloomington.
"I just want people to remember me as a guy who always tries to put his best foot forward and gave everything that I had," he explained. "That's basically how I'm looking at every day of this year. I'm just trying to give everything I have to my teammates to help reach our goals."
Bottom Line: Johnson is being overlooked by the preseason watch lists, but it won't be a surprise to see his name mentioned as being one of the best guards in the Big Ten by season's end. He was up-and-down as a junior, but had a terrific offseason according to comments made by Miller on several occasions. If he's able to draw more fouls and do a better job taking care of the ball, he'll be one of Indiana's leaders on both ends of the floor.
Quotable: "Through about four weeks, he's probably been about as focused of a basketball player that I've been around. He's all business right now. Really, really impressive kid. To watch him through about a four week summer period, he's really impressive. He's setting himself up to do what he wants to do which is have a great senior campaign for us." – Miller on Johnson in late May.
Previously: Justin Smith, Clifton Moore, Al Durham Jr., De'Ron Davis, Curtis Jones, Devonte Green, Juwan Morgan, Zach McRoberts
Filed to: 2017-2018 season preview, Robert Johnson