2017-18 Player Profile: Josh Newkirk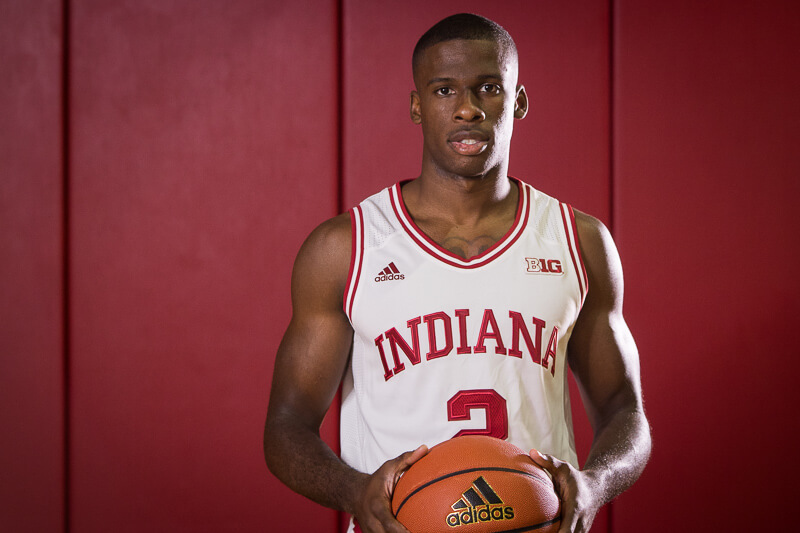 With the start of college basketball season on the horizon, we've transitioned from our look at other Big Ten programs to our player-by-player previews of the 2017-18 Indiana roster. Today, our profiles continue with a look at Josh Newkirk.
Entering his final year of eligibility after transferring from Pittsburgh following his sophomore campaign, senior Josh Newkirk is looking to build on his strong second half to his 2016-17 season.
Newkirk rehabbed his left knee throughout the 2015-16 season as he was forced to sit out due to transfer rules. When he returned to game action last season, it took him until around the midpoint of the conference season to regain his footing.
Through the first 22 games of Newkirk's junior season, the 6-foot-1 guard reached double figures in the scoring column just five times and made 13 three-pointers.
Newkirk's resurgence began in IU's triple-overtime win over Penn State. He scored a career-high 27 points on 14 shots, including a 4-for-8 effort from long range. When the Hoosiers needed a bucket to force double overtime, it was Newkirk who came up with the game-tying layup.
That moment seemed to be a turning point for the veteran point guard. In the final 12 games of Indiana's 2016-17 campaign, Newkirk scored in double figures eight-times and buried 21-of-48 triples (a 44 percent clip).
Both Newkirk and head coach Tom Crean credited assistant Tim Buckley for the guard's improved shooting.
"Josh's stuff was very correctable," Crean said after the win over Penn State. "It was just a matter of getting in the gym and isolating some of that. He wasn't getting good lift on his shot. He wasn't — he has a tendency to hop into certain things. Hence the bunny picture back a month ago, right?"
One area where Newkirk must continue to progress is taking care of the basketball. Newkirk posted a turnover rate of 23.8 percent last season, the third highest on the team (per KenPom).
"(I need to be) more of a vocal leader, telling guys, putting guys in the right position to succeed, and just taking care of the ball," Newkirk said in September at IU media day. "We had a lot of turnovers last year, so just making the right decisions, making the right play."
Now playing under Archie Miller, Newkirk hopes to benefit from the coach's experience as a collegiate point guard at North Carolina State.
"(Miller's playing experience) relates a lot because he can actually get out there and show us different things, how he wants it done," Newkirk said. "He's real interactive with us on the court. So that means a lot. He played at the college level, so he can teach us a lot."
In the exhibition with Marian University, Newkirk was given the starting nod, pouring in 13 points on 3-of-5 shooting and adding two rebounds, an assist, and a steal. Perhaps the most important stat, though, was his zero turnovers in 26 minutes.
Bottom line: Newkirk and fellow senior Robert Johnson will be relied on to be veteran leaders in the Hoosier backcourt. If the Hoosiers have a successful season, Newkirk's playmaking ability and refined shooting will likely be key reasons why.
Quotable: "Josh has clearly established himself as a clearcut point guard. I think that everybody else on our team can play a couple spots. I think Josh is primarily a point guard. That position for us is essential in running the show. You've got to be able to push the ball, and you've got to have great tempo, but you also have to be able to play smart when you're playing fast and be able to control it and playing with low turnovers," Miller on Newkirk at IU media day.
Previously: Justin Smith, Clifton Moore, Al Durham Jr., De'Ron Davis, Curtis Jones, Devonte Green, Juwan Morgan, Zach McRoberts, Robert Johnson, Tim Priller, Freddie McSwain
Filed to: 2017-2018 season preview, Josh Newkirk