2015-2016 Player Profile: Yogi Ferrell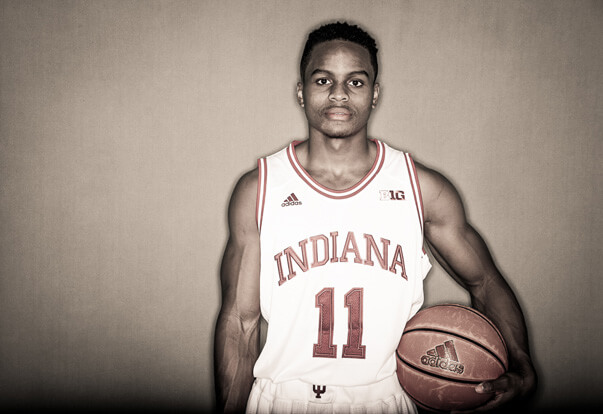 With the start of college basketball season on the horizon, we're taking a long look at the conference at large as well as Indiana's roster this month. Today, we conclude our look at Indiana's roster with Yogi Ferrell.
Unlike previous years, there's no debating Yogi Ferrell's role as he enters his final season of college basketball.
Ferrell is Indiana's best player. He's a legitimate contender for Big Ten player of the year and a potential national player of the year candidate. And if the Hoosiers are to meet expectations, Ferrell must maximize his own potential in every facet of the game.
Statistically speaking, it's hard to expect a ton of improvement from IU's point guard. As a junior, he took 197 3-pointers and made close to 42 percent. He improved his turnover percentage by nearly four percent. He hit a career-best 86 percent from the free throw line. He was one of the nation's premier guards and deserving of the first team All-Big Ten accolades he received.
But is Ferrell ready to be the centerpiece of a team that wins big?
His former teammate, Victor Oladipo, now of the Orlando Magic, wants to see Ferrell develop into the guy who holds the Hoosiers together through adversity.
"He's just got to keep improving and he's got to keep those guys intact," Oladipo told Inside the Hall earlier this month. "He's got to make sure those guys aren't doing anything crazy and keep them together because it's going to be hard.
"The Big Ten is not an easy conference and it didn't get any easier. He's just got to get through all of the storms. There's going to be some storms because that's just how the Big Ten is. Nobody is going to win every game. He's got to be smart and bring those guys together as a leader because whether he likes it or not, he is one."
Player driven leadership was a staple of the Indiana teams that won 56 games in two seasons from 2011 to 2013. But when the key pieces of those teams departed, that player driven leadership took a step back.
As recently as late August, Tom Crean essentially said that the Hoosiers still have a long way to go in that department. At Big Ten media day, Ferrell said he did hear those comments from Crean.
"That was just a little message towards us that somebody better start stepping up," Ferrell said last week. "So I feel like as seniors, we work on that every day. He always tells us that anybody can be a leader. Everybody on this team has a voice and I feel like everybody has to listen to someone."
Now the challenge for Ferrell becomes putting those words into practice. His talent and ability to make winning plays has never and shouldn't be questioned. There aren't many, if any, better point guards in the country.
But there is something to Oladipo's comments about getting through the storms in what is a long season. There will be ups and downs, but being able to meet adversity head on and respond appropriately can make a good team a great team. Even if he's not labeled as the leader or captain, as IU's best player, Ferrell needs to be that calming presence when the Hoosiers hit an inevitable rough patch.
Bottom Line: If the Hoosiers are to meet some of their goals – winning the Big Ten, a deep NCAA tournament run being chief among them – it needs an even more polished version of Yogi Ferrell. Statistically, his improvement may only be incremental in his final season, but exhibiting growth as a leader both on the court and in the locker room is a key in his final season. If he can do that, Ferrell has a chance to write the final chapter on one of the best careers for a point guard in program history.
Quotable: "It's a big year for him. He can do a lot of big things, a lot of great things, go down as one of the best players to ever come out of Indiana." – Oladipo on Ferrell
Previously: Thomas Bryant, Juwan Morgan, O.G. Anunoby, Harrison Niego, Tim Priller, Robert Johnson, James Blackmon Jr., Troy Williams, Collin Hartman, Max Bielfeldt, Ryan Burton, Nick Zeisloft
Filed to: 2015-2016 season preview, Yogi Ferrell