2015-2016 Player Profile: Max Bielfeldt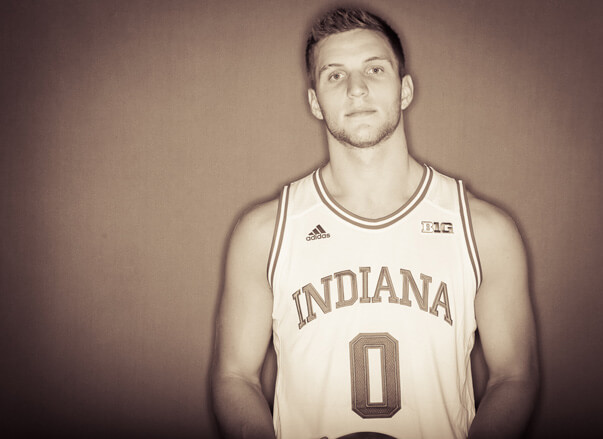 With the start of college basketball season on the horizon, we're taking a long look at the conference at large as well as Indiana's roster this month. Today, we continue our look at Indiana's roster with Max Bielfeldt.
Max Bielfeldt appears to be everything Indiana basketball needs for this season.
Following the dismissal of three frontcourt players from the program, Bielfeldt, a fifth year senior, is suddenly the guy in the post with Thomas Bryant.
Finally healthy following hip surgery before last season, Bielfeldt is looking to build off of career highs in points per game (5.1) and rebounds (3.6) from last season as a member of the Michigan Wolverines. After Michigan was noncommittal to a spot on its roster, Bielfeldt explored his options and landed at IU.
What IU may have needed more than just another big body, however, was a leader with experience. The Hoosiers get that with Bielfeldt. In every public appearance as a Hoosier, he has been composed and been talked about highly by others. He also sent a letter to former player A.J. Guyton following the off the court incident with Emmitt Holt earlier this fall.
"I think my role off the court, being a 22-year old, a leader that's seen what it's like to get to the Final Four, that's seen what it's like to win Big Ten championships, and kind of be that voice in the locker room that can make everyone stay focused and stay on the right track and make sure everything is being done in the right way," Bielfeldt said earlier this fall.
Last season was his first fully healthy following surgery, something he felt showed.
"It completely changed my game, I was playing with constant pain in my hip and knee," Bielfeldt said. "Every cut, jump, land would just hurt pretty bad. I was playing a lot more as a complete player last year on the floor. I didn't have games where I was coming in sore."
The 6-foot-8 forward will get major minutes at both power forward and center, especially early on as both Thomas Bryant and Collin Hartman get healthy themselves.
Due to his experience, he has been a vocal leader in practice, but has admitted he doesn't have the new system down quite yet.
"I'm in there trying to tell them what to do but at the same time I have to keep my ears open because I'm still learning too," Bielfeldt said.
He added that Coach Tom Crean and the rest of the staff was very willing to have another veteran like himself on the court.
Bielfeldt has touched on the differences between Crean and Michigan Coach John Beilein, but has said he thinks he fits in both styles, and will be able to pick up on a lot this season with Crean's "more passionate" style.
Bottom Line: With a larger role than initially expected, Bielfeldt could have his best chance to breakout as a fifth year senior and a Hoosier. He has said he is able to learn faster under Tom Crean's more free coaching style and will be needed in conference play – especially against teams with depth in the post.
Quotable: "With the struggles we went through this summer off the court, we definitely have developed, we definitely have matured very quickly, and the freshmen especially have matured so fast. All these teams are trying to express to their freshmen on how to do things and sometimes they just don't get it, I've seen from my three years being an upperclassman at Michigan to being an upperclassman here now, the freshmen- it's clicked with a lot of them with what it takes. The work ethic you need, and how to stay out of trouble, it's really unique. If they can keep that up and keep that mentality, they'll be really scary." –Bielfeldt at Big Ten Media Day
Previously: Thomas Bryant, Juwan Morgan, O.G. Anunoby, Harrison Niego, Tim Priller, Robert Johnson, James Blackmon Jr., Troy Williams, Collin Hartman
Filed to: 2015-2016 season preview, Max Bielfeldt