Elston hopes to fill "big brother" role in new position with IU basketball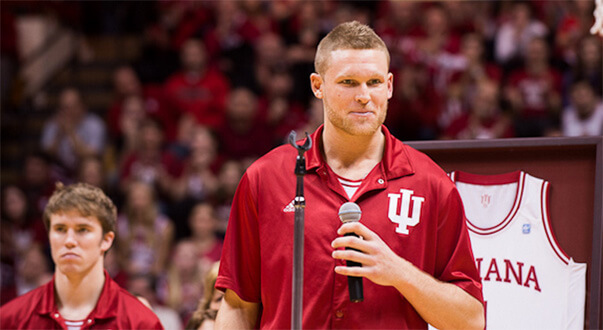 He's only three weeks into his new position as director of basketball operations for Indiana basketball, but Derek Elston is already bringing a unique perspective to the program.
In the span of the last four years, two at IU and two overseas, Elston played on two Sweet 16 teams at IU, including one that won a Big Ten championship and three different professional teams in Malta, Portugal and England.
Tom Crean said recently his prerequisite for the position Elston filled was a former player. It's hard to argue there could have been a better choice than the Tipton native.
From 2009 to 2013, Elston helped build IU from a 10-win team his freshman season to a 29-win program and a No. 1 national ranking by his senior year.
He battled injuries, saw his playing time fluctuate, but his leadership and presence in the locker room never wavered as a result of those setbacks.
"I just love his personality. He's one of the great leaders I've ever been around," Crean told Inside the Hall at Big Ten media day. "He was the unsung leader of our team at Indiana when we were No. 1 in the country because he could make everybody laugh, he could play hard, he was a study in dealing with adversity because of all of the injuries he had to deal with."
Now Elston, 25, hopes he can take what he learned from those ups and downs and use those experiences to mentor the current Indiana roster. Crean said he hopes that Elston, who will not be able to do any on-court coaching, will be able to fill a big brother role.
"I'm just trying to build relationships with these guys," Elston told Inside the Hall. "I've been in everybody's shoes from freshman to senior, guys that are hurt, guys that are healthy. I've been through it all. What I really want to do is come in here and impact these guys. I know what it's like to be away from family. I know what it's like to go through this grind over and over."
Elston, who has aspirations of becoming a coach, believes there's no better way to break into the profession than working for Crean.
While playing professionally overseas the last two years, he said Crean was one of the people who kept in contact the most to check in on how he was doing. Now that he's back in Bloomington and back with the program, his relationship with his former coach continues to evolve.
"I've never seen this side of coach being able to just laugh and joke around with him. We used to do that a little bit, but then it was always time to turn it on and be a basketball player," Elston said. "Now we can just be around each other in the office, see how the day is going, study film together.
"I get to see different aspects of the game that coach is teaching me. For me personally, wanting to be a coach, this is the best way to do it for me just to be around him because he just knows the game so much. He's teaching me things that I never thought I would have known, already."
With Hoosier Hysteria just five days away and a busy November that includes a trip to Maui, many of Indiana's young players are quickly going to receive a taste of just how much IU basketball means to so many people.
Elston said it's something he's talked to several guys about already, but many of them will need to get on the floor in Assembly Hall in front of the fans to fully grasp what's on the horizon.
"I think even now it's hard for a lot of guys to realize what's going on because they haven't really seen it," he said. "I think once they finally get to Hoosier Hysteria and see their first couple of games, they're going to realize that this thing means a lot more to a lot of people than they could ever realize."
Indiana's teams in 2011-2012 and 2012-2013 embraced the notion, as recently explained by Victor Oladipo, that the "program is much bigger than ourselves."
Elston said that of all of the things he took from Crean during his time in Bloomington as a player, understanding that playing at IU is much more than just being a basketball player was the most impactful.
"The biggest thing I've taken away from him is that playing for Indiana is bigger than just the game," he said. "Obviously it's been a dream of mine to come and play at Indiana, but an even bigger dream to work at the place that I played at for four years."
One of the things Elston is trying to emphasize to this year's roster is that if they need help, he's a presence that can provide it. He wants players to ask questions and engage with him.
Crean said last week that Elston can be with the players constantly and "he will be." He said guys are already using him as a resource to try and learn different things.
"I'm in the locker room, we'll grab something to eat and real quick, I'll get 'hey Derek, what was it like when you guys messed up in a practice or when coach Crean kicked you out of practice? What was it like when you won the Big Ten?'" Elston said. "A lot of these guys want me to come in and bring my Big Ten championship ring in just because they want to see what that looks like. That's a goal for everybody right now is to get one of those again. All of these guys are great, they come in, work hard, they ask questions.
"This group of guys comes in, asks questions, they want to know, they want to get better, they want to learn. They're making my job a lot easier."
Filed to: Derek Elston, Tom Crean