2015-2016 Player Profile: Collin Hartman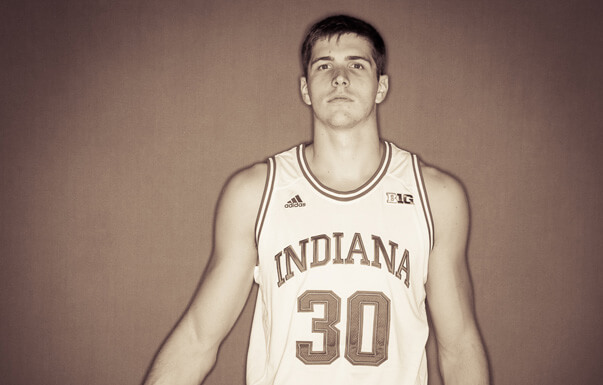 With the start of college basketball season on the horizon, we're taking a long look at the conference at large as well as Indiana's roster this month. Today, we continue our look at Indiana's roster with Collin Hartman.
After a surprise leap into the Indiana rotation last season, Collin Hartman enters 2015-2016 as an integral part of the Hoosiers' lineup and a possible starter.
Hartman only averaged 4.8 points in 2014-2015, but his impact on the court was much bigger than just scoring. The Cathedral product's game wasn't sexy, but it was smart. He made the right passes. He knew where he needed to be on the floor. He hustled. He rebounded.
And when he was thrust into the 5 position after Hanner Mosquera-Perea went down with injury, Hartman preformed about as well as he could have given the circumstances. That stint was punctuated by his performance inside Assembly Hall against Maryland. He recorded three blocks in 29 minutes to go along with a career-high 15 points (3-of-3 from distance).
Beyond his basketball IQ, Hartman's ability to knock down the 3-pointer (team-best 47.5 percent) and versatility makes him a good fit for Tom Crean's offensive system. He has the frame to be able to guard the traditional power forward position if necessary, while keeping the floor spaced on the other side of the ball due to his shooting ability. This makes him a possible fit in the starting lineup next to Thomas Bryant up front. If Bryant's shooting is as good as advertised and Troy Williams starts shooting (and making) more 3-point shots, Indiana's entire starting lineup may be able to score inside and out.
And if Hartman ends up coming off the bench, Indiana won't see much of a dropoff when he enters the game as a sixth or seventh man.
Hartman is unlikely to dominate the ball with Indiana's group of guard and wing playmakers in Yogi Ferrell, Robert Johnson,  Williams and James Blackmon Jr. Yet, he's perfectly suited to be on the court around these four and an McDonald's All-American center. Key too much on any of them and Hartman can make you pay with his shooting ability. He can also be an initiator for the playmakers to head to the rim downhill after he sets picks on the perimeter.
For a team in need of leadership, Hartman could also maybe provide some of that — especially on the defensive end. He can bark out orders, point on switching and make sure the effort and energy is there from his teammates while he's both on the court and looking on from the bench.
Bottom Line: Hartman did fade a bit down the stretch in terms of productions last season, though he was dealing with a knee injury for part of that time. Regardless, Hartman has the opportunity this season to be an important part of a group with NBA aspirations around him. Defend, rebound, screen, hustle and shoot with consistency and smarts. Fill in the details and gaps around the high-level talent and the playing time should be there for him in his junior season — provided his current rib injury isn't a long-term concern.
Quotable: "It was really just knowing that if I make the hustle plays and do the hustle plays, then I'm going to stay on the court. Playing is every kids dream, especially in Assembly Hall, so hustle plays are what kept me on the court. It was really what I had to start doing, because my skill set wasn't exactly there, so I couldn't really do much outside of my element. So the hustle plays and the fundamental plays are what really kept me on the court. And that is what I really think gave me the confidence knowing that if I did this, it would help." – Hartman in July.
Previously: Thomas Bryant, Juwan Morgan, O.G. Anunoby, Harrison Niego, Tim Priller, Robert Johnson, James Blackmon Jr., Troy Williams
Filed to: 2015-2016 season preview, Collin Hartman