Bryant, Hartman missing time in preseason with injuries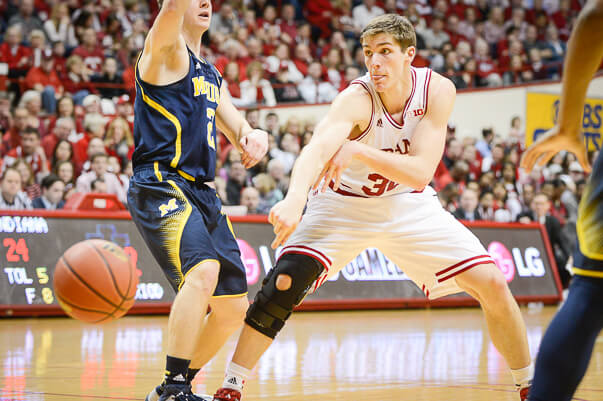 ROSEMONT, Ill. – Indiana's first day of official practice was less than two weeks ago, but the Hoosiers are already battling injuries.
At Thursday's Big Ten media day at the Marriott O'Hare, Tom Crean said that freshman Thomas Bryant has only practiced one full day due to a sore arch in his foot.
Additionally, Crean announced that junior forward Collin Hartman is going to be out with a rib injury suffered two days ago in practice. The injury occurred when Hartman took a charge from teammate Troy Williams.
"First off, I've never seen Troy jump higher and I've never seen a guy be more valiant in taking a charge," Crean said. "He took a knee right inside of his chest from Troy. He took a charge and I wish he wouldn't have because he's going to be out for a little bit because he took some shots to the ribs that are quite sore for him."
Bryant, a 6-foot-10 freshman who is expected to be a major contributor right away for the Hoosiers in the post, has been spotted wearing a boot around campus.
"He's only practiced one day for us so far because he had a sore arch in his foot," Crean said. "So we basically kept him out and he's just starting to come back now in a little bit of non-contact work."
Filed to: Collin Hartman, Thomas Bryant