2015-2016 Player Profile: Troy Williams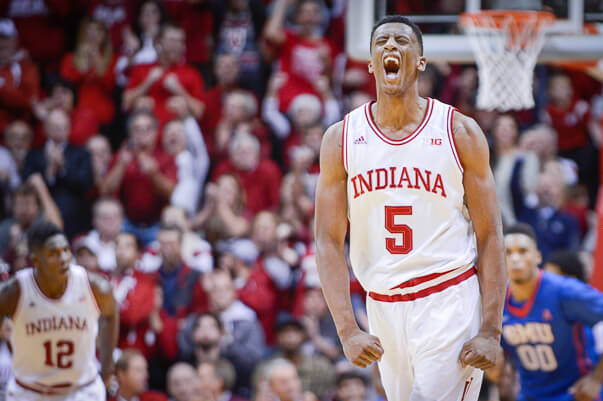 With the start of college basketball season on the horizon, we're taking a long look at the conference at large as well as Indiana's roster this month. Today, we continue our look at Indiana's roster with Troy Williams.
Troy Williams isn't just the guy doing cool dunks anymore.
The athletic junior developed his game noticeably during his sophomore season and is primed for a break out year.
The 6-foot-7 forward averaged 13 points and 7.4 rebounds per game last season. And as he enters what may be his final season in Bloomington, he's looking to evolve as an offensive player beyond just slashing to the basket.
"I'm doing a lot of things off of the dribble," Williams said to IUHoosiers.com over the summer. "I'm still working on set shots, but I'm trying to improve my shot off of the dribble and improve my mid-range shooting."
Improving on his 3-point shot has been another point of emphasis for Williams. He went from a 20.7 percent shooter from distance his freshman year to 46.2 percent last season — albeit in limited attempts (6-of-13).
"I think I've gotten better with it," Williams told IUHoosiers.com. "I can definitely see it a lot. I like to drive and kick, and get it to my teammates, and if the defense has to respect my three-point shot, that will help get that going."
With the additions of grad-transfer forward Max Bielfeldt and freshman center Thomas Bryant, there's a strong possibility Williams will be able to be used more at his natural position of small forward.
"There will be more perimeter play," Williams explained. "With our new addition of big men, we have people who can return to playing multiple positions. We'll be able to make more plays on the perimeter now. But with the way we play, I could still get switched onto a bigger guy. Either way, I'm ready for it."
Playing mostly power forward last year, Williams was forced to guard bigger players and develop a bit of a post game himself, something he says has made him a better player.
"It helped me out," Williams said. "I feel like I'm more ready for this year. With the way we play, switching frequently on defense, it gets me ready for those matchups. Now, I'm paying more attention to playing against guards, but I'll likely end up switching to guarding bigger guys during games."
Williams attended the Nike Skills Academy and Adidas Nations this past summer, and worked with John Lucas in Houston alongside several other Division 1 players such as Penn State's Tim Frazier, and even NBA players.
"I was able to learn a lot from Scottie Pippen," Williams said. "He was a person who definitely saw my games and told me how I played, how I could improve. I gained a great friendship with [Pippen], along with some other people out there."
Bottom Line: If all goes according to plan, this will likely be Williams' final season in Bloomington. He can go out with a bang by taking his game to the next level and developing into a more well-rounded, pure scorer. He already is solid on the boards, and can block shots. The next step is having the confidence and ability to knock down open jumpers when the opponent gives it to him — instead of forcing it into the lane. If the improvement is there, Williams could be the guy that takes this Indiana team into elite territory.
Quotable: "I need to get the label of 'athlete' off of my name and (be) more of a basketball player.  I have been working on making better decisions with the ball, getting my teammates open, finding them in open spots and knocking down open shots." –Williams at Adidas Nations in August.
Previously: Thomas Bryant, Juwan Morgan, O.G. Anunoby, Harrison Niego, Tim Priller, Robert Johnson, James Blackmon Jr.
Filed to: 2015-2016 season preview, Troy Williams