2015-2016 Player Profile: O.G. Anunoby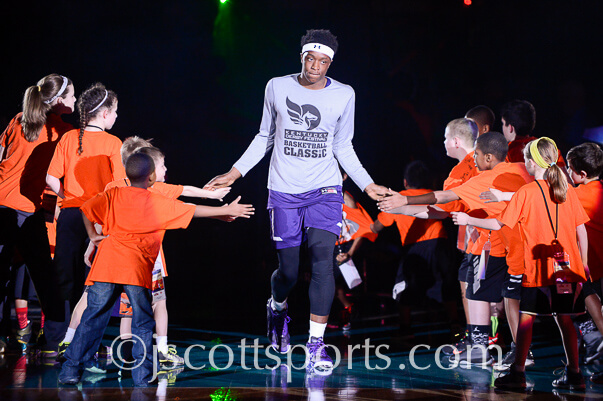 With the start of college basketball season on the horizon, we're taking a long look at the conference at large as well as Indiana's roster this month. Today, we continue our look at Indiana's roster with O.G. Anunoby.
While he doesn't arrive with the McDonald's All-American accolades garnered by Thomas Bryant or the top 100 national ranking earned by Juwan Morgan, Indiana freshman O.G. Anunoby looks like a player with tremendous upside.
A late riser in terms of his recruitment, Anunoby emerged as an Indiana target in the summer before his senior season at Jefferson City, Missouri. The Hoosiers stayed diligent with the 6-foot-8 forward and eventually won his commitment over schools like Iowa, Ole Miss, Gonzaga and Georgia last fall.
When he signed his National Letter of Intent last November, Indiana coach Tom Crean noted that Anunoby is a player who hadn't quite grasped how much potential he possesses.
"He's very unassuming in the sense that I don't think he has any idea how good he's going to be," Crean explained. "I would say that about both of them (Anunoby and Morgan). I would say both of them are going to really, really get better, which is exactly what we've tried to build this program on."
With his size, length and athleticism, Anunoby could be a guy who contributes right away.
His high school coach, Blair Thompson, who coached him all four years at Jefferson City, believes continued improvement will be a theme of Anunoby's career at Indiana. And having experienced teammates won't hurt either as he adjusts to the rigors of college basketball.
"I think it will benefit him, the players that Indiana has coming back, upperclassmen, they've had success and they know the kind of work that needs to be put in to be successful," Thompson said. "I think all of those freshmen that are coming in will benefit from being around those older players and learning how it's done and what is expected in that program from the coaching staff.
"He's excited for the opportunity, he's excited to be a part of Indiana basketball and he is definitely willing to do whatever it takes to help the team in whatever the role may be from now until maybe a year from now."
So far, Anunoby is already benefitting from an offseason of work with new strength and conditioning coach Lyonel Anderson.
Crean commented last week that the freshman already has the second strongest legs on the team in offseason testing. With his height, Anunoby could be a player who is counted on to fill in at a variety of positions when his number is called.
"O.G. fits into that (Victor) Oladipo, (Will) Sheehey, (Jordan) Hulls mode of really being around here a lot to work on his game," Crean said last week. "We have to make sure they continue to play versatile. We recruited them to play versatile, and now that becomes part of the deal. They have to be able to guard different people."
In talking with Thompson, the opportunity to contribute in different ways is something Anunoby will be eager to embrace. Being able to make an immediate impact, however, will be largely dependent on how quickly he's able to adjust to the speed and physicality of the game.
"Physically, he's going to have to get stronger," Thompson said. "He knows that, he knows it's going to be hard and that it's a big jump with the talent, athleticism and speed of the game. Those aspects, it's a big jump and I think he can handle it."
Quotable: "He's a quiet guy off the court and even on it. I don't think he drew a lot of attention to himself. He's a very respectful, mature personality type. He's a yes-sir, no-sir kind of guy with authority and adults. His family and background is all about respecting authority figures and adults. He interacts well with his teammates, always has. He laughs and jokes like any normal kid, but he's a bit reserved in some aspects. I wouldn't even call him quiet, he's just not long winded." – Thompson on Anunoby's personality.
Previously: Thomas Bryant, Juwan Morgan
Filed to: 2015-2016 season preview, O.G. Anunoby