2015-2016 Player Profile: Juwan Morgan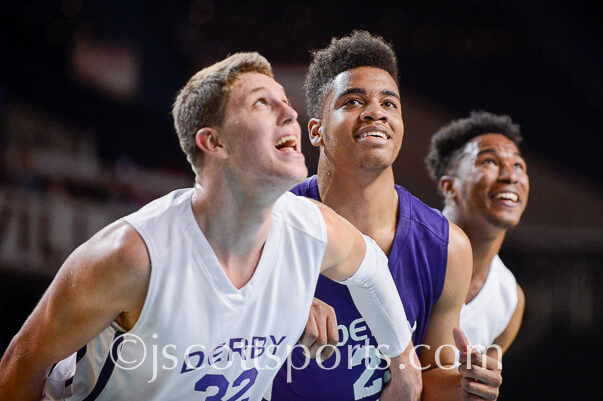 With the start of college basketball season on the horizon, we're taking a long look at the conference at large as well as Indiana's roster this month. Today, we continue our look at Indiana's roster with Juwan Morgan.
Juwan Morgan's freshman season at Indiana will be full of opportunity.
The 6-foot-7 forward from Waynesville, Missouri was a key commitment for the program last fall. But the spring addition of Thomas Bryant and several other returning options in the frontcourt initially meant the Hoosiers would be able to bring Morgan along slowly.
That changed, however, when three players were dismissed from the program in the offseason.
Now Morgan, who was named the most improved player in Nike's Elite Youth Basketball League (EYBL) during the summer before his senior season, will have a strong chance to earn rotation minutes immediately.
"Our young guys in the case of Thomas Bryant, Juwan Morgan and O.G. Anunoby, those guys have to be able to help us, especially with the loss of Emmitt (Holt)," Tom Crean said last week. "Emmitt was a guy that would have been at least a top eight situation and a potential starter, based on what he did last year. He was having a great spring and summer, so with that being said, that pushes the freshmen up the ladder that much quicker in a sense of them having to really get an understanding."
In Morgan, the Hoosiers might have a player who has more long term potential than any of the players who left the program this offseason. While he's undersized for a traditional power forward, his length and athleticism allow him to play taller than his height.
Morgan's primary impact this season should be as a rebounder, shot challenger and as a player who enjoys and thrives off of making the hustle plays. His high school coach at Waynesville, Chris Pilz, told Inside the Hall in June that Morgan is a player who will be capable of improving and learning new concepts quickly. That will be important in a program that prioritizes details in practice and preparation.
"He could pick things up pretty quickly," Pilz explained. "His improvement on a daily basis and how quickly he grew from really having a hard time running the floor and touching the rim to, in a short time, start running the floor and getting balance and going from not very explosive to pretty explosive in a short amount of time (was impressive)."
The strength and conditioning program at IU, now led by Lyonel Anderson, appears to already be paying dividends for Morgan.
Since arriving on campus in June, he's added 130 pounds to his squat max, 80 pounds to his bench press max and three inches to his vertical jump, according to Crean.
Now, the challenge becomes building on the offseason and adapting to 20 hours per week of practice. Indiana has proven it can successfully develop players who come in with athletic ability and a willingness to put in the extra work. With Bryant and Max Bielfeldt to work against daily, Morgan will have an elite post talent and a veteran to help aid his development and improvement. He may not command major minutes immediately, but rotation minutes seem likely for a player with plenty of long term upside.
Quotable: "I think he can be a very good offensive rebounder, I think that could get him on the floor. And defensively, I think he's an intelligent player. He's pretty good at timing blocked shots and he's got a knack for not fouling. There's going to be a lot of ball screens set at that level and he understands how to guard the ball screen." – Pilz on Morgan's potential impact as a freshman.
Previously: Thomas Bryant
Filed to: 2015-2016 season preview, Juwan Morgan