2015-2016 Player Profile: James Blackmon Jr.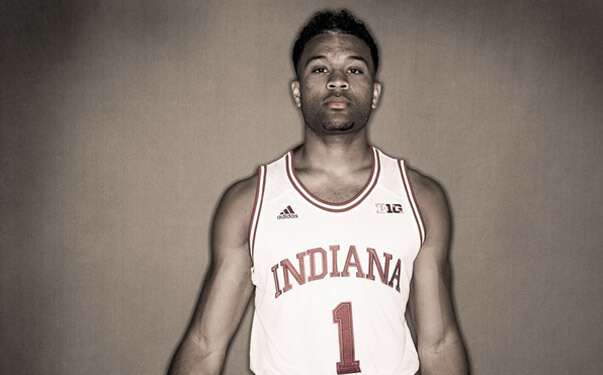 With the start of college basketball season on the horizon, we're taking a long look at the conference at large as well as Indiana's roster this month. Today, we continue our look at Indiana's roster with James Blackmon Jr.
As a freshman last season, James Blackmon Jr.'s offensive prowess put him in rare company. The Marion product made 77 3-pointers, the most-ever for an Indiana freshman. His 518 points rank him third all-time for freshmen behind NBA lottery picks Eric Gordon (669) and Cody Zeller (563).
Still, despite his entry into the record books, Blackmon Jr. has plenty to improve upon on both sides of the ball as he begins his sophomore campaign. Let's start with efficiency in conference play. While he certainly pumped in points in the non-conference slate, Blackmon Jr.'s efficiency dipped as he struggled in a number of conference games against stiffer defenses — especially on the road.

In games he didn't have it, Blackmon Jr. often forced up shots, leading to a number of forgettable lines: 2-of-14 (at Michigan State), 4-of-13 (at Purdue), 2-of-14 (at Maryland), 1-of-10 (at Northwestern), 2-of-12 (vs. Maryland in the Big Ten Tournament).
So despite all the 3-pointers made and points scored, Blackmon Jr. finished just sixth on the team in 3-point percentage (37.5 percent) and eighth on the team in terms of effective field goal percentage (51.2 percent) in part due to those rough road games.
To improve, Blackmon Jr. could stand to finish better against length at the rim, where he often struggled. He'd go up with his right hand in repetitive fashion. It lacked deception and made it easier for the opponent to block or alter his shot. If he also shows sharper focus during his time on the court and takes smarter shots in the flow of the offense, it all could have him avoiding those rough performances in his sophomore campaign.
On defense, it's no secret the Hoosiers struggled in 2014-2015. But even though it was a team wide issue, Blackmon Jr.'s defensive issues weren't hard to spot. In the aforementioned game he shot 1-of-10 at Northwestern, Blackmon Jr. had a bad performance on defense as well. And while that game was particularly egregious in terms of his defensive struggles, it wasn't the only game he stood out in terms of awareness, decision making and effort. Defense was a glaring weak spot for a freshman making records on the other side of the ball.
Tom Crean has already said playing time this year will be largely dependent on defense. If you don't defend, you'll sit. If that holds true, Blackmon Jr. has a challenge in front of him heading into his sophomore campaign.
Bottom Line: Blackmon Jr.'s training took a bit of a hit this summer after he had surgery to repair a torn meniscus in his left knee in July. Despite the surgery, Blackmon Jr. is now back and 100 percent healthy. With a year of maturity under his belt in Crean's program, look for Blackmon Jr. to continue to be an offensive threat capable of scoring in a variety of ways. If he improves his offensive consistency and become more tenacious on defense, Blackmon Jr. could become an elite Big Ten player and more seriously test the NBA waters.
Quotable: "The biggest thing is going to be how he does on defense. He has an awareness, more and more, defensively right now. It has been in shorter pockets of time. It hasn't been over game-to-game or day-to-day yet. I am hopeful he understands that will have a lot to do with his playing time this year. The decision making and the defense will have a lot to do with all of their playing time." — Tom Crean on Blackmon Jr. last month
Previously: Thomas Bryant, Juwan Morgan, O.G. Anunoby, Harrison Niego, Tim Priller, Robert Johnson
Filed to: 2015-2016 season preview, James Blackmon Jr.