2015-2016 Player Profile: Tim Priller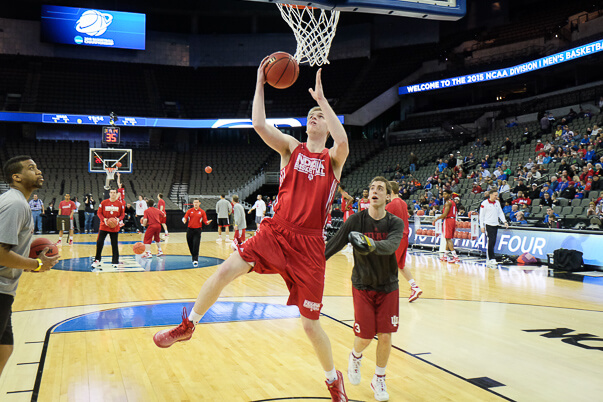 With the start of college basketball season on the horizon, we're taking a long look at the conference at large as well as Indiana's roster this month. Today, we continue our look at Indiana's roster with Tim Priller.
It didn't take long for Tim Priller to become a fan favorite for the Indiana faithful who pack Assembly Hall.
An unheralded recruit from Richland Hills, Texas, Priller committed to the program in April of 2014 as a relative unknown nationally. Indiana, in a tough position size wise following the mid-season transfer of Luke Fischer and the departure of Noah Vonleh for the NBA, needed to add depth.
Our first in-person look at Priller came during IU's trip to Montreal last August, when he played 44 minutes in four games. During that trip, Priller himself admitted that he had a long way to go development wise.
"I definitely need to get better – everyone needs to get better – but I need to get better at some things," he said. "My teammates are really helping me out. There is no negativity on the team and they are really just pushing me to do better and help them out as well."
He would end up playing less during the season – a total of 23 minutes – but when he did get on the floor, Indiana fans embraced him with open arms.
The IU students in particular quickly grew fond of Priller, who saw most of his minutes come after games had already been long decided."Tim Pril-ler" chants routinely filled Assembly Hall late in games during the non-conference portion of IU's schedule.
His most memorable sequence came in IU's season-opening win over Mississippi Valley State, when Priller came in and quickly recorded a tip-in basket for his only points of the season.
It was clear that he was neither physically nor athletically ready to contribute, but fans often gravitate towards the underdog, which is exactly what Priller is.
At 6-foot-9 with an awkward gait and looks that Tom Crean once compared to Shaggy from Scooby Doo, it's unlikely that Priller's minutes will increase much as he enters his second season in Bloomington.
But he's here, seemingly working hard in practice daily and being a great teammate on the bench, which is really all you can ask from a 12th or 13th man on the roster.
Quotable: "It doesn't bother me. I mean, I don't like it too much because you could get big headed, really. You kind of just stay chill, I guess. It doesn't really affect me either way." – Priller to the Indiana Daily Student last March on fans chanting his name during games.
Previously: Thomas Bryant, Juwan Morgan, O.G. Anunoby, Harrison Niego
Filed to: 2015-2016 season preview, Tim Priller