Q & A: Victor Oladipo on IU, his NBA career and more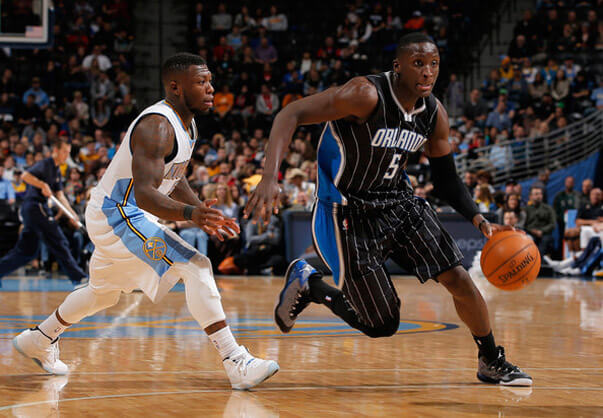 LOUISVILLE, Ky. – Former Indiana All-American Victor Oladipo is entering his third NBA season with the Orlando Magic and earlier this week, he was at the KFC Yum! Center for a preseason game against the Miami Heat.
Following shootaround on Wednesday afternoon, Oladipo spoke to Inside the Hall and other assembled media about a variety of topics. We've transcribed some of those comments below in a Q & A format:
On what he has carried on from his IU career to the NBA:
"The mentality, the going hard, the dropping your shoulders, the staying low, all of that. It translates to this league. It's basketball at the end of the day. The mentality of wanting to get after it on the defensive end and wanting to get it on the offensive end carries over to the NBA as well. I learned a lot over there and it prepared me very well."
On Derek Elston returning to Indiana as the director of player development:
"I think it's feathery. I think it's real feathery. He's going to love it and the guys are going to love him. He's going to be great for them, a great mentor for them because he's been through it. He can relate. He knows what they're going through. It's going to be good for him and it's going to be good for the program as well."
On what Tom Crean means to him:
"He means a lot. Coach Crean was like the father figure away from home. He developed me as a man and as a player. He definitely helped me flourish. He put me in a position to be successful. He believed in me. I only had one college offer coming out of high school and it was Indiana. So he believed in me when nobody else would, so he means a lot to me."
On what he makes of the criticism aimed at Crean for off of the court issues:
"At the end of the day, people are going to like you or people are going to hate you. Growing up and just being in certain situations, I've learned and come to understand that you can't please everybody. Because of the position he's in, with great power comes great responsibility. When things go good, they blame him. When things go bad, they blame him, too. Indiana is a great university and sometimes, those young men, they go away from campus and they might make mistakes. But they've got to be smart about what they do.
"It's a great university, but it can get you in trouble if you're not smart. Those young guys, coach Crean, he can only do so much. He can't be with them 24/7. They've got to be smarter with their approach and realize they're a part of something bigger than themselves. At the end of the day all of this is going to harp back on coach Crean. He's basically the father figure over there. Everybody is like, 'what's he teaching them and stuff like that?' In all reality, he can't be with them every day. So those guys have to be men. They need to grow up. That's the biggest thing. That's what we did and they have to do the same thing. They've got realize that there's something way bigger in jeopardy than going out and doing what they do."
On whether his group just made better decisions during their time at IU:
"Yeah. Plain and simple. We realized it was much bigger than ourselves. We had fun, we were college kids. We had fun. But we did in a smart way. You can have fun in college. I'm not telling you to sit in your house or sit in your apartment and not do anything. You can have a good time, but you've got to be smart about what you do. You have to realize that everybody is watching you when you put on that jersey. Everybody. And if you get in trouble, everybody is going to know. You have to be smart about what you do, who you hang out with and who you associate yourself with."
On if he's seen IU's team this year and what he expects out of this season:
"I met pretty much everybody. I expect big things from them. Honestly, I think they're one of the best offensive teams in the country if not the best. Again, the big fella down there (Thomas Bryant) is going to help them defensively. I'm looking forward to watching them and I think they're going to open some eyes. I think they're going to make a run. They've got some great players over there. They've got some great young players. They're well coached so it's going to be fun to watch them.
On what he's expecting from Victor Oladipo this season:
"Victor who? (Laughs.) I'm just expecting to win. It's time to win. I've been in this league, going into my third year now and we just expect to win now. I think before we just kind of go out there and get our feet wet and play hard. Now we expect to win. We can't just wait around. No one is going to let us win in this league. The hardest thing to do in this league is win. We just have to figure out a way to do it."
On what he's looking to improve in his third season and how he would assess his game:
"Assess my game? I'm OK. I'm alright. I have some flaws, some things I need to improve. In all seriousness, I've gotten better. I feel better. Things I need to improve are just being precise and not make too many mistakes. Just taking care of the ball and things like that. As far as shooting the ball, it's going to go in and it's not going to go in sometimes. I'm just going to keep shooting it with confidence. I feel like every shot I shoot is going in so that's all that matters even if I miss. That's my mentality. I just have to keep improving day in and day out. I still have so much room for growth and so much room to improve. I haven't even scratched the surface of how good I really think I can be. I just got to keep improving and getting better."
On how he's developed at becoming more of a verbal leader:
"It's getting better, definitely. There's a lot of quiet guys on our team. I think I'm one of the more vocal guys, so I might as well put it to good use."
On Yogi Ferrell and how much he's improved from his first season until now:
"His jump shot has improved drastically. I remember when he used to get mad when he missed. Now he doesn't miss. His body has improved, you guys see that. He's gotten stronger, he's gotten faster. He's shooting the ball better. He's just better overall. He's got a lot of weight on his shoulders over there and in all four years pretty much he's had weight on his shoulders and a lot of expectations for him. And I know he has a lot of expectations for himself. The sky is the limit for Yogi.
"It's a big year for him. He can do a lot of big things, a lot of great things, go down as one of the best players to ever come out of Indiana. He's just got to keep improving and he's got to keep those guys intact. He's got to make sure those guys aren't doing anything crazy and keep them together because it's going to be hard. The Big Ten is not an easy conference and it didn't get any easier. He's just got to get through all of the storms. There's going to be some storms because that's just how the Big Ten is. Nobody is going to win every game. He's got to be smart and bring those guys together as a leader because whether he likes it or not, he is one. He's just got to lead by example and lead vocally."
On whether Yogi can play in the NBA:
"Definitely, I think a lot of guys over there that they have right now can play in the league. They just got to, like I said, keep improving and they've got to win. That's the biggest thing."
On whether defense is a mindset and what he saw defensively last season:
"It's tough. They didn't have a lot of size like we did. But I think somebody has to lead them defensively. I feel like when I was there, I probably, you'd have to ask my teammates, but I was the catalyst on defense and set the tone defensively. Somebody has got to do that there. Whether that be Yogi, Troy (Williams), somebody has to set the tone of, 'look, we're going to lock up tonight. And we're going to get stops and that's the reason we're going to win.'
"Because at the end of the day, you can't win any games without playing defense. Just like here in the league, top five defenses go to the playoffs. So that's what we're trying to do right now in Orlando. Some of it is technique but a lot of it is just the mentality of wanting to get stops. Everybody is different. Not everyone can press up and turn guys and stuff like that. Some guys aren't as quick so they got to use their length. But everybody can have the mentality like 'I'm going to figure out a way to stop somebody.' That's one mentality they just have to have."
(Photo credit: Doug Pensinger/Getty Images North America)
Filed to: Victor Oladipo