2015-2016 Player Profile: Harrison Niego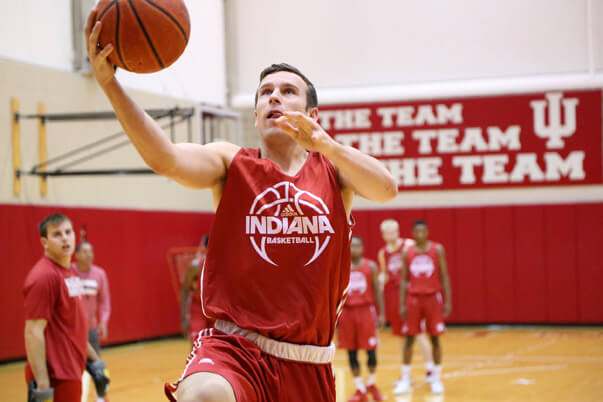 With the start of college basketball season on the horizon, we're taking a long look at the conference at large as well as Indiana's roster this month. Today, we continue our look at Indiana's roster with Harrison Niego.
Freshman Harrison Niego didn't have to be a walk-on. He had offers from other Division 1 schools, including Northern Illinois, Illinois-Chicago and Dartmouth. When his coach at Lyons Township High School (Ill.) Tom Sloan asked why Indiana, Niego's response was simple.
"It's Indiana."
Playing at IU had always been a goal in the back of his mind, and when the opportunity came to play at a school Sloan calls one of the four or five best basketball schools in the country, he seized it.
Niego is from the same high school as current IU fifth year senior Nick Zeisloft, and holds school records for career assists, 3-pointers made in a season and 3-pointers made in a career, a record he took from Zeisloft.
"I do know there was at least one time where (Niego and Zeisloft) talked in person about what the basketball experience at Indiana is like," Sloan said. "That was relatively close to when Harrison made his final decision. He knew he was getting the truth from Nick."
The 6-foot-2 Niego was a three year varsity player at LTHS, where he played both guard spots. He will provide depth this season at each of those positions for the Hoosiers.
"He's going to make the most of what he has," Sloan said.
Sloan called Niego was of the most fundamentally sound players he's ever coached, but added that there will be an adjustment for him competing against the athleticism at the highest level of college basketball.
"He's a very good ball handler, he can handle pressure and get us into our half-court offense," Sloan said. "Very good passer, very good vision. He's able to see the floor and handle pressure at the same time. Tough and physical on the defensive end, good instincts. Willing and able rebounder."
Niego's younger brother Connor is a junior in high school and stands at 6-foot-8, his dad is 6-foot-5 or 6, according to Sloan. He thinks there's a strong possibility that Niego could still grow during his time at Indiana.
As a senior, Niego led Lyons Township to a 23-6 record and scored a game-high 24 points in his final high school game, a 60-57 loss to Metea Valley in the Class 4A Proviso West Regional final. He averaged 20 points, five assists and four rebounds for the season.
Quotable: "Harrison is a tremendous kid, you always want to have players like Harrison on your team. He's got a great attitude, a very strong work ethic, does the right thing on and off the floor, he's good in the classroom. He's an outstanding representative of a basketball program. He's a great person. He reflects very well on his family and parents. He's a coach's dream." – Niego's high school coach Tom Sloan
Previously: Thomas Bryant, Juwan Morgan, O.G. Anunoby
(Photo credit: IU Athletics)
Filed to: 2015-2016 season preview, Harrison Niego