Getting better all the time: Tom Crean's culture of player development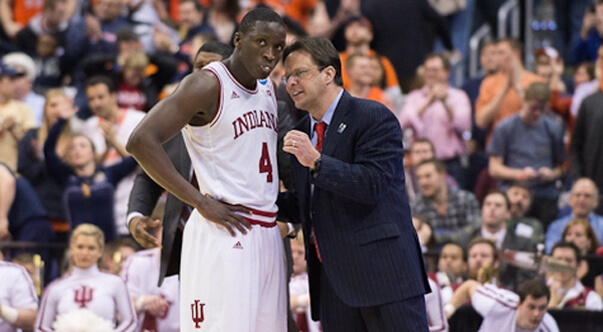 As Tom Crean built his first Indiana recruiting classes, he sold his future vision of the program. Winning would be scarce to start. But stick with the hard-working culture and the long hours that come with it, and the on-court success would come.
Within that culture is an attention to detail on all aspects of a basketball player. Add it up year over year and Crean has shown a strong suit for player development. It's been a major foundation for his program building at Marquette and Indiana.
Player development is something recruits reference often when talking about the Indiana program. It's also something Crean, his staff, his players and former players take a great deal of pride in discussing.
"A lot of guys improve and you can really see it, you just have to look," Victor Oladipo told Inside the Hall. "I'm just one example, I improved drastically. I credit every thing over there. All of the development, the hard work, the coaching staff, the strength and conditioning coach getting my body right and me just buying in."
But it isn't something fans get to see up close. So what goes into it? Why is it successful? And what makes Crean one of the best in the country at making his players better and developing pros?
The answers begin in the recruiting process.
Both at Marquette and Indiana, there are examples of Crean and his staff identifying players who weren't highly ranked but whom they developed into professionals.
The stories of both Dwyane Wade and Oladipo are most frequently referenced, but they're far from the only examples.
Guys like Wesley Matthews, Steve Novak and Travis Diener were just a few of the success stories at Marquette. None of them were top 50 recruits and all of them went on to play in the NBA.
And at Indiana, beyond the three NBA lottery picks, Jordan Hulls, Christian Watford and Verdell Jones and others have gone on to play professionally.
"He meant everything to me when I needed him most in college," Wade told Inside the Hall. "Being a father figure, a friend, being a disciplinarian. Being tough on me when I needed it. He meant everything to me then and he still means a lot to me now. He's a mentor, voice of reason, a lot of things."
***
A glance up and down Indiana's current roster shows three McDonald's All-Americans and several other three or four star prospects, many of whom are likely to go on to play in the NBA.
Nick Zeisloft isn't one of those guys.
A rare graduate transfer with two years of eligibility remaining at the time of his departure from Illinois State, Zeisloft arrived last July as an addition that drew skepticism from fans.
In two seasons at Illinois State, Zeisloft never averaged more than 6.9 points per game. But Crean and his staff saw something more in Zeisloft, particularly entering a season in which the Hoosiers were going to have to use spacing and 3-point shooting to find success offensively.
"Coach Crean watched all of my film and saw areas where I could improve with the ball, not just off the ball, catch and shoot," Zeisloft told Inside the Hall last week. "At Illinois State, I was very one-dimensional with just catch and shoot and maybe a shot fake, pull-up here and there.
"But coach Crean got me going off ball screens, going off triple handoffs, attacking the rim, working on different midrange floaters, runners, different finishes and pull-ups that I had never really worked on since basically high school because I was more one-dimensional. But here, he works on every aspect of your game and just develops a complete player out of every one of his players."
Last season, Zeisloft had the second highest offensive rating of any player in the country, according to KenPom.com. He shot 45 percent on 3-pointers, including 51.4 percent in Big Ten play.
He's not the only guy who has experienced major improvements in shooting in the Indiana program under Crean and associate head coach Tim Buckley, who several players call the team's "shot doctor."
Watford went from a 31.4 percent 3-point shooter as a freshman to 48.4 percent by his senior season. Watford also grew from an average defensive rebounder in his early years of college to the seventh best on the defensive boards by his senior season.
Current senior Yogi Ferrell made 23 shots from behind the arc as a freshman. He made a combined 170 his sophomore and junior seasons while also cutting his turnover percentage from 24.5 as a freshman to 14.2 last season as a junior.
The shooting jump Oladipo made in his junior season, one in which he hit 44 percent of his 3s, is a major reason his NBA stock skyrocketed. Oladipo, who entered college as a small forward, also improved his ball handling so drastically that the Orlando Magic took him No. 2 overall in the 2013 NBA draft with the intention of playing him at point guard.
"When you first get here, coach Crean focuses on turning your hips and having your left foot one, two," Ferrell told Inside the Hall. "So that's what I would focus on after practice and just shooting by myself was the mechanics of it. And we've got a great, great shooting coach with coach (Tim) Buckley. He tells us to be up with the ball, elbow under the ball, so with every shot, I focus on those things. With that going into my senior year, I feel like I'm even a better shooter now than I've ever been."
Fans arriving early to Assembly Hall may notice Buckley and Collin Hartman going through a shooting routine, one that helped Hartman develop into a 47.5 percent 3-point shooter last season.
Zeisloft says he does something similar with Buckley's instruction.
"They see the details. Coach Buckley and I do mine before the shoot around in the afternoon," Zeisloft says. "So we're both basically doing the same thing. Coach Buck sees my elbow when it's popping out a little bit, he sees my chest when it's fading back a little bit, he sees my chin up and tells me to keep my chin down. It's the little things."
***
When you watch an Indiana practice, the intensity, tempo and attention to detail immediately stand out.
In last Friday evening's practice, Indiana's second of that day, Crean was already challenging his players to step it up defensively. In one particular three-quarter court, four-on-four drill, the emphasis was on pressuring the ball.
And when the ball pressure wasn't where it needed to be and the ball handler wasn't being turned by the defender before it reached half court, the whistle blew.
Staying low, technique and footwork were all major points of emphasis. Freshman McDonald's All-American Thomas Bryant, who has a 7-foot-6 wingspan, was defending all over the court, even on the perimeter.
At one point, Crean stopped Bryant and stood next to him, instructing him to bend his knees while also finding a spot comfortable enough to move efficiently with his large frame.
"Get those arms out there," Crean told Bryant. "And that's going to be a problem for people."
Bryant was also already getting schooled from end to end and running right at the rim, a move that made Cody Zeller one of the most efficient big men in the country during his two year stay in the program.
You won't hear talk of positions and that's by design. Crean and his staff want players to contribute in a variety of ways, which is why you might see Ferrell playing in a variety of spots offensively throughout a game.
"When I committed here, I didn't think Indiana was a player development program," Ferrell said. "But being in here, especially with this being my fourth year, they definitely do it. Coach doesn't like to coach position guys. He likes to coach basketball players."
Before that freedom is established, developing discipline through repetition is stressed.
"I think the discipline comes in the form of the details and doing things over and over again," Buckley explained. "I think eventually it becomes great freedom. I think for some guys it's different, but for some of them, they come here because they want the ability to step out on the floor and make plays.
"But you even have perimeter guys who are going to work on their post up game as well because they're great free throw shooters, so why wouldn't you put them down there and try to get fouled? You're always trying to expand guys' games and put them into position to have the most success."
Wade, who has won three NBA championships with the Miami Heat and was the star of Crean's 2003 Marquette team that reached the Final Four, thought he needed to get back to some of those basics last offseason.
So he, along with several of his Heat teammates, Oladipo and Zeller, went to Bloomington last August to do just that.
"Sometimes as an NBA player, a lot of things are going on and you kind of forget about the basics of things," Wade said of the experience. "We were able to go back there and get to the fundamentals of the game, get back to the basics, to the reasons we all started playing this game. Everybody enjoyed it and got a lot out of it."
Fran Fraschilla, a former head coach at Manhattan and St. John's who now serves as a college basketball and NBA draft analyst for ESPN, says a key to players getting better under Crean is his method of teaching.
"They break down basketball skills in a way that is very teachable and then they add the intensity of individual workouts and team practices on a daily basis," Fraschilla said. "And so, by accident, you have to get better because there's a certain level of commitment to effort and a commitment to understanding what these skills are about that these players have because Tom has driven it into them."
"It's just what he was born to do," Wade says of Crean. "He loves to coach. I always say that he's the kind of guy, if he sees kids outside playing basketball, he's going to get out of his car and coach them. He's just a born leader and a born coach."
***
To this day, Oladipo and Wade both talk of Crean using terms like father figure, mentor and friend.
But both are also quick to point out that beyond the basketball side of things, there's a mentality that Crean helped instill in them that lives within them to this day.
"He broke me down mentally a lot of times, but he built me to be stronger," Wade says. "Physically, I had the tools and the talent, I just mentally had to understand and know where I could go."
When Indiana won the 2013 Big Ten championship in Ann Arbor, one of the images that is still etched in people's minds is Crean and Oladipo embracing on the floor of the Crisler Center.
Tears were visible in the eyes of Oladipo, who arrived at Indiana as the No. 141 recruit in the Rivals rankings for 2010 and left in three years with a degree and as the No. 2 pick in the NBA draft.
"You have to buy into it. I personally did and look at the outcome," Oladipo told Inside the Hall. "They do a great job and I think they're the best in the country at player development and getting guys ready. Players individually improving, I think they're the best in the country at it. Coach Crean and the staff have great philosophies. Young guys just have to go in there and buy into it and actually work hard.
"A lot goes into it, blood, sweat and tears. But he definitely pushes you to another level. You have to want to improve. I wanted to get better and then with a system like that and a mentality like that, the sky is the limit for anybody."
Filed to: Dwyane Wade, Nick Zeisloft, Thomas Bryant, Tom Crean, Victor Oladipo, Yogi Ferrell