2015-2016 Player Profile: Robert Johnson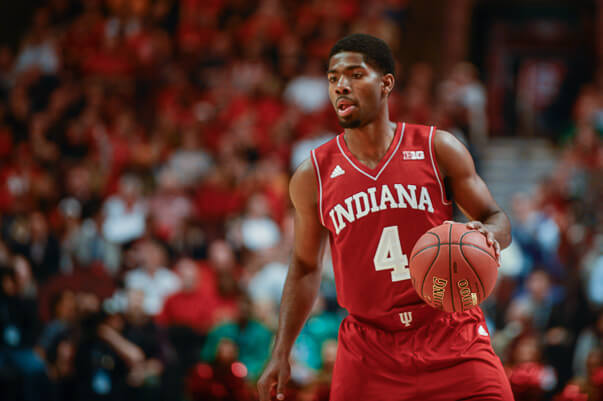 With the start of college basketball season on the horizon, we're taking a long look at the conference at large as well as Indiana's roster this month. Today, we continue our look at Indiana's roster with Robert Johnson.
Robert Johnson enters his second season at Indiana as a player on the rise.
After a solid freshman season that wasn't recognized around the rest of the league because of some of the other great young guards, Johnson went to work this offseason hungry to become even better.
In May, Johnson traveled with Troy Williams to Houston to work with John Lucas. He spent time back in Richmond, Virginia working out with his high school coach, Ryan Marable. And of course, he spent time in Bloomington working out with his teammates and new strength and conditioning coach, Lyonel Anderson.
A major focus of Johnson's offseason was working to simplify his shot. Eliminating wasted motion and finding a consistent landing space were two of the major areas Johnson focused on improving all summer.
"He was a guy who I didn't think shot nearly as good as he's capable of shooting," Crean said of Johnson recently. "He's made a lot of strides in his improvement of shooting, especially the way he lands because he's a jump shooter, and a lot of times jump shooters have a tough landing spot. He's really worked on landing in the right place, which is really just a little bit forward."
There's also room for growth for Johnson with his ball handling and defense. Like many freshmen, he struggled to defend consistently. His turnover percentage of 24.2 was also among the highest on the roster.
Working on details like footwork, being able to use both hands more efficiently and decision making were all stressed in the offseason as well.
Now comes putting the improvement to good use on a team with significant expectations. Johnson started all of last season for the Hoosiers, but it's possible his role could shift a bit this year with less guard depth. If Johnson, James Blackmon Jr. and Yogi Ferrell all remain as starters, Indiana would only have Nick Zeisloft and walk-on Harrison Niego available off the bench.
However his role shakes out in terms of starting versus coming off the bench, Johnson's growth and development as a sophomore is a key storyline entering the season. Indiana knows what it should get from guys like Ferrell and Troy Williams. But if Johnson is able to make major strides, the Hoosiers have a chance to be that much better.
Bottom Line: Comb through the preseason magazines and there's not much being written about Johnson despite the fact that he posted nearly a 53 effective field goal percentage as a freshman. Opposing defenses will be focused on stopping Ferrell, Williams, Blackmon Jr. and Thomas Bryant, which means Johnson is going to have opportunities on the offensive end. Where Indiana really needs him to grow, however, is on the defensive end. Look for Crean to challenge Johnson, who is capable of much more on defense than he showed as a freshman, to do more in terms of applying ball pressure in his sophomore season.
Quotable: "I think it's amazing that he shot 39 percent (on 3s) and he's still willing to change and they think he can get better at it. He's so mature. Even as a young kid when I had him as a sixth grader to a senior in high school, his maturity really allowed him to really take the good and the bad away from his freshman season at Indiana." – Johnson's high school coach, Ryan Marable.
Previously: Thomas Bryant, Juwan Morgan, O.G. Anunoby, Harrison Niego, Tim Priller
Filed to: 2015-2016 season preview, Robert Johnson