2015-2016 Player Profile: Nick Zeisloft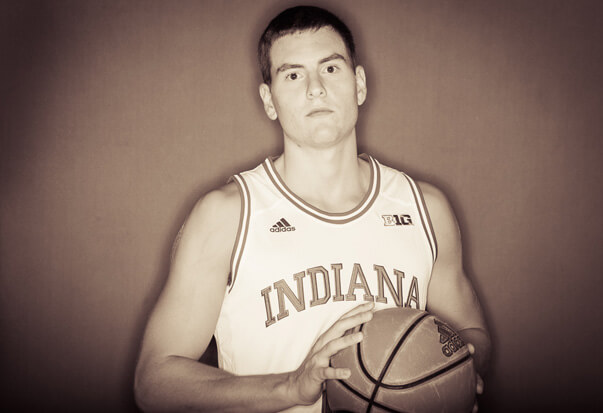 With the start of college basketball season on the horizon, we're taking a long look at the conference at large as well as Indiana's roster this month. Today, we continue our look at Indiana's roster with Nick Zeisloft.
It's a story we all know by now.
The addition of Illinois State transfer Nick Zeisloft raised a curious eyebrow from some IU fans last summer. But by season's end, Zeisloft's addition had won just about everyone over — and then some.
Statistically speaking, Zeisloft finished second in the country in offensive rating (139.1) for all players regardless of possessions used, finishing just a touch behind John Simons of Central Michigan (141.8). In conference play, Zeisloft sported a 151.9 offensive rating, good for best in the Big Ten.
Offensive rating measures an individual's offensive efficiency and there was no denying Zeisloft's excellence in that category. As primarily a 3-point shooter, the Lyons Township product connected often from behind the arc. Do it a high percentage as Zeisloft did (45.0 percent, 32nd best in country), and that's how you become just about the most efficient offensive player in Division I college basketball.
While Zeisloft clearly has good technique and form on his shot, he's also supremely confident in his shooting ability. He thinks every shot is going in and that mentality keeps his spirits high when he's in the midst of an off night.
Yet, despite his superior 3-point shooting, Zeisloft has work to do elsewhere with his game. Start with defense. While his D didn't stand out in the way James Blackmon Jr.'s often did, his size, athleticism and speed can put him at a disadvantage against some of the better talent in the Big Ten. Zeisloft is unlikely to become an elite defender, but if he buys into the team concept, gives high effort and communicates, it can go a long way in raising his defensive abilities.
"He's improving defensively and knows he has to," Tom Crean said at Big Ten media day.
Zeisloft has also been working on expanding his offensive game to make him more than just a shooter. That includes work with Indiana's guards on getting to the rim and drawing fouls.
"We don't want to take it away from him being a great shooter, but he has to get fouled," Crean said. "He's got a chance to be an 85, 90 percent free throw shooter."
Bottom Line: On a team stacked with offensive talent, Zeisloft has earned his keep. But to go out with a bang in his senior season and help Indiana reach elite status, he needs to evolve beyond just being a shooter. If he can show more versatility on offense and improved defense, Zeisloft will be hard to keep off the court. He's also a mentally tough, mature kid that can pass on some of his wisdom to Indiana's freshman this season.
Quotable: "Definitely shooting a lot on your own. Form shooting. And just working on different things with your shot is what I do. You can't just shoot it one way sometimes. You're going to be put in tough situations where you have to shoot it when you're open, when you're guarded, when you're rushed — just working all types of situations is how you can improve your shooting. And if you have a great shot to begin with,  your percentage after that." – Zeisloft at Big Ten media day when asked how he can improve upon his elite 3-point shooting
Previously: Thomas Bryant, Juwan Morgan, O.G. Anunoby, Harrison Niego, Tim Priller, Robert Johnson, James Blackmon Jr., Troy Williams, Collin Hartman, Max Bielfeldt, Ryan Burton
Filed to: 2015-2016 season preview, Nick Zeisloft