That's A Wrap: Team defense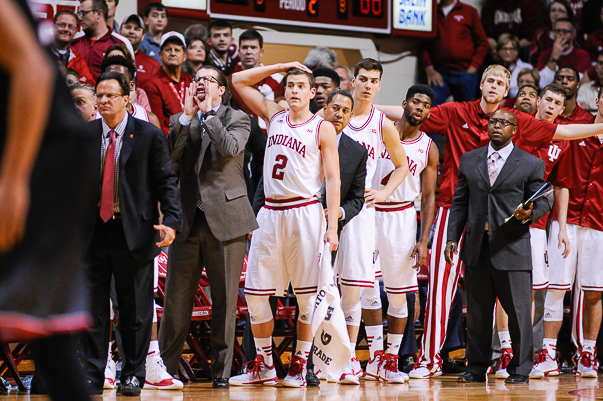 Welcome to "That's A Wrap," our recap of the 2014-2015 Indiana Hoosiers. Today: Indiana's defense.
Final stats (34 games): 71.7 ppg, 45.3 FG %, 50.3 eFG %, 50.9 2PFG%, 15.9 TO%, 32.8% FTR.
If turnovers defined Indiana's disappointing 17-15 season in 2013-2014, it was the defense that prevented the Hoosiers from truly realizing their potential in 2014-2015.
Despite an elite offense – one that ranked in the top ten nationally in adjusted efficiency – Indiana never figured things out defensively and the result was a roller coaster season in terms of results. When the Hoosiers had things rolling offensively, it didn't matter how poorly the defense was playing. A prime example of this was Indiana's home win over Maryland. Indiana allowed the Terrapins to score close to 1.10 points per possession and the Hoosiers still won that game by 19 points.
But expecting those types of performances with any consistency is unrealistic and when the Hoosiers struggled to make shots, the defense simply couldn't be counted on.
Going down the list, some of the offensive outputs by IU opponents were hard to fathom.
Eastern Washington came into Assembly Hall and scored 53 points in the second half in a stunning loss. EWU's Venky Jois would say postgame that IU's defense "wasn't doing anything." Ohio State, which averaged 1.08 points per possession in Big Ten play, hung 1.32 points per trip on the Hoosiers in Columbus, a season-best in league play for the Buckeyes. And Northwestern, a pedestrian Big Ten offense, hung 72 points on IU in 58 possessions up in Evanston, their best output in a conference game this season.
The problems were complex, but started on the perimeter as Indiana's guards allowed far too much dribble penetration. As the season wore on and the Hoosiers were well scouted in conference play, opposing offenses knew the risk of Indiana turning ball handlers over was slim and thus drove to the basket relentlessly and often times unchallenged. It was a theme we saw early in the season as guards like Tyler Harvey of Eastern Washington and Terry Rozier of Louisville shredded IU's perimeter defense for easy drives all the way to the final buzzer of the year when Wichita State's Fred Van Vleet made finishing at the basket look easy against the Hoosiers.
Indiana switched defenses often throughout the season, going from man-to-man to zone mid-possession frequently, a concept that was deployed with the idea of causing confusion.
"Through the evolvement (of it), it's just become something that we do specifically for actions inside of something that somebody runs," Tom Crean said of the concept on a Big Ten teleconference in early March. "Usually we're pretty successful with it or we're good at getting into it and then sometimes, we're not as good. It's just something that we feel brings, it just brings a little more uncertainty to the offense and it doesn't mean that they're not going to make the shot, but it gets them maybe potentially out of their comfort zone of what they want to run at a certain point in time."
But it often led to confusion among teammates, as pointed out in the Film Session from the loss at Northwestern in late February:
The Hoosiers also lacked a shot blocker or deterrent at the rim, which was a major reason that Big Ten opponents shot 54.3 percent on their 2s, which ranked last in the league. Indiana ranked 13th in the conference in block percentage, 12th in steal percentage and 12th in defensive turnover percentage, all measurements that prove Indiana didn't pressure the ball much nor provide resistance at the rim.
To provide context on just how bad Indiana's defense was, the national ranking of 214th in adjusted defensive efficiency by KenPom.com is the worst ever recorded by the website for an IU team since it began tracking the statistic in 2002. The only power conference team to be rated lower in the statistic this past season was DePaul (Big East), which came in 228th nationally.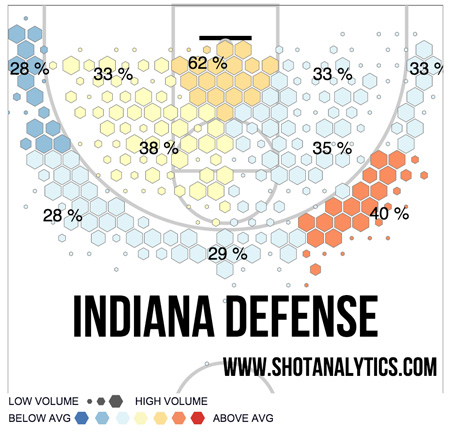 If there was a positive to draw from Indiana's defense that could perhaps carry over to next season, it was the fact that when the Hoosiers did pressure the ball, good things did happen. Two examples were the losses at Northwestern and at home to Michigan State when Indiana was down late and was able to use ball pressure to get back into the game, although it came up short of getting a win in both instances. Indiana also did a nice job of keeping opponents off the foul line as it ranked 81st nationally in opponent free throw rate (FTA/FGA).
Bottom Line: Last offseason, there was the question of whether or not Indiana could fix its turnover woes. This offseason, the question is: Can the Hoosiers fix their defensive issues? No team with a defense as poor as Indiana's this past season is equipped for consistent success. That was proven by the fact that IU didn't win consecutive games after beating Maryland on January 22. An elite offense can only carry you so far as this year's team learned when it bowed out to Wichita State in the NCAA tournament's round of 64. The Hoosiers have major work to do in terms of improvement individually and as a team if the goal next year is to contend in the Big Ten and to also make a deeper run into March or perhaps even April.
Quotable: "It all starts on the defensive end. When we give up easy buckets and things like that, that sparks the other teams' runs. And we just can't have that. " – Robert Johnson following Indiana's loss at Wisconsin in early February.
Previously: Robert Johnson, Max Hoetzel, Emmitt Holt, James Blackmon Jr.,Stanford Robinson, Troy Williams, Collin Hartman, Hanner Mosquera-Perea, Nick Zeisloft, Yogi Ferrell, The Other Guys, Team offense
Filed to: