That's A Wrap: Team offense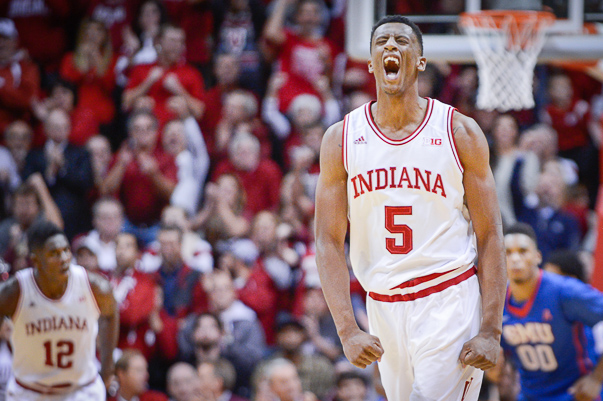 Welcome to "That's A Wrap," our recap of the 2014-2015 Indiana Hoosiers. Today: Indiana's offense.
Final stats (34 games): 77.4 ppg, 46.4 FG %, 54.4 eFG %, 40.6 3PFG%, 17.2 TO%, 32.7% FTR.
As the sun faded on Indiana's disappointing 2013-2014 season, it was clear the offense held the Hoosiers back from dancing.
Outside of Yogi Ferrell, the team had little in the way of ballhandlers. And as the Hoosiers tried to push the pace, it often resulted in catastrophe. They finished near last in the nation in turnover percentage (330th), opponent steal percentage (328th) and opponent block percentage (331st). When the Hoosiers were able to actually hang onto the ball and finish out a possession on their terms, the results were average — offensive efficiency (106.5, 127th), effective field goal percentage (49.8, 159th), three-point field goal percentage (34.3, 172nd).
A lack of shooting around lottery talent big man Noah Vonleh meant poor spacing. It was a collection of players that just didn't have the necessary parts to play at a high level.
But Tom Crean plugged the holes and re-tooled the roster in the offseason. He studied David Blatt's Russian national teams and the Euro game — a style with multiple ballhanders and shooters spacing the floor. The result? The nation's ninth most efficient offense. Robert Johnson and James Blackmon Jr. gave the team more ballhandling, driving and shooting options off the perimeter. Troy Williams was almost an auto-turnover when he put the ball on the deck as a freshman, but improved handles and playmaking were apparent as early as the Canada trip. As such, the turnovers improved dramatically (17.2%, 60th) and suddenly Indiana had a starting lineup with guys you had to respect all over the floor.
As Alex noted in Ferrell's "That's A Wrap", Indiana's increased options on offense meant the team's best player had to shoulder less load. This allowed him to become a more efficient offensive player while also setting his teammates up. Across the board, the Hoosiers were willing sharers of the ball — save for some takes from Stanford Robinson and maybe a few from Williams, too — and it made the offense hum. They spaced the floor like few others in the country and it made them a tough cover.
Crean continued to implore the team to push the tempo whether the Hoosiers took over possession on a make or miss from the opponent. If they got ahead of the defense before it was set or broke it down early, quick scores happened.
Miss:
Make:
In the halfcourt, Crean also continued to implement the perimeter weave and aspects of the dribble-drive. With Ferrell's ability to break a defender off the dribble and get to the rim, any defender who collapsed off their man to stop him he made pay. Sometimes it was Williams, who worked the short corner and baseline like few others.
Other times Ferrell would get up in the air, wrap around the defense at the cup and throw an impossible pass to an IU shooter on the wing for a 3-pointer.
Indiana executed its offense at its peak during a win over Maryland at home on Jan. 22. With Collin Hartman playing center, the Hoosiers essentially went five out on offense and had shooters, ballhanders and passers at all positions. They were on fire from distance (15-of-22) and Mark Turgeon and Maryland just had no answers for the onslaught.
"They were hard to guard," Turgeon would say after the game. "I felt like we were a step behind them all night."
Perhaps the most crucial new wrinkle to Crean's system was its value of the 3-point shot. As the NBA gets smarter and more sophisticated about data and analytics — about the components of what makes an offense its most efficient — the league has migrated to one featuring a lot of 3-point shooting and looks at the rim. Death to the long 2, to the mid-range. Daryl Morey's (the posterboy GM for the new analytics age) and his Rockets hoist 3-pointers at a high rate. Steph Curry and Klay Thompson's number of attempts and high percentage from distance are redefining the definition of a backcourt in Golden State.
Crean's teams followed this blueprint. It was rare a Hoosier took a long 2 or a shot in the mid-range. Indiana's 18 made 3-pointers against Minnesota on Feb. 15, were both a school and conference record. Its 319 makes on the season set an IU record. Nick Zeisloft shot 51.4 percent in conference from distance and his ORtg of 139.1 was second nationally. Six Hoosiers in total shot 38.7 percent or better from 3-point range.
Simply put: No team in Indiana history produced from distance like this year's squad.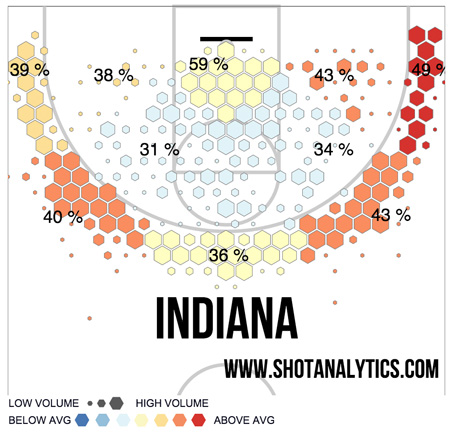 Bottom Line: With such a poor defense, Indiana could have been headed for disaster this season. But its elite offense allowed the Hoosiers to overcome games it had issues guarding the opponent. They finished with the third most efficient offensive in conference behind Wisconsin's record-breaking season and Iowa. Indiana had its struggles at times. Louisville's size swallowed the Hoosiers whole and they only mustered .96 points per possession. And with no big man of serious merit, Indiana became too much of a one-trick pony at times. When Northwestern went to zone against the Hoosiers in Evanston, Indiana kept jacking shots in the second half and they weren't falling. A post presence could have helped in a game like that. Blackmon Jr. and Johnson also got blocked too much at the rim on the season.
Still, this was a Top 10 offense nationally, one that reinvented itself on the fly.
Quotable: "One thing he's so much better at is when there's not a play, he can keep the ball and he can create something. And at the same time, he's playing with his head up and attacking very well. When the game is constantly moving and, more importantly, he is constantly moving, then that makes us that much harder to guard." — Crean on Ferrell in early February.
Previously: Robert Johnson, Max Hoetzel, Emmitt Holt, James Blackmon Jr., Stanford Robinson, Troy Williams, Collin Hartman, Hanner Mosquera-Perea, Nick Zeisloft, Yogi Ferrell, The Other Guys
Filed to: