Notes, quotes from Tom Crean on the Big Ten teleconference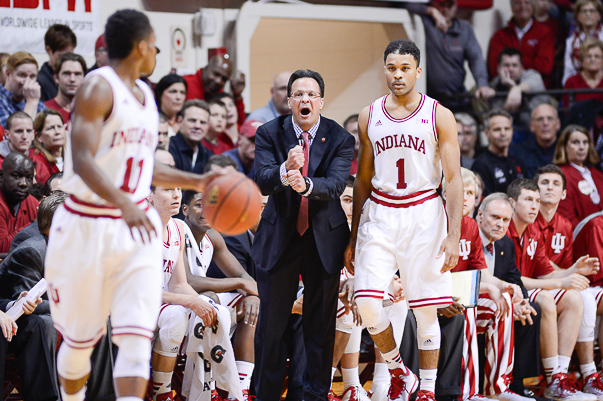 The Big Ten held its weekly coaches teleconference on Monday morning to review the sixth week of conference play. Here are some notes and quotes from Tom Crean's appearance:
On the return of Hanner Mosquera-Perea and how he'll balance his minutes with Collin Hartman:
"I think they can both play together. I think it will be a key. It just gives us more things we can plan for in a game and more adjustments that we can make. Certainly there is a lot going on in the game when we have Collin at that position. Are people going to match down, are they going to match up? And when you have Hanner in the situation as he gets healthy, then it changes things a little bit for us. So Collin is going to be on the court, there is no doubt about that. He needs to keep getting better, and he knows that and he is. And at the same time, this allows us to do more with Hanner, and hopefully Emmitt (Holt) continues to develop the way that he has and allows us to get a little bit stronger down around the basket."
On the evolution of Yogi Ferrell's game:
"I think he just continues to improve and add things to his game all the time. One thing he's so much better at is when there's not a play, he can keep the ball and he can create something. And at the same time, he's playing with his head up and attacking very well. When the game is constantly moving and, more importantly, he is constantly moving, then that makes us that much harder to guard. When he gets into one area or a specific area and is trying to make a play when the defense can collapse in that area, then it makes a little easier to guard. But when he's in movement and he recognizes that so much better, I think that's key for us. He's just giving absolutely everything that's he's got on the defensive end, but that doesn't mean he doesn't make mistakes but at the same time he's giving everything that he has. And not only being a great on-ball defender but really working off the ball and really working to help his teammates."
On the challenge of playing a banged up team in Maryland and also a team that IU beat comfortably the first time:
"I don't think there is any question that Maryland will play fantastic and that's what they are capable of. It's hard to go on the road in this conference and have success. Iowa's playing outstanding, they've had a great week and showed great balance in how they played, but Maryland is definitely still the same team that we played, only a couple weeks ago. They've got the same guys; they've got a healthy Dez Wells; they're doing a very good job of moving the ball and they are the product of nights when they don't shoot the ball well, then they're not going to look as good.
"But we know what they are capable of at home. We know how they play at home. We know that Mark (Turgeon) does. And in this league you're always coming back from something. You've either got to deal with success or you've got to be able to get rid of that loss and go above and beyond it the next night. In this league there are really no get-well games. Everything is about giving your very best to that game and bringing everything that you have to it because the league is so tough and the teams are so tough. We know that Maryland is capable of beating anybody, not only in this league, but in the country on any given night."
On Hanner Mosquera-Perea's ability to help the team going forward:
"I think it's too early to project, but we're really going right into Maryland. Maryland has one of the better front lines because they can do so many different things with it. They can play any of their big guys up front with Cekovsky, Graham and Damonte, they've got all those guys that can do things. They've got Smotrycz, who they can move to the five. Every night, we're going to see a good front line, we're going to see a very good front line. Whether it's a big and strong, play at the rim front line or whether it's a versatile, inside out front line, or a combination thereof. That's what Maryland gives you.
"To me, it's going to be crucial that he can step in and play at a level that makes us better and that he works inside with us. When you look at Damonte Dodd and what he's capable of and Jon Graham had a fantastic game against Penn State, Those guys are getting a lot done at the basket. It just adds to it. And at the same time, we're going to have to make sure we integrate him into the offense the way that we want to and the way that serves him best, serves us best, but not get away from the spacing we have. There will be a lot more mix and match probably in these games."
On the development of Robert Johnson and the trust to rely on him as a guy who can handle the ball and initiate offense:
"I think he's done a very good job of that, but I think where he's made tremendous strides is becoming one of our best defenders. Not only a guy that can guard guards but can guard bigger people. He has been on the floor at all the crucial times for us, barring foul trouble. He has been in there to win the games in all of these games where we've had to make that last stand. I'm pretty sure he's been on the court for all of that. That says a lot about a freshman. And James (Blackmon) has certainly improved in that area, too.
"But Rob can make shots and I think the biggest thing for Rob is continuing to understand, not in the movement part of the basketball game or the concept part, but when we're in a set, what are we looking for in this set? And continuing to know. We don't run as many sets as we do actions to get us going but there are certain times when we really want to get this particular thing. And him continuing to understand that is a part of the growth, him continuing to with the ball. The one thing that with James and Rob every day is to try to get them to a level where they're handling the ball and making ball screen decisions like Yogi does. That's a pretty good role model to learn from in practice. And Rob is making tremendous strides there and we want to keep him involved in the ball screens and just continue to watch his growth. As he gets more confident, his leadership comes out and he's got a lot of natural leadership ability and I think that's what is really crucial for us going into this next stretch."
Filed to: Tom Crean