That's A Wrap: Evan Gordon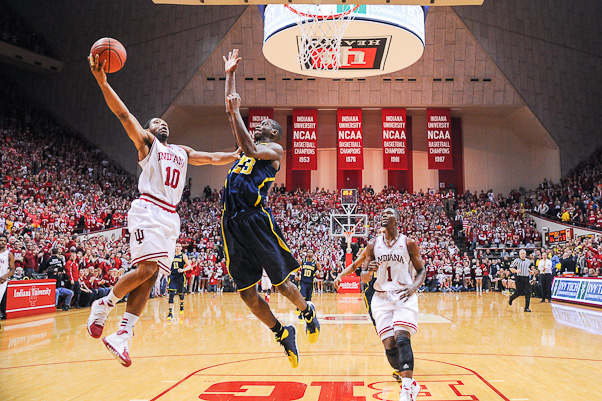 Welcome to "That's A Wrap," our player-by-player recap of the 2013-2014 Indiana Hoosiers. Today: Evan Gordon.
Gordon (32 games): 5.5 points, 2.3 rebounds, 1.4 assists, 40 FG%, 81.0 FT% in 20.4 minutes per game.
When Evan Gordon announced that he was coming home to play his final season at Indiana last spring, he noted several reasons for his decision to leave Arizona State. Proximity to family and the masters of sports administration program in Bloomington were among the reasons he listed, but ultimately, the chance to fill a lifelong dream seemed to be the biggest of all.
"Being from Indiana, going to IU is probably the second greatest accomplishment besides playing in the NBA," Gordon told Inside the Hall on May 15.
As the younger brother of a former IU player, Eric, Gordon had a chance to watch the program up close during the 2007-2008 season, a year in which the Hoosiers were nationally ranked and near the top of the Big Ten standings.
"At the end of the day, they are one of the biggest and best programs in the country," Gordon explained. "It doesn't get much of a bigger stage than IU."
Gordon arrived in Bloomington with the expectation that he would contribute minutes as a combo guard and also bring leadership as the oldest player in the program. He made just three starts, but averaged 20.4 minutes per game, which ranked fifth on the team.
And as you might expect out of a senior, he had some of his best performances against ranked opponents at home.
On Jan. 14 against Wisconsin, he scored eight points and added six assists and four rebounds in 33 minutes. On Feb. 2 against Michigan, he again scored eight points and his willingness to attack the basket in key times against the Wolverines helped propel the Hoosiers to victory. And in IU's final two wins of the season (Iowa and Ohio State), Gordon scored a total of 21 points on 5-of-10 shooting from the field and 9-of-10 shooting from the foul line.
It was definitely a change in roles for Gordon, who played the lowest minutes total of his career, but made the best of a situation that had to be tough considering the school he left, Arizona State, reached the NCAA tournament, an experience Gordon never had as a player.
Bottom line: Gordon played at three different schools (Liberty, Arizona State and Indiana) and as a player who was lightly recruited out of high school, had a very productive career with 1,363 points. Ultimately, his decision to play closer to home for his final season wasn't all about basketball as it allowed his family to watch him up close and also to earn a masters degree that he plans to put to good use.
Previously: Stanford Robinson, Troy Williams, Collin Hartman, Noah Vonleh, Devin Davis, Austin Etherington, Jeremy Hollowell, Hanner Mosquera-Perea, Yogi Ferrell, Peter Jurkin, Will Sheehey, Jeff Howard
Filed to: Evan Gordon