Q & A: Evan Gordon talks about commitment to IU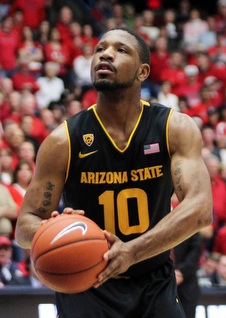 Inside the Hall had a chance to speak one-on-one this morning with the newest Hoosier, Evan Gordon, about his decision to play his final season of college basketball in Bloomington.
Here's a transcript of our conversation:
Inside the Hall: It's been a quick turnaround here, but talk about why you picked Indiana and how you fit into the program.
Evan Gordon: First, they have a great masters in sports administration program. I think that's one of the biggest keys was the masters program that I was going to get into. Secondly, being from Indiana, going to IU is probably the second greatest accomplishment besides playing in the NBA. Third, coach (Tom) Crean has those guys winning. They just came off a great season and to keep that tradition rolling is another great key. I'm also close to home and my family can come see me and I can go see my family at any time.
ITH: What do remember about when Eric played at Indiana? Obviously a lot has changed since that time.
EG: I kind of remember everything. I used to go down there all the time just to hang out with him and be around him. I got to see them practice and see them play almost every home game. I was definitely with it and in it when he was. He loves the Indiana tradition and he still goes back. He always says, 'man, I wish I would have stayed in college,' so he goes back and visits IU constantly. You can just see the tremendous respect he has for their program.
ITH: As far as what you can bring to the program next year, talk a little about where your game is at this point and how you think you'll fit in next year.
EG: Just playing the combo guard. Yogi (Ferrell) is there and they needed guards so I'm another guard that can score, can shoot and can pass. I think just playing on the perimeter and being a little older than the rest of the guys is also going to help me in the leadership factor on the team. Just playing a primary scoring role and being a leader I think is going to be my main focus in what we're looking to do next year.
ITH: As far as when you're planning to go to Bloomington, will you go down this summer?
EG: I plan to go down for the second summer school session.
ITH: You talked about the program winning again, talk a little about how far the program has come from watching afar. It sounds like you are pretty excited to be a part of it.
EG: I've seen how it has changed from the Bobby Knight era to the Mike Davis era and I've seen the pitfalls and I've seen them win. At the end of the day, they are one of the biggest and best programs in the country. It doesn't get much of a bigger stage than IU. My brother went there, he won, and I plan to do the same thing.
ITH: What do you hope to do with the sports administration masters after college?
EG: I plan to stay in the game of basketball as a coach or work in a front office in college or the professional ranks.
Filed to: Evan Gordon