2012-2013 Player Profile: Austin Etherington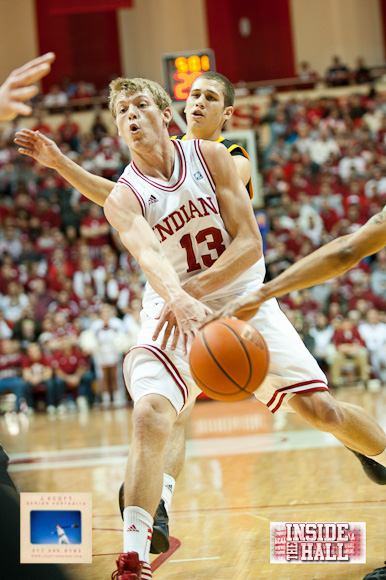 It's time for Inside the Hall's player-by-player breakdown of the 2012-2013 Indiana Hoosiers. Today: Austin Etherington.
Key stats: 4.8 mpg, 43.8 FG%, 80.0 FT%
When Austin Etherington gave a verbal pledge to Indiana in August of 2009, he was just the second in-state player to commit to Tom Crean. And, based on the current crop of talent in Bloomington coming off a 6-25 season, the sharpshooter from Hamilton Heights seemed like a player who may see a good amount of playing time as an underclassman.
But as the commitments started piling up in the months that followed — an effort Etherington played a hand in based on his friendships with Cody Zeller and most of the "Movement" — the sophomore now finds himself in a far different place than perhaps the initial expectations: out of the regular rotation.
An interesting twist of fate.
As a freshman in Indiana's 2011-12 breakthrough campaign, Etherington only saw action in 16 of Indiana's 36 games for an average of just 4.8 minutes per. His season-high of eight points came in IU's first game of the season, a 96-66 win against Stony Brook. He saw over 10 minutes of action (13) only once; it came during Indiana's 89-47 drubbing of UMBC on Dec. 22. He didn't score a point in the Big Ten season.
"Last year it was hard to get him in the games," Crean said of Etherington on "The Dan Dakich Show" last week. "Well he would have been our leading scorer probably the first year. And in the first three years, there's no question he would have been a starter in my mind in this program — at least one of the main guys. And it's not like he's not getting better, it's not like he's not improving, it's just it's hard to get minutes. I think, to me, that's what you want your team to be about."
Etherington said at last week's media challenge that he's worked this offseason in the weight room and on the consistency of his shot. But as he enters his sophomore season, it's unlikely his limited role will increase enough to fully showcase such added facets to his game.
Bottom line: While Etherington isn't in line for regular rotation minutes, Indiana's pre-conference schedule should give him the opportunity to pick up some minutes when the game is in the hand — if not earlier. It may also follow, too, that Indiana's conference slate could allow Etherington a chance to play based on scoring margin in the waning minutes. And should Indiana be stricken with a sizable injury bug, Etherington exists as a decent safety valve on the wing with his size and shooting ability.
Quotable: "I don't see it as that much different. I did know all those guys coming in, but now that we're here together it's not that much different. I talk to them just as much." — Etherington on his relationship with members of the 2011-12 recruiting class
Previously: Derek Elston, Christian Watford, Jordan Hulls, Maurice Creek, Victor Oladipo, Will Sheehey, Remy Abell, Cody Zeller
Filed to: Austin Etherington