2012-2013 Player Profile: Will Sheehey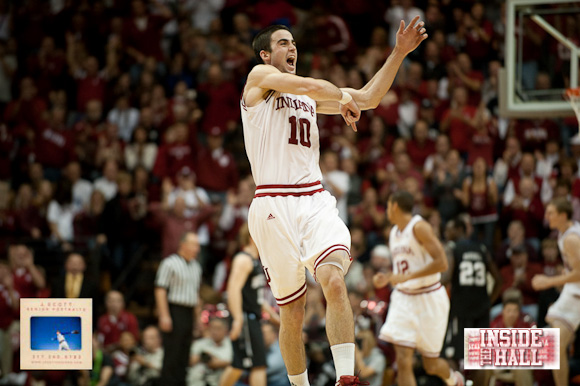 It's time for Inside the Hall's player-by-player breakdown of the 2012-2013 Indiana Hoosiers. Today: Will Sheehey.
Key stats: 8.6 ppg, 3.1 rpg, 55.0 eFG%, 38.3 3P%, 6.6 OR%
As Will Sheehey enters his junior season, the offseason returns have been favorable.
During an adidas Nations broadcast in early August, Minnesota Timberwolves assistant coach Bill Bayno — who worked with the college counselors — was high on the Florida native's athleticism, saying: "I had no idea he could do the things he could do." And as Tom Crean addressed the Indiana student body in early September, he noted Sheehey and Cody Zeller as "neck-and-neck" for the most improved players on the team. Crean also talked about Sheehey's elite physical condition in which he lasted an IU record 14:06 during a VO2 treadmill test.
Despite a left ankle injury that kept him out of the lineup for the first four Big Ten games and slowed him for a while upon return, Sheehey's sophomore season was a breakout campaign. He improved in pretty much every way, hit arguably the second biggest shot of the season against VCU to send the Hoosiers to the Sweet Sixteen and started 11 games.
But if Sheehey's able to deliver on the offseason praise when the ball tips on the 2012-13 season, he may be in line for another strong leap in his game and more appearances in the starting lineup. Sheehey represents the embarrassment of riches the Hoosiers on offense. He won't draw the attention of Zeller. And, at times, may not have the ball in his hands as much as Yogi Ferrell, Jordan Hulls, Christian Watford or Victor Oladipo. There's only going to be so many looks each game. But it's Sheehey's versatility that should still make him a factor. He connected on 38.3% of his 3-point attempts last season. He's a great complement on the break with his ability to stop and pop a mid-range jumper with ease. Sheehey is also a smart player in the half court, cutting well and picking his spots. And his athleticism allows him to do some impressive things at the rim as well. (Though, his free throw percentage of a year ago (70.4), could stand some improvement.)
Yet, just what Sheehey shows on the defensive end of the court may be the key to how much action he ultimately sees this season. It's been repeated time and again here, but Indiana will stand a better chance of going deeper if its defense becomes as elite as its offense projects to be. Sheehey made strides in this department last season. He has the length, size and athleticism to become a strong perimeter defender. No. 0 also has an edge and junkyard dog mentality to his court presence, another feather in his cap should he harness it on D.
Bottom Line: Beyond the talent Sheehey brings to both sides of the ball, he also may to play another important role this season: Enforcer. There figure to be a few teams that may try and get overly physical or chippy with the Hoosiers in an effort to slow them down. Don't be surprised if it's Sheehey stepping up to the plate and jawing right back in defense of his teammates. He's not a guy that backs down.
Quotable: "I'm a bad dude when it comes to that stuff. There's nobody, I think, in the country that can run as far and as long as I can. I have the all-time record, easily. Jordan had it before I did, but that's not going to happen." — Sheehey on his VO2 treadmill test.
Previously: Derek Elston, Christian Watford, Jordan Hulls, Maurice Creek, Victor Oladipo
Filed to: Will Sheehey