2012-2013 Player Profile: Jordan Hulls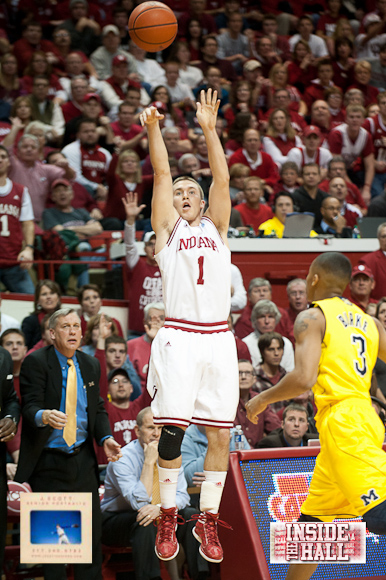 It's time for Inside the Hall's player-by-player breakdown of the 2012-2013 Indiana Hoosiers. Today: Jordan Hulls.

Key stats: 11.7 ppg, 50.4 FG%, 49.3 3P FG%, 89.9 FT %, 3.3 apg
For Jordan Hulls, it's about faith.
Faith at center court of Assembly Hall when a new coach taking over a Hoosier program with a long, uncertain road ahead — one Hulls had strong familial ties to — offered him a scholarship and a chance to build it back up once more. Faith through the darkness when that road was so hard for so long and it seemed the daylight would never come. Faith in his jumper whenever he hits a cold streak because he knows — and we know — it's simply too pure and too good to be gone for too long.
Faith that as he enters his senior season, in what may ultimately end up as one where his role changes and maybe — just maybe — even diminishes, that it'll all be for the greater good of the team and a better shot at the Bloomington native fulfilling his dream of a national title in the cream and crimson.
This much is certain about Jordy Hulls: Kid can shoot. No guard in the Big Ten was as efficient as Hulls in 2011-12 (63.0 eFG%); he finished his junior season ranked 14th in the nation in effective field goal percentage. Hulls hit 58 straight free throws spanning back to the the 2010-11 season through the 12th game of last year — good for a Big Ten record and 10th all-time in NCAA history. He connected on seven of the nine 3-pointers on a Sunday afternoon in January at the Bryce Jordan Center en route to 28 points. And he hit his first NCAA Tournament appearance running, scoring 22 points by connecting on 66.7% of the shots he took against New Mexico State in the first round.
Hulls also flashed an array of shake-and-bake moves off the perimeter to get himself inside the arc with space to rise and fire or into the paint for an easier look on occasion. Those moves were not always a part of his arsenal during his underclassmen years. He assumed vocal leadership in the summer leading up to Indiana's breakout 2011-12 campaign, and is now passing along all he knows and has learned to the freshmen.
What's not certain? Just where Hulls fits in this season.
With McDonald's All-America Yogi Ferrell on campus, Hulls' role as a primary ballhandler is likely to decrease. And his grasp on a starting spot could also be in jeopardy. Hulls could start off the ball at the 2 with Ferrell playing point, but that leaves Indiana with a small backcourt and potential matchup issues. Victor Oladipo and Will Sheehey starting at the 2 and 3 offers more athleticism, more size and more defense — the last of which is of paramount concern if Indiana wants to ascend from very good to great. It's also a key point of emphasis for Crean this season.
Bottom line: Hulls certainly hangs heavy on the hearts of the ITH faithful; his omission from our preseason Top 25 Big Ten players was met with much disdain. So starter or eventual sixth man, Hulls will not only continue to be a fan favorite, but still certainly figures to be a big part of Indiana's 2012-2013 campaign both on the court and in the locker room. At times, he could be in line for a healthy amount of open looks this season with opposing defenses in a pick-your-poison approach to Indiana's host of offensive weapons.
Quotable: "It's a little bit different of a mindset from the standpoint of we have a target on our backs a little bit now. But as far as us approaching each workout, each practice, it's the same way. We have to come out and compete against one another and make each other better that way." — Hulls on entering this season as opposed to his previous three.
Previously: Derek Elston, Christian Watford
Filed to: Jordan Hulls