Five takeaways from the IU Media Challenge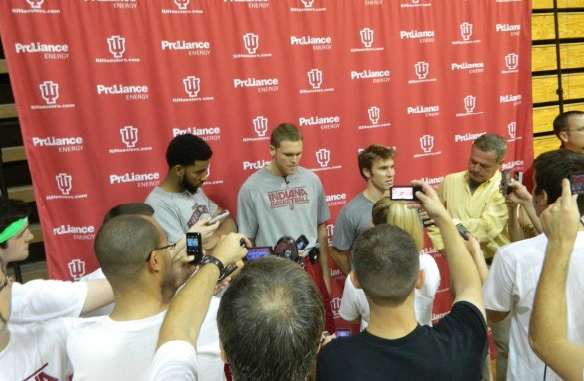 For the first time since the awards banquet in late April at Assembly Hall, the media had an opportunity to talk to the Indiana basketball players at last Thursday's media challenge. Many things were discussed throughout the day, but here are five takeaways from our first interaction with this year's Hoosiers.
1. Hoosiers not concerned with the hype
Much has been made in the offseason about IU being ranked No. 1 to start this season, but the players did their best to downplay their preseason ranking. They called it an honor to receive so much respect, but said it hasn't changed their mindset.
"Preseason No. 1, I knew that was going to bring a lot of hype," senior forward Derek Elston said, "but for us as a team, we still see ourselves as the team that was supposed to be rebuilding and didn't have any respect at all. We still work out like we're the team that everybody hates."
Still, though, it's hard to ignore the difference in attention between this year's team and last year's team. Cody Zeller said the upperclassmen have done their best to protect the freshmen from people around campus who only want to be their friend because they're on the basketball team. Zeller said the players are getting a lot of attention around campus because of the giant expectations heading into this season.
"It's a little bit different because people are actually starting to like us a little bit," said senior guard Jordan Hulls. "We're getting hype a little bit."
It'll be interesting to see how the Hoosiers handle to expectations throughout the season. They're used to being the underdog and using that role as motivation. Now, that won't be an option.
2. Zeller got bigger
Opposing defenders already had plenty of trouble guarding Zeller last season. Now, they'll have to guard an even bigger version of the IU standout.
Zeller confirmed that he is a half inch taller than he was last year, giving him an official listing of 7-foot with shoes on. Zeller also now weighs 240 pounds, 15 pounds more than he played at last season. Zeller said he doesn't believe the additional weight will hinder him in any way this season because he still feels like he can move around as well as he did before.
Zeller also believes he'll add a perimeter element to his game this season.
"Yeah, a little bit," he said. "I kind of have to just because I don't want to be double teamed the whole game. We'll move me around a little bit just to make it hard to double team."
3. Oladipo continues to develop
A big part of the Hoosiers' success last season had to do with the rapid development of Victor Oladipo. Originally a recruit who wasn't on many, if any, top 100 lists nationally, Oladipo quickly became one of the most athletic guards in the country.
At his IU Auditorium speech in September, IU coach Tom Crean said Oladipo could be unstoppable if he developed a consistent 3-point jump shot. Oladipo shot just 21 percent from beyond the arc last season.
"I think it's all about my mind, to be honest with you," Oladipo said. "I've been working really hard, and I'm not gonna stop working really hard. But at this point, it's different than shooting in here [Assembly Hall] when the lights are on. I really believe that I've become a way better shooter than I was last year. I'm going to continue to work on it."
Oladipo also said he expects to be much more of a leader this season. Even though the team has three seniors and a redshirt junior, Oladipo has clearly emerged as one of IU's best players, and he's one of the most vocal guys on the team. That combination should make him a great candidate to be one of this team's primary leaders.
"I'm way more of a leader now than I was last year. I have to be, I feel like," Oladipo said. "I feel like these guys look up to me. I feel like when I say something, these guys actually listen to me. I gotta be a leader because I feel like I can do different things on the court to help the team, and I feel like when I play at a high level, the team plays at a high level."
4. Perea, Watford, Creek back and healthy
Senior Christian Watford and freshman Hanner Perea both dealt with offseason foot injuries, but they are both back to full health and are fully participating in team activities.
Perea wore a walking boot on his foot for much of the summer, but he has now been without it for nearly two weeks and he said he felt nearly 100 percent. Watford, who also dealt with a foot injury after the season, said he's getting back in shape.
"As of right now, I feel fine," Watford said. "I had a couple setbacks here and there, but I feel fine."
Maurice Creek, meanwhile, who is returning from his third major surgery in three years, said he has been "full go" for quite a while. He's still going through some rehab after suffering a torn Achilles prior to last season, but he's healthy and ready for practice to begin on Friday.
5. Elston returns to more natural role
During Crean's first few years in Bloomington, several players were forced to play out of position at times because of a lack of personnel. Elston was one of those players.
The Hoosiers needed Elston to play in the post, so he added some weight and battled with bigger guys inside. Now that IU has Zeller and freshman Peter Jurkin — two true centers — Elston can return to the perimeter on a full-time basis, a role he feels more comfortable in.
Elston has lost about 15 pounds and is down to 216, close to his high school playing weight.
"Once Cody came in here, I started working on my game more than focusing on one position," Elston said. "My jump shot's come around so much now that I don't have to worry about being in the post."
To get minutes this season, Elston knows his overall defense is also going to have to improve. The Hoosiers struggled as a team on the defensive end last year, and several players said it has been a point of emphasis during the offseason. But as Elston explains, if the Hoosiers can guard each other in practice, they should be pretty well prepared to defend other teams.
"Having to guard Cody every day, having to guard Christian, having to guard Will [Sheehey], that right there is going to make me a better defender," Elston said. "Whether I pick it up the first couple times I go against them, maybe I don't. But if I can guard those guys, I should be able to guard a lot of people. And that's the thing right now. I don't want to just be held to guarding the five, I want to be able to guard the four and the three just because that's the position I'm going to be playing."
Quote to note: "I'm a bad dude when it comes to that kind of stuff. There's nobody, I think, in the country that can run as far and as long as I can." — Sheehey on shattering the school record in the VO2 treadmill test over the summer. (Video below.)
(Photo credit: IUHoosiers.com)
Filed to: Christian Watford, Cody Zeller, Derek Elston, Jordan Hulls, Victor Oladipo