2012-2013 Player Profile: Derek Elston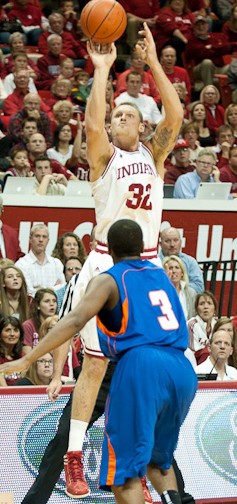 It's time for Inside the Hall's player-by-player breakdown of the 2012-2013 Indiana Hoosiers. Today: Derek Elston.
Key stats: 4.2 ppg, 2.4 rpg, 55.2 3PG FG%, 17.1 defensive rebounding percentage.
Like many upperclassmen on this year and last year's roster, Derek Elston got more opportunities in his first couple seasons than he will in his final two. Elston's minutes dipped from 15.5 a game his sophomore year to 12.3 per contest last season thanks, in large part, to the addition of Cody Zeller. Elston wasn't relied upon as much for playing in the paint, so he was able to float around and play more as a perimeter shooter. He often did well in that role as he hit 55.2 percent (16-of-29) of his 3-point attempts last season.
Elston's minutes will likely decrease again this season with a strong incoming recruiting class that includes Jeremy Hollowell and Hanner Perea, two guys that could play his position. But that certainly doesn't mean Elston can't make an impact, especially given his experience.
Despite fairly insignificant numbers a year ago — Elston averaged 4.2 points and 2.4 rebounds per game — the Tipton native had several important performances. Tom Crean referred to him throughout the year as one of the team's seven starters and Elston scored in double figures on five occasions.
He played a critical role in helping the Hoosiers upset Ohio State at Assembly Hall on Dec. 31. With Zeller in foul trouble, Elston drew the assignment of guarding big man Jared Sullinger, and he performed admirably as the Hoosiers prevailed, 74-70.
At his IU Auditorium speech in September, Tom Crean said he just wants Elston to be the team's Brian Scalabrine this season. Scalabrine, the longtime Boston Celtic who recently retired, rarely played significant minutes, but routinely came up with a big 3-pointer or rebound to help his team succeed.
Crean also mentioned Elston has dropped some weight and is in better shape than he was last season. That makes sense, considering the Hoosiers have several new big bodies and they won't need Elston to play in the paint much anymore.
Bottom line: Elston won't be a key contributor for the Hoosiers this season, but if he accepts the role Crean has given to him, he still has a chance to be effective. With Zeller, Yogi Ferrell and others drawing defenders to them, Elston should get plenty of great looks from the perimeter.
Quotable:  "He just needs to be Brian Scalabrine for us." – Crean on Elston at his IU Auditorium speech.
Filed to: Derek Elston