2012-2013 Player Profile: Christian Watford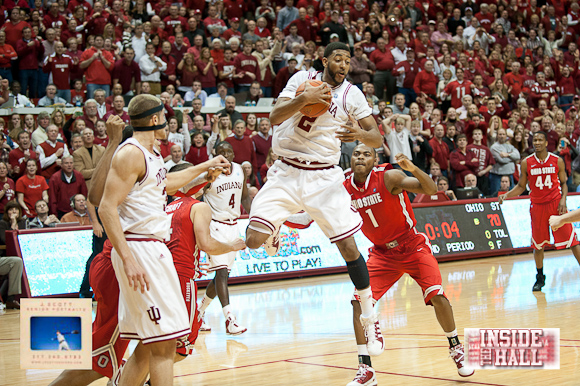 It's time for Inside the Hall's player-by-player breakdown of the 2012-2013 Indiana Hoosiers. Today: Christian Watford.
Key stats: 12.6 ppg, 5.8 rpg, 81.5 FT %, 43.7 3P FG%, 18.8 defensive rebounding percentage.
Eight months after Christian Watford's buzzer beater knocked off No. 1 Kentucky, the play continued to garner national attention. Watford, dressed in a suit and tie, stood on a Hollywood stage on July 11 and accepted an ESPY award for the play of the year in all of sports.
But as memorable as that shot was and will continue to be, it was one of many highlights in Watford's junior season that saw him rank second on the team in scoring, rebounding, free throws made and 3-pointers made.
Watford grew tremendously in his third year in Bloomington. Defensively, he was tasked with guarding the perimeter during the Big Ten season and was successful in disrupting guys like Michigan State's Keith Appling and Michigan's Trey Burke for stretches. He also made more of an effort to clean up the defensive glass and it showed as he posted the best defensive rebounding percentage on the team. In IU's 74-70 win over Ohio State on New Year's Eve, it was Watford who corralled William Buford's missed 3-pointer in the game's closing seconds.
As he enters his final year at Indiana, Watford's role doesn't figure to change much. He's clearly one of the Big Ten's elite perimeter shooters and could be better in that area with more talent on IU's roster. In his first two seasons, opponents often keyed in on stopping him. But the arrival of Cody Zeller last season allowed Watford to play more on the perimeter and his efficiency improved as a result. Yogi Ferrell's ability to drive and dish should improve the quality of the looks Watford receives from the outside even more. Remarkably for a 6-foot-9 player, Watford shot better on 3-point attempts than he did on 2's, so finishing in the paint is a potential area he'll look to improve upon.
His defense, which improved as last season moved along, will need to take another step forward if Indiana is to become decidedly better in that area. Watford said at Thursday's media challenge that he believes he'll continue to see time guarding perimeter players this season. The challenge of using his length and positioning as a means of pressuring the ball was something Watford seemed to embrace.
Bottom line: After receiving feedback from the NBA Draft Advisory Committee, Watford decided to stay put for his senior season and the opportunity to make a deeper run in the NCAA Tournament. In Watford's words, he felt like "there were some stones unturned that we can definitely get." Zeller will receive most of the national accolades, but the Hoosiers need similar offensive output from Watford and his experience and leadership to reach Atlanta.
Quotable: "It's fine. It's a lot better. It's the best it's been." – Watford on a foot injury that hampered him for part of the offseason.
Previously: Derek Elston
Filed to: Christian Watford