2012-2013 Player Profile: Victor Oladipo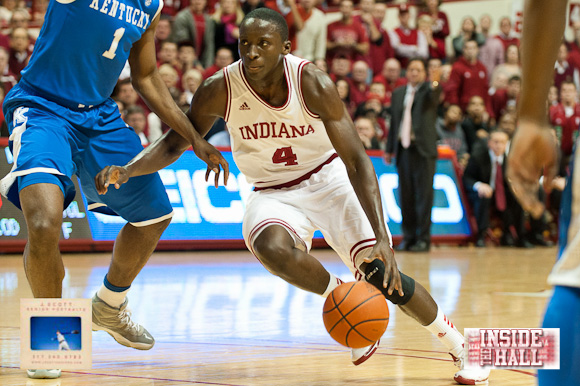 It's time for Inside the Hall's player-by-player breakdown of the 2012-2013 Indiana Hoosiers. Today: Victor Oladipo.
Key stats: 10.8 ppg, 5.3 rpg, 49.8 free throw rate, 15.4 defensive rebounding percentage
The emergence of Victor Oladipo from under-recruited freshman to a junior who looks to have a future playing professionally is a prime example of what happens when you merge a talent who is willing to work with the player development currently taking place in Bloomington.
Oladipo's commitment to the Hoosiers in September of 2009 shortly after a visit went largely unnoticed nationally, but it was arguably one of the most important moments in the first year and a half of the Tom Crean era. It continued IU's plan of building a pipeline in the D.C./Maryland/Virginia area, which started with Maurice Creek and is still ongoing today with the hiring of Kenny Johnson. It also quickly changed the course of the 2010 recruiting class which at the time was only comprised of David Williams.
After playing primarily off the bench as a freshman, Oladipo shifted to the starting lineup in 34 of 36 games as a sophomore. His shooting percentages dipped with more attempts, but his effectiveness grew as the season moved along. Over Indiana's last eight regular season games, he scored in double figures seven times and stopped settling for jump shots and instead attacked the basket. The result was more free throw attempts (59 in eight games), and he finished the season as a 75 percent shooter from the line. It's a trend he'll look to continue as he enters his junior year.
Oladipo's prowess on defense was also critical to an improved effort overall for the Hoosiers. He was the third best defensive rebounder on the team and at times, his ball pressure flipped the direction of games in favor of IU. The sequence below against Ohio State was perhaps the most memorable of all as it shows just how effective his ball pressure can be in changing momentum:
If there's one glaring flaw that still exists for Oladipo, it's his perimeter shooting. He took 48 attempts from behind the 3-point line and hit only 21 percent. At Thursday's media challenge, he acknowledged that it was a point of emphasis for improvement over the offseason, but pointed more to confidence being the problem rather than the form on his shot. Whatever the case, it bears watching as an early storyline as practice begins on Friday.
Bottom line: As a starter and upperclassmen, Oladipo is expected to be a leader on a team with aspirations for a Big Ten championship and more. His total scoring numbers won't be expected to move much, if at all. A quick study of his numbers show that getting into the lane and to the free throw line should be his primary focus instead of settling for the jumper. Defensively, he'll need to continue answering the challenge of guarding some of the best perimeter players in the country.
Quotable: "I'm way more of a leader now than I was last year. I have to be. I feel like these guys look up to me. I feel like when I say something, they actually listen to me. I've gotta be a leader because I feel I can do different things on the court to help impact the team. I feel like if I play at a high level, then the team plays at a high level. I not only need to lead by example, but I need to say something as well. I've been working on that. When I first got here, believe it or not, I was quiet. I know that's hard to believe, but I was. And now, I'm getting more comfortable with this role of being a leader. Hopefully I can continue to keep doing it not only now, but throughout the year." – Oladipo at Thursday's media challenge.
Previously: Derek Elston, Christian Watford, Jordan Hulls, Maurice Creek
Filed to: Victor Oladipo