2012-2013 Player Profile: Maurice Creek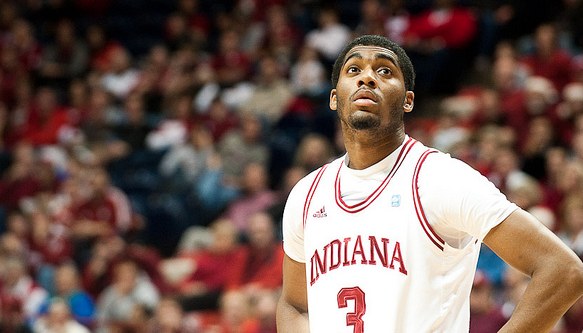 It's time for Inside the Hall's player-by-player breakdown of the 2012-2013 Indiana Hoosiers. Today: Maurice Creek.
Maurice Creek is back and healthy — finally.
The 6-foot-5 redshirt junior has yet to play a full season for the Hoosiers after undergoing three major surgeries in 22 months. Creek missed all of last season after tearing his left Achilles in October. But like he did after his previous two injuries, Creek stuck with the rehab program and says he is ready for the upcoming season.
"I feel like I'm back where I should be," Creek said at Thursday's media challenge. "I'm getting stronger every day. I'm full go now."
Even if that is true, a few questions still exist that can only be answered with time. First, can Creek stay healthy? Even though the injuries were freak accidents, Creek still has to prove he can make it through the season without another injury.
Second, if he can stay healthy, will Creek ever look like the player who showed so much promise early? As a freshman in 2009, Creek scored 31 points against a Kentucky team that boasted players like John Wall, Eric Bledsoe and Demarcus Cousins, and he scored in double figures in nine of the 12 games he played before being injured against Bryant University.
Creek had some bright moments during his sophomore campaign, but he didn't quite look like the player he was the season before. Creek scored in double figures in six of 18 games as a sophomore, with a season-high of 19 points coming in a November game against Evansville.
"I [still] feel like myself," Creek said. "There are some things I need to improve on, but that's an everyday thing. … I feel like I have some things that I've got to show since I haven't been on the court in a while."
And third, how much playing time will Creek get this season given the Hoosiers' improved depth? Much of that will depend on the answers to the first two questions, and whether Creek can consistently knock down a 3-point shot.
Junior Victor Oladipo, for one, thinks Creek will play a significant role.
"He can help us a lot," Oladipo said. "Mo's been on the sideline watching, but he's still been a part of our program. He still can shoot the ball, nothing's changed. He's gonna help us a lot and play some significant minutes."
Bottom line: It's hard not to cheer for a guy like Creek. He's survived through three nightmare injuries, and he's back just in time for what could be a special season for the Hoosiers. If Creek can spread the court with a 3-point shot, he could see some significant minutes. Indiana already has most of the other offensive areas covered, but a reliable shooter can always get minutes on any team.
Quotable: "To be quite honest, I feel better than what I did two years ago. I just feel a lot stronger, a lot bigger." — Creek at Thursday's media challenge
Previously: Derek Elston, Christian Watford, Jordan Hulls
Filed to: Maurice Creek