2012-2013 Player Profile: Remy Abell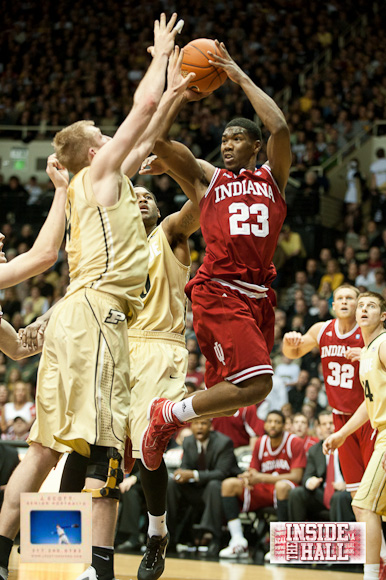 It's time for Inside the Hall's player-by-player breakdown of the 2012-2013 Indiana Hoosiers. Today: Remy Abell.
Key stats: 3.0 ppg, 0.9 rpg, 0.5 apg, 40 3P FG%, 79 FT %, 8.3 mpg
Even though he moved in and out of the regular rotation last season, Remy Abell proved to be a pleasant surprise for the Hoosiers. The Louisville, Ky. native hit several key shots throughout the year, and he grew into a quiet, fearless leader on the court by the end of his freshman season.
Abell had his standout game of the season at Purdue in February when the then-freshman guard scored 13 points on 5-of-6 shooting, including a huge 3-pointer that put the game away late in the second half. Abell went back to his smaller role after that game, but he was ready to step up when Verdell Jones III went down with an ACL injury in the Big Ten Tournament.
Outsiders questioned the Hoosiers chances in the NCAA Tournament without their senior guard, but Abell filled in admirably. He played 16 minutes per game in IU's three tournament games, scoring a total of 14 points and taking some of the ball handling pressure off of Jordan Hulls.
With that experience under his belt, Abell feels ready to contribute even more in his sophomore season.
"I definitely feel like I'm much improved, with my basketball game and with my strength," Abell said at last Thursday's media challenge. "It was big getting a lot more playing time, especially on a big stage like that NCAA Tournament. That stage right there was huge. It definitely is gonna help me coming into this season."
With the addition of point guard Yogi Ferrell, it's unclear exactly what Abell's role will be this season — or how many minutes he'll get. But Abell doesn't look at Ferrell's presence as a negative for him. He said all three guards (including Jordan Hulls) have gotten along well, and he believes the additional ball handler will greatly benefit the team.
"We're doing good, mixing up the back court and doing different things," Abell said. "We can all handle the ball, so whoever gets it, the other person can just get out and run and try to get easy buckets."
Bottom line: Because of Ferrell's presence, there's a strong possibility Abell will see some more time as the off guard than he did a season ago. Given that, it will be important for Abell to knock down open outside shots when he gets them. If he does, he could be part of Crean's regular rotation. If not, he could be lost on the bench as the season goes along.
The biggest thing about Abell is he gives the Hoosiers something few other players do: a fearless edge on the court. Even though he was just a freshman last year, Abell never shied away from any situation, a quality that has the tendency to become contagious.
Quotable: "I just want to work on my jump shot, hit it more consistently. I know I can get to the rim, but if I know that I can hit that,  I can open up more shots for my teammates." — Abell at last Thursday's media challenge
Previously: Derek Elston, Christian Watford, Jordan Hulls, Maurice Creek, Victor Oladipo, Will Sheehey
Filed to: Remy Abell