2012-2013 Player Profile: Yogi Ferrell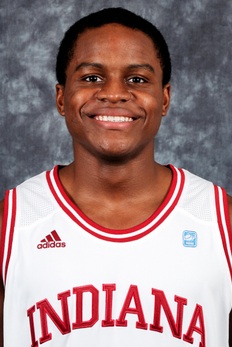 It's time for Inside the Hall's player-by-player breakdown of the 2012-2013 Indiana Hoosiers. Today: Yogi Ferrell.
During his IU Auditorium speech in September, Indiana coach Tom Crean hinted at the fact that a freshman would likely be in the starting lineup this season. Most people immediately assumed that freshman was point guard Yogi Ferrell, and rightly so.
The Park Tudor product adds an element to the Hoosiers roster that it didn't previously have. He's a true point guard, complete with solid passing skills, sparkling quickness, and a good understanding of the game, and he is a major upgrade over Jordan Hulls and Verdell Jones III. Hulls and Jones did an adequate job running the offense for the Hoosiers last season, but neither was a true point guard. Ferrell's presence will allow Hulls to move to the off-guard position, a spot that better suits him because of his shooting ability.
Crean also recently mentioned that Ferrell will be used a great deal to pressure the ball full-court. Crean called it a "one-man press," similar to what the Hoosiers did with Victor Oladipo last season. Only with Ferrell, Crean won't have to move a player off the ball to pressure. The opponent will either have to bring the ball up with an off-guard, or have their point guard be pressured by Ferrell. Either way, it will take the opposing team out of its regular offense.
One of the major challenges for Ferrell will be adapting to playing man-to-man defense. He played mostly zone in high school, and Crean said it has taken a bit of time for him to adjust to the difference. Also, if Ferrell and Hulls are on the court at the same time, the two guards will have to learn to play together on the defensive end.
On the offensive side, Ferrell should open up so many things for the Hoosiers. His quickness and uncanny ability to get in the lane will open up shooters on the perimeter (i.e. Hulls, Will Sheehey, Christian Watford, etc.) and draw Cody Zeller's defender away from him. If not, Ferrell is plenty capable of finishing at the hoop himself.
Bottom line: There's no doubt Ferrell is going to make a significant impact during his freshman campaign. Even though Crean has always stressed how difficult it is for a freshman to play the point guard position, Ferrell is undoubtedly the most ready of new freshmen to step in and contribute right away. His quickness likely rivals any player in the Big Ten already, and he won't be counted on it do it all alone. The duo of Ferrell and Zeller could be something truly special to watch this season.
I expect Ferrell to see 25-30 minutes per contest, and it's not out of the question to think he could average a double digits in points and rack up over 10 assists in some games. He certainly has plenty of weapons to throw it to.
Quotable: "We just bring another level of toughness. It's not really 'the movement' anymore. We're just all Hoosiers. Now that we're here, we're just all one complete team. We've got one goal in mind and that's a national championship." — Ferrell at the IU media challenge on what the freshman class brings
Previously: Derek Elston, Christian Watford, Jordan Hulls, Maurice Creek, Victor Oladipo, Will Sheehey,Remy Abell, Cody Zeller, Austin Etherington
Filed to: Yogi Ferrell