2012-2013 Player Profile: Cody Zeller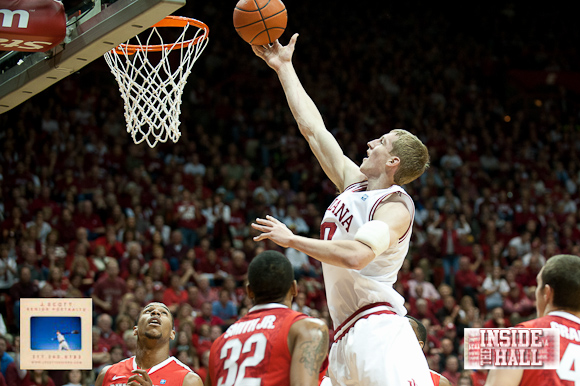 It's time for Inside the Hall's player-by-player breakdown of the 2012-2013 Indiana Hoosiers. Today: Cody Zeller.
Key stats: 15.6 ppg, 6.6 rpg, 62.3 FG%, 11.2 OR%, 75.5 FT%, 67.3 free throw rate
When Cody Zeller signed a National Letter of Intent to play for Indiana on Nov. 11, 2010, he was immediately tabbed as the savior of Indiana basketball. And while such a title is unfair to place on one player, Zeller has lived up to every expectation cast upon him and then some.
As he enters his second season in Bloomington, the expectations have ratcheted up another level. Big Ten Player of the Year and National Player of the Year are two of the many preseason accolades he's already collected. But having followed Zeller closely since he was finishing up his sophomore season at Washington High School, it's become clear that outside expectations don't have much of an effect on him. That's because he expects and demands more out of himself than anyone else.
So what, precisely, can Zeller do to follow up on a debut season that was phenomenal?
Tom Crean has touted Zeller in recent interviews as the most improved player (along with Will Sheehey) on the roster and that could end up being scary for the Big Ten. Now a true 7-footer, he's added 15 pounds of muscle since the end of the season. He'll likely begin the season at close to 240 pounds after weighing 212 when he arrived on campus in June of 2011. The added weight doesn't figure to slow him down at all, which is important for arguably the nation's best running big man.
A perimeter game for Zeller, who didn't operate much offensively outside of eight to ten feet a season ago, may also surface. "I kind of have to, just because I don't want to be double teamed the whole game," he said recently at the IU media challenge. "We'll kind of move me around a little bit just to kind of make it tough to double team." The ability to knock down mid-range shots or even 3-pointers isn't necessarily something new for Zeller. He did it regularly in his prep and AAU career, but integrating it into his game at Indiana will make him even tougher to cover.
Rebounding will also be another point of emphasis for IU's sophomore center, who led the team as a freshman. The Hoosiers ranked eighth in defensive rebounding during Big Ten play last season and Zeller figures to be a key to improvement in that area.
Bottom line: There's a strong case to be made that Zeller is the premier player in all of college basketball. He makes everyone around him better and his efficiency in scoring the ball is remarkable. As a sophomore, he projects as an even more well-rounded player who should benefit tremendously from an offseason where he keyed on strength, conditioning and footwork. Another factor that could come into play for Zeller is becoming more of a vocal leader, an area that didn't show itself much in games last season. If the Hoosiers are to hang banner No. 6 in April of 2013, Zeller will be front and center in their efforts.
Quotable: "I don't really care (where we're ranked). The beginning of the season doesn't matter too much. We're trying to be ranked No. 1 at the end of the season, so we're not really worried about it at the beginning of the season." – Zeller at the media challenge
Previously: Derek Elston, Christian Watford, Jordan Hulls, Maurice Creek, Victor Oladipo, Will Sheehey, Remy Abell
Filed to: Cody Zeller