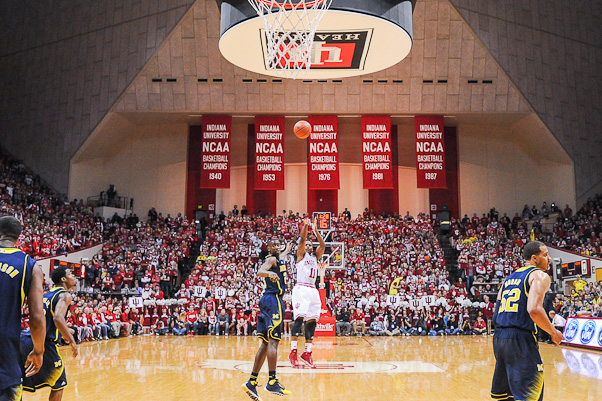 ANN ARBOR, Mich. — Just over a month ago, then-No. 10 Michigan came into Assembly Hall on a 10-game winning streak. It left with a 63-52 loss, its third straight defeat at the hands of the Hoosiers and one of Indiana's four wins over ranked opponents in the 2013-2014 season.
Since then, the No. 12 Wolverines (22-7, 14-3) have gone on to win the outright Big Ten regular season title. The Hoosiers (17-13, 7-10), meanwhile, have continued their up-and-down season — most recently losing by 10 points, at home, to Nebraska on Wednesday.
That 31-game regular-season slate ends today at 6 p.m. in the Crisler Center, as both teams face each other, once again. But the Hoosiers don't expect a similar matchup to that on Feb. 2.
"They'll adjust and we'll adjust," Indiana coach Tom Crean said on Friday. "That's part of it. They'll have different things and we'll have different things. We'll just see what happens when the game comes."
During that February game, the Wolverines' first loss of the Big Ten season, the Hoosiers held the nation's No. 3 offense to its lowest-scoring output of the season. In fact, it's the only time this season the Wolverines were held below 60 points.
That game, the Hoosiers employed certain switches on defense that baffled the Wolverines — that according to Michigan coach John Beilein.