News and notes from Tom Crean's radio show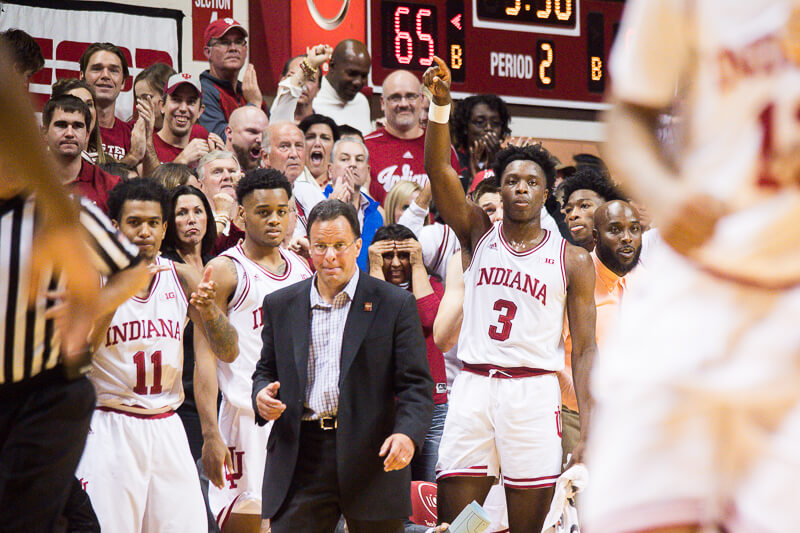 Inside IU basketball with Tom Crean was live on Monday evening from the Holiday Inn in Bloomington. The Hoosiers had three games in five days and are now 7-1 following wins over No. 3 North Carolina, Southern Illinois University Edwardsville and Southeast Missouri State. Collin Hartman was the player guest.
Below are news and notes with comments from Crean and Hartman on Monday evening:
· After playing four games in an eight-day stretch, Crean said it's been a while since IU had a real practice. His main concern is it's been hard to work on some of the things they need to work on. Things slow down a little bit over the next week and Crean said it'll be good to have some time to go against each other and work with lineups a little bit.
· Crean on the atmosphere against UNC: "Tim Garl (longtime IU athletic trainer) has seen every atmosphere possible and he's been there for so many years. He was literally blown away by that level. He usually texts about our injury update late at night but he usually doesn't text at the fact at how great that crowd was. He's seen it all. Bottom line is when you get a guy like Tim excited, it's a special night. The energy in the building never waned. There's nothing like it…it gave our players an incredible amount of strength."
· Defensive improvement: Last year through eight games, IU allowed opponents to shoot 45.5 percent from the field and 36.7 percent from behind arc. This year through eight games, IU is holding opponents to 37.4 percent from the field and 26.4 percent from the 3-poing range. Crean said, "We're getting better, no doubt about it. A year ago we were left for dead on the side of the road." Specifically, defensive rebounding has improved from everyone, including guards.
· Crean's comments on Juwan Morgan stepping up to fill in during OG Anunoby's absence: "Juwan comes in and takes over the starting role and puts up a double-double. He's becoming a leader, taking responsibility vocally, rebounding well, defending well and making shots." Morgan was 12-12 from the field over IU's last two games and led the way on defense and rebounds.
· On De'Ron Davis increasing playing time: "We knew it was coming, and it'll get even better. It's just a matter of time, playing longer stretches, learning how to play with Thomas (Bryant), it opens up so many more options through the post." If Davis can play the post, that allows Bryant to move around the perimeter more.
· Concerning Anunoby, Crean said it's difficult for anybody to come in and make up the way he makes shots and plays defensively. But they've made up for the loss in rebounding, with Morgan and Davis especially. Right now, his status is "day-to-day, we'll see how it goes," according to Crean. He mentioned Anunoby has been doing mechanical work shooting from the chair working on follow through and building range.
· For Josh Newkirk adapting into his leadership role: "The bottom line is that he needs to make better decisions with the ball, he's making some turnovers right now that can't be made but he's shooting the ball better." Crean also emphasized there are times where IU is out on the court looking at each other, and that's when Newkirk needs to take command of the team.
· IU is off until Dec. 10 when it faces Houston Baptist at home. Crean's comments on the matchup: "They score a lot of points, their average time of possession is 15 seconds so they have a fast pace of game. We don't want to be out there trading baskets, we want to get out and get our break. But this week is time to get ourselves better and focus on them later in the week."
· Hartman's comments on the team this season: "They're extremely talented, they have all the talent in the world. They're smart guys and they love to win. Put all that together with a little bit of experience, a lot of coaching, and it's dangerous."
· Crean has given Hartman new roles to focus on inside practices and games. Hartman said his experience makes it easy for him to give tips to the younger guys with things to tweak or tips of how to improve. One guy that Hartman said has impressed him is Zach McRoberts. "He's diving on the floor for balls, has high energy, moves the ball, makes hustle plays, crashes the boards, that kind of thing. It's not on stat sheet, but it keeps game going."
Filed to: Tom Crean