Defense fails IU in 83-78 loss to Butler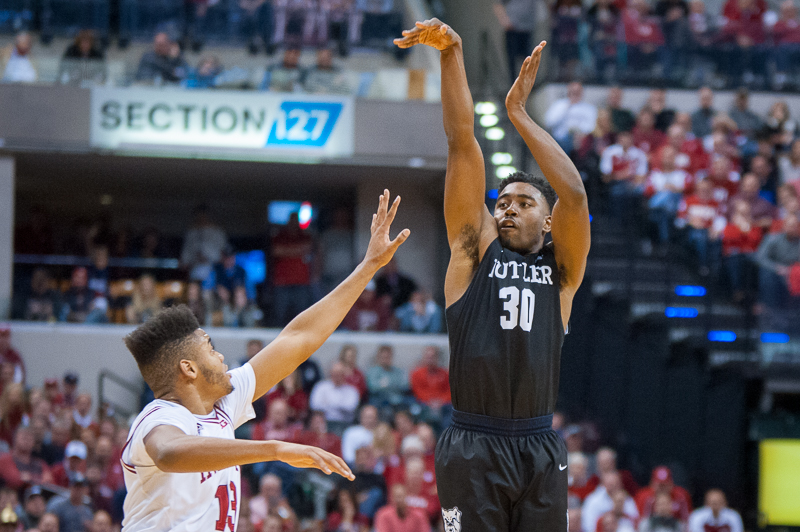 After an uneven and at times unmotivated effort on defense, IU had the chance to erase its mistakes.
But trailing by two with 15 seconds remaining, the Hoosiers gave up a wide-open dunk to Butler's Tyler Wideman on an out-of-bounds play.
The misunderstanding down low between Thomas Bryant and his teammates was the final straw in Indiana's 83-78 loss to Butler in the Crossroads Classic at Bankers Life Fieldhouse.
Not only did the Hoosiers struggle on defense, their offense also had issues in the first half. Indiana rushed 3-pointers and they weren't falling (0-of-8 in the first half). The result? A 42-28 deficit that ultimately proved too much to overcome.
"It was a mindset thing and an energy thing," James Blackmon Jr. said. "That's what we were upset about by the way we came out in the first half. We can't let that happen. We gave them too much confidence at the beginning of the game and it put us in a hole."
Without the 3-point shots falling, IU couldn't string together enough offense elsewhere to knock off its third ranked opponent this season. And it also couldn't stop Kelan Martin. The Butler junior poured in a game-high 28 points.
"We gave him rhythm shots and we didn't have our hands up all the time," Blackmon said. "He got in the groove, we gave him open shots and that's what scorers need."
IU had trouble guarding Martin all night and tried several different guys on him defensively. Nothing worked besides a few possessions early from Robert Johnson and a few late by Josh Newkirk. At one point, Martin scored eight consecutive points.
"We didn't guard well enough," coach Crean said. "What beat us is our tenacity, our hands and our communication on ball screens. They [Butler] got comfortable, when they get comfortable, the rim looks a lot bigger."
Blackmon attempted to balance the production from Martin, adding 26 points for the Hoosiers with 16 coming in the second half. After shooting just 32.3 percent in the first half, Indiana bounced back in the second half and shot 57.1 percent.
"When the shots aren't falling we have to have something else going for us," Blackmon said. "And in the first half, we didn't have anything going."
The Hoosiers out-rebounded the Bulldogs 42-26, but committed 13 turnovers compared to just six for Butler. Thomas Bryant added 15 points and Johnson had 11. Juwan Morgan and OG Anunoby, however, looked a little flat.
After two and a half weeks on the sidelines, Crean said Anunoby had trouble getting going on defense and getting back into rhythm. Morgan, who had four blocked shots, was injured earlier in the week in practice and was only cleared to play Saturday morning, according to Crean.
"Those aren't excuses, just things we have to deal with," Crean said. "This is the second time this year we've let our lack of offense affect us on the other end. I never liked our spirit defending and I'm going to be really, really, really disappointed when I look at the film. Having a hand up in the face is not good enough at this level."
The loss, Indiana's second to an in-state opponent this season, dropped the Hoosiers to 8-2. Indiana has two more tune-up games this week against Delaware State and Austin Peay before Big Ten play begins in 11 days against Nebraska.
Filed to: Butler Bulldogs, James Blackmon Jr., Tom Crean