News and notes from Tom Crean's radio show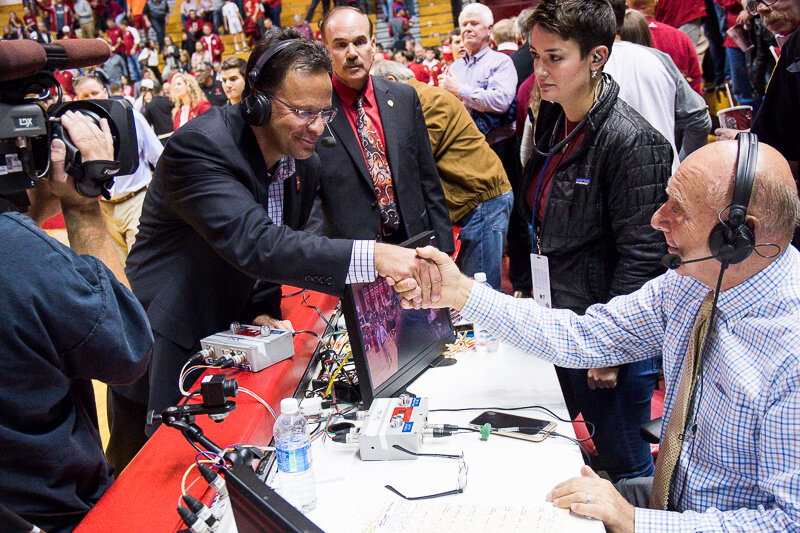 Inside IU basketball with Tom Crean was live on Monday evening from the Holiday Inn in Bloomington. This week, Crean discussed leadership concepts, answered questions from fans and previewed IU's matchup on Saturday in the Crossroads Classic against No. 18 Butler. Sophomore walk-on Zach McRoberts was the player guest.
Below are news and notes from Crean's comments on Monday evening:
· Crean on the approach to leadership this season: "I've never been on a team where we took senior leadership for granted, it's something you always nurture and build towards. But when you don't have it, you definitely feel it. They've got to be the ones that do it so it becomes second nature for them. We want a player-driven team, those are the best teams and that's what were trying to work towards."
· With IU rounding out its stretch of pre-conference home games, Crean emphasizes how important responsibility will be going forward to play away or at neutral sites. "I use the term responsibility so much this year. It's not just the responsibility of playing, of your assignment, of knowing the scheme, or what we're doing or execution, but it's the responsibility you have to have for each other and you can't be afraid to say what needs to be said."
· Crean's takeaways from IU's 103-61 win against Houston Baptist: "I thought we came out with a really strong mindset and they made a couple plays early and we just started to go. We didn't play as well in the first half as we could've offensively, but we got better inside the game and we were good in the assist mark, we kept them off the foul mark and we wanted to make sure our rebounding was strong. There was a great cohesiveness there."
· This week, IU is ranked No. 2 in the nation in defending the three-point shot, holding opponents to an average of 25 percent from behind the arc. Crean said they added some things on Monday that will make them even better in that category. The keys: don't over guard and don't over help.
· On the progress Crean's seen so far from Zach McRoberts: "We're asking a lot of him. He can improve defensively and with the rebounding. But that's a good thing. He's such a hard worker and he's getting things done for you and you know he can get a lot better and that's really what you want."
· Crean gives the latest updates on Collin Hartman's health saying he's working hard and rehabbing: "He's still doing an incredible job for our team. He's as valuable to us as anyone on the court because of the mentality he helps bring to them while they're on the court. The sense of purpose, the sense of comfort he brings and his leadership has been phenomenal."
· Crean on the aggressiveness of Thomas Bryant on the boards: "That's a point of emphasis everyday. It's been a huge part of the season. Those numbers needed to jump up and he's fully capable. He did that. He's really aggressive and that needs to keep up."
· Crean's comments on the IU matchup against Butler: "They don't beat themselves. They take care of the ball and they're moving the ball at a very, very good rate. The ball movement and the shooting is at another level and it's hard to deal with and we're going to have to be really good defensively."
· McRoberts on his defensive style: "I just want to find open guys if I can. I'll shoot it if I have to but I'm always looking to move the ball and hit the open man. Defense has always been fun for me."
Filed to: Tom Crean