News and notes from Tom Crean's radio show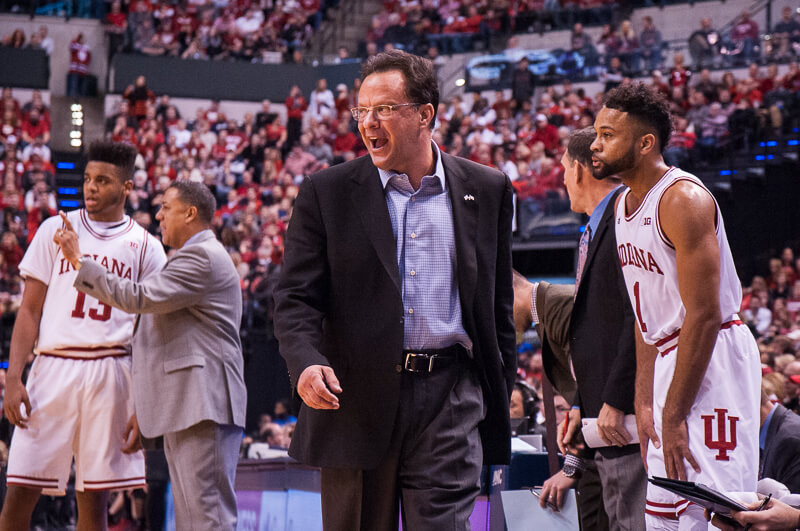 Inside IU basketball with Tom Crean was live on Monday evening from the Holiday Inn in Bloomington. Crean broke down the losses against Nebraska and Louisville and where the Hoosiers went wrong, both on offense and defense. Freshman De'Ron Davis was this week's player guest.
Below are news and notes with comments from Monday evening:
· Crean on the Nebraska loss: "We didn't come out there with the level of edge we needed in the sense of figuring out how to play the game. We were too fast at certain points with some turnovers. We didn't defend nearly as well as we needed to early on and we let them get their speed going. We didn't play close to efficient enough. The turnovers at times bordered on ridiculous."
· Big problems during both of IU's losses this week were turnovers and failing to understand the pace of play. Things got out of control when IU tried to make things happen too fast and it let the opponent get into the momentum it wanted. This led to problems on both ends of the court, when the Hoosiers couldn't get into their own style of play.
· Crean said during the Louisville game he called a 30-second timeout to switch into a box-and-one defense. The team had never practiced it before but he said: "It wasn't a complex defense, but it was good because everyone was locked in. We're smart enough to do those things where they know they have to talk. There were a couple times when Donovan Mitchell got hot and it's absolutely ridiculous we didn't have one or two guys that stepped up and said 'I'm going to get this done, and I'm going to make sure he doesn't get the ball.' It shouldn't be a situation where we have to call a timeout and switch the defense."
· Crean attributed much of IU's offensive struggles against Louisville to footwork. He said, "It wasn't bad shots, it was good shots taken badly." More specifically, they didn't move well to shoot the ball and the first dribble down in the post didn't get them to the right spot. "A lot of this happened because we had to rush shots. We were a step slow to get where we needed to be."
· On Juwan Morgan and OG Anunoby on the defensive end, Crean said, "I'd put them on any player in America, no question about it. Guard, forward, big man, wouldn't make a difference. When the two of them are together, you'd think we'd be good. But when the two of them come together and they don't say a word, they miss a wide-open three. That's not going to happen very often, but it happened in a crucial part of the game."
· Crean's thoughts on the team's overall defense: "Our lack of concentration catches us, our lack of having our hands up catches us and our lack of being aggressive sometimes catches us. We took a step back in the last few games and we over-helped. That's a lack of being down and a lack of grit and concentration span. That's not where we need to be."
· Devonte Green was injured during the Nebraska game and did not play against Louisville. Crean said hopefully he'll be back against Wisconsin; if not, definitely for Illinois on Saturday. "We missed him the other day. He's a guy that can put some heat on the ball and hit open shots. He sometimes gets a little too fast, but he's fearless, no doubt about that."
· Crean on playing with courts with NBA 3-point lines: "We see it everyday. There are permanent 3-point lines in Cook Hall and we tape them down in Simon Skjodt Assembly Hall everyday. Not just to shoot 3s from NBA range, but for our spacing. It's so important to space behind that line."
· Crean's comments on Tuesday's matchup against Wisconsin: "They are the most experienced team in the country and they play like it. They pass the ball quickly and they pass the ball effectively. They have the best interior spacing, they play outside in, inside out. We're going to have to play really, really well. We're going to have to be relentless on that glass, ball movement, getting up and down the court and not let their defense slow us down."
Filed to: Tom Crean