News and notes from Tom Crean's radio show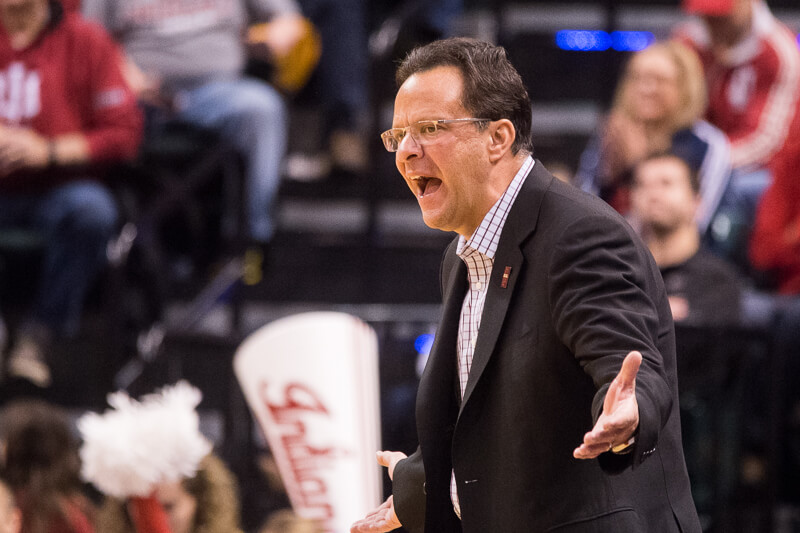 Inside IU basketball with Tom Crean was live on Monday evening from the Holiday Inn in Bloomington as the Hoosiers prepare for Wednesday's Big Ten opener against Nebraska and Saturday's non-conference showdown with Louisville. Freshman Grant Gelon was this week's player guest.
Below are news and notes from Crean's comments on Monday evening:
· Crean said it was hard for OG Anunoby in the first half of the Butler game, just as it was hard for Juwan Morgan in the second half of that game because of the time that both of them had missed. "You can't come back from injuries and being out and just expect that you're going to play well as soon as you lace them up in the game," Crean said.
· Indiana isn't as consistent as it needs to be with its speed yet, according to Crean. "Most of that falls on my decision with the guard play. We've gotta make the decision: Are we going to be a 3-guard lineup or are we going to put somebody else in there? Because we end up feeling our way through it a little bit too much with our break and we don't get the sprinting up the court that we need to have."
· Crean said that Gelon is "getting better," but added that he needs to "become more confident with his approach."
· On the status of Juwan Morgan: "He played fine last week. Definitely improving. We see nothing that's holding him back."
· Indiana had a long practice on Monday night, according to Crean. The team left after Thursday's game and had Friday and Saturday off before returning by 8:30 on Sunday.
· Crean said that he doesn't like bringing the players back to campus on Christmas, but said that there's no way around it when there's a game on the 28th.
· On Nebraska: "They are very good off the dribble. They are a different team than what they have been the past couple years. They are really, really attacking off the dribble with Glynn Watson and Tai Webster. They can move the ball, there's no doubt about that. I think their ball movement is excellent and they drive to get fouled. We have to have great awareness and we have to give that cushion, defensively, not just because of how the rules are but because these guys are very adept at creating contact. They are physical inside – Michael Jacobson and Ed Morrow – those guys are doing an excellent job of playing with physicality. They probably spend 70-80 percent of the game in ball-screens. I don't know the exact percentage but it is very, very high. We have to do an excellent job in out ball-screen coverage and our weak side defense. They are really doing a good job of keeping the game moving."
· On Louisville: "Louisville is outstanding. They are outstanding. They are playing with great speed. They are certainly one of the bigger teams in the country. They block a lot of shots. They play very physical. They are extremely well coached, that's obvious because they always are. We are going to have to really, really deal with their pressure. We have to be great on the glass and we are going to have to be really good at not only taking care of the ball but creating open shots. I think the shot blocking and the size of Louisville will be different than anything the guys have seen, including Kansas and North Carolina, when it comes to the overall size. Those were outstanding teams obviously – Kansas and North Carolina – and big teams, but when it comes to the length and the size and the shot blocking ability, that's what we will really see from Louisville. It's just and important week, as every week is, to keep getting better and better."
Filed to: Tom Crean