What to Expect: Nebraska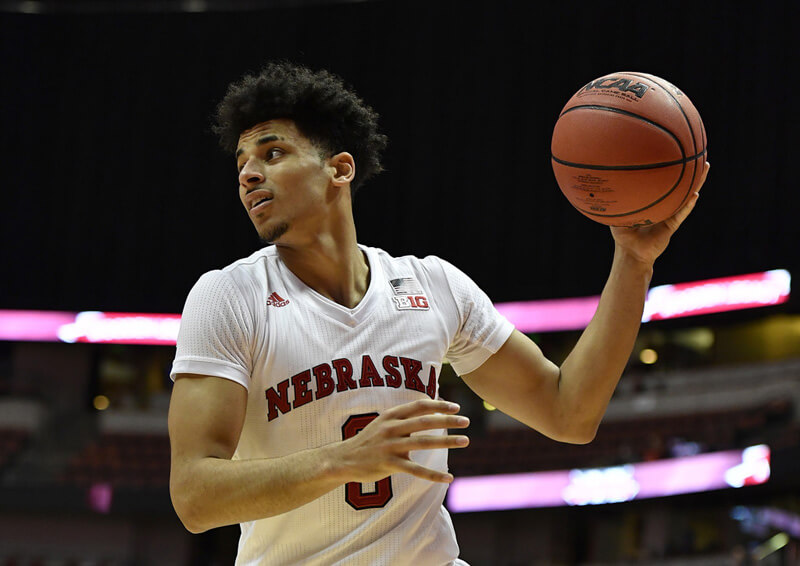 Indiana opens conference play on Wednesday night with Nebraska at Simon Skjodt Assembly Hall. The Cornhuskers are 6-6 and are coming off an 81-76 win over Southern that snapped a three-game losing streak.
The game will be broadcast at 6:30 p.m. ET on BTN with Cory Provus and Shon Morris on the call:
Indiana's regular season Big Ten championship defense begins Wednesday. The Hoosiers will tip off league play against a Nebraska team that is struggling to find an identity after losing its two best players in Shavon Shields (graduation) and Andrew White (transfer).
The Hoosiers have the two best non-conference wins of any Big Ten team in Kansas and North Carolina, but also have a head scratching loss to Fort Wayne and a neutral court loss at Butler. There's still a chance to claim one more marquee non-conference win on Saturday, but the immediate focus is Nebraska on Wednesday.
Indiana won the Big Ten a season ago in part because it dominated games on its home court. The Hoosiers went 9-0 on Branch McCracken Court last season in league play, winning its home games by an average of 15.9 points. With a 26-game winning streak in Bloomington on the line, can IU continue the dominance?
MEET THE HUSKERS
Since a surprising NCAA tournament appearance in 2014, things have been moving in the wrong direction in Lincoln.
The Huskers are just 35-42 overall since the 2013-14 season. A 6-6 start this season suggests another losing season is likely. Given the investment Nebraska has in basketball with Pinnacle Bank Arena and an impressive practice facility, Tim Miles may be feeling some pressure to show some progress the rest of the season.
Nebraska is driven primarily by a pair of guards, senior Tai Webster and sophomore Glynn Watson. Webster arrived in Lincoln as a promising recruit from New Zealand, but was underwhelming in each of his first three seasons. As a senior, he's one of the Big Ten's best guards. In 12 games, Webster is averaging 17 points, 5.1 rebounds and four assists per game. He's shooting 45.7 percent from the field, 34.8 percent on 3s and 76.9 percent from the foul line.
Webster is most effective as the ball handler in ball screens, according to Synergy Sports. In 79 such possessions, he's scored 69 points. That ranks in the 70th percentile nationally. Webster is also very good at drawing fouls as he boasts a free throw rate (FTA/FGA) of 45.1 percent against Division I opponents (one of Nebraska's wins was against a non-D1 team).
The 6-foot Watson is averaging 12.6 points and is Nebraska's second most efficient offensive player behind Webster. Watson is also most effective as the ball handler in ball screen situations. In 74 possessions, he's scored 62 points, which ranks in the 64th percentile nationally.
Evan Taylor, a 6-foot-5 junior college signee who took the scholarship vacated by White, has started the last two games in the backcourt. He's a low usage offensive player who is shooting just 42.9 percent from the field.
Anton Gill, a transfer from Louisville who sat out last season, has been a disappointment. A former top 75 recruit nationally, Gill is shooting just 27 percent and is averaging 3.8 points in 17.3 minutes per game off the bench. (Update: Nebraska announced Tuesday afternoon that Gill is out for the season with a ruptured patella tendon.)
The two primary names to know up front are sophomores Michael Jacobson and Ed Morrow. The 6-foot-7 Morrow is a terrific offensive rebounder (15.1 OR%, 27th nationally). He's third on the team in scoring at 10.3 points per game and leads the Huskers in rebounding at 8.4 per game. As great of an offensive rebounder as Morrow as has been, he ranks in just the 32nd percentile nationally in scoring off of putbacks. According to Synergy Sports, Morrow has scored just 31 points on 32 putback attempts.
The 6-foot-9 Jacobson is a solid shot blocker (4.9 block percentage), but brings very little offensively. Jacobson is shooting just 38.8 percent on 2s against Division I competition.
The remainder of the frontcourt rotation consists of three freshmen and a sophomore. Jeriah Horne, a 6-foot-7 freshman, has showed promise in limited opportunities. Horne owns a team-best 61.1 effective field goal percentage against Division I competition. In Nebraska's win over Southern, Horne scored a team-high 18 points off of the bench.
Isaiah Roby, a 6-foot-8 freshman and Jordy Tshimanga, a 6-foot-11 freshman, should also see some time on Wednesday. Tshimanga is averaging 3.8 points and 3.6 rebounds in 10.3 minutes per game, but is averaging 8.5 fouls per 40 minutes. Roby is just 1-of-10 on 3s.
Sophomore Jack McVeigh, who has started 10 times, appears to be falling out of the rotation. McVeigh played just seven minutes against Southern and didn't score.
TEMPO-FREE PREVIEW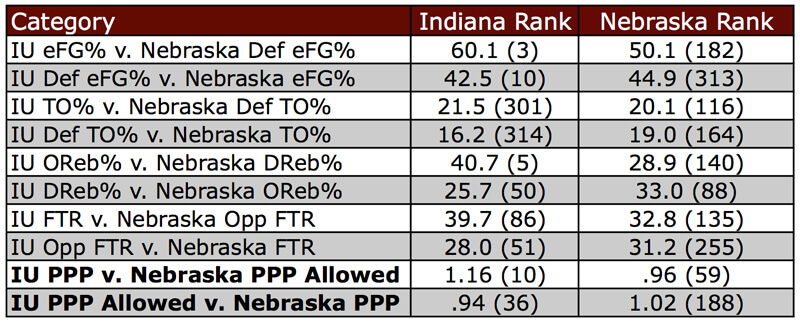 As the numbers above show, Nebraska is really struggling offensively. The Huskers are just 313th nationally in effective field goal percentage and currently have the Big Ten's worst offense according to Ken Pomeroy.
If Nebraska is going to make it a game on Wednesday, capitalizing on Indiana turnovers and playing solid defensively are the two keys. The Huskers do a decent job of defending without fouling, but have been very poor at defending the 3-point shot. Opponents are shooting close to 38 percent on 3s against the Huskers.
This should be a good opportunity to get an idea of Indiana's defensive progress. Nebraska has scored over a point per possession in just one of its six losses. And four teams (Virginia Tech, Clemson, Creighton and Gardner-Webb) have held Nebraska under .90 points per trip. Against a below average offensive team, Indiana needs to put down the clamps defensively.
WHAT IT COMES DOWN TO
KenPom's model projects a comfortable 15-point win for Indiana and Sagarin likes the Hoosiers by close to 17 when adjusted for home court.
With a pair of top 15 teams in Louisville and Wisconsin up next, this is an important contest for Indiana to stay sharp and avoid looking ahead. The Hoosiers didn't have Juwan Morgan in the second half against Austin Peay and are still getting OG Anunoby back into the swing of things after he missed several games with an ankle injury. Both players are crucial to Indiana and the Hoosiers have beaten two of the nation's elite teams when they've been completely healthy.
IU's first three Big Ten games are at home and Wednesday's is the first step in getting a win to begin a quest for a third league crown in five seasons.
(Photo credit: Robert Laberge/Getty Images North America)
Filed to: Nebraska Cornhuskers