Big Ten Power Rankings: December 26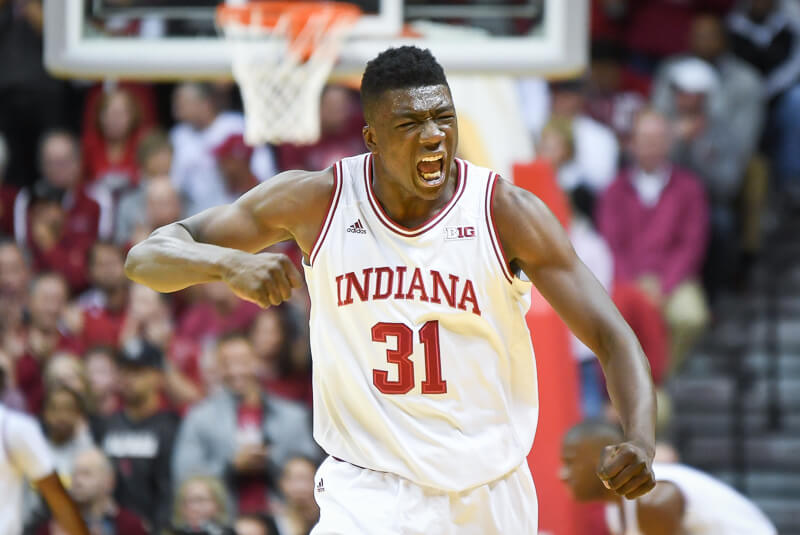 The Inside the Hall Big Ten Power Rankings are back for another season as conference action begins this week. In this special non-conference edition of the rankings, we look at each team's performance this season so far. Here's a look at where each team stands heading into league play:
14. Rutgers (11-2, 1.03 points per possession, .99 points per possession allowed) … The Scarlet Knights are improved, but for now we're keeping them in the conference cellar. There's no doubt that Steve Pikiell has Rutgers on the rise, but the 11-2 record is hollow. Rutgers has only beaten one team in the top 200 of KenPom and that was DePaul (No. 198). The Scarlet Knights are a poor shooting team (29.7 percent on 3s), but currently rank in the top 100 nationally in Pomeroy's adjusted defensive efficiency. Rutgers is also the nation's sixth best offensive rebounding team.
13. Nebraska (6-6, 1.02 PPP, .96 PPP allowed) … Aside from an early season neutral court win over Dayton, things haven't been going so well in Lincoln. Everyone knew the surprising transfer of Andrew White would hurt, but Nebraska is really struggling to score without him. How bad have things gotten? After a recent home loss to Garder-Webb, Tim Miles announced he was taking a hiatus from Twitter. On the bright side of things, senior Tai Webster (17 ppg, 5.1 rpg, 4 apg) has shown significant improvement through 12 games.
12. Penn State (8-5, 1.03 PPP, .97 PPP allowed) … The Nittany Lions were a popular pick in the preseason to take a leap up in the standings, but 13 games in, it could be another long Big Ten season in State College. With an infusion of talent, Pat Chambers has Penn State playing the 31st fastest pace in the country. Thus far, it hasn't translated to many significant wins. Penn State has home losses to Albany and George Mason and its best win to-date was at St. John's. The problems offensively for this team are widespread. Penn State doesn't shoot it particularly well, doesn't hit the offensive glass effectively and fails to get to the line regularly. That's not a recipe for success in conference play.
11. Iowa (8-5, 1.1 PPP, 1 PPP allowed) … Here's where things get difficult. Teams four through 11 are currently a jumbled mess. The Hawkeyes have been hot lately with five straight wins, including a victory at home over Iowa State. But it's impossible to ignore what happened before this winning streak: a four-game losing streak including a home loss to Nebraska Omaha. Like Penn State, Iowa is playing an up-tempo pace, but the problems in Iowa City are on defense. The Hawkeyes currently rank last of all Big Ten teams in adjusted defensive efficiency. Iowa should improve when freshman forward Tyler Cook returns and Peter Jok (23 ppg) looks to be on his way to All-Big Ten first team honors.
10. Maryland (12-1, 1.07 PPP, .97 PPP allowed) … The Terps have an interesting resume with one-point wins over Georgetown, Kansas State and Oklahoma State, a 14-point loss at home to Pittsburgh and then a bunch of wins over lesser opponents. Junior Melo Trimble is off to a strong start as he's making close to 60 percent of his 2s. Freshman Anthony Cowan is also proving to be a significant addition as his free throw rate (FTA/FGA) currently ranks first in the country. The same can be said for freshman wing Justin Jackson, who is making 47.4 percent of his 3s. The question looming is: Does Maryland have a big man capable of holding his own against the Big Ten's elite? Michal Cekovsky has been solid lately, but has yet to prove it against Big Ten opponents.
9. Illinois (10-3, 1.08 PPP, .97 PPP allowed) … The Fighting Illini have won six straight entering Big Ten play and three of the victories are over teams ranked 63 or higher in KenPom's ratings. Senior point guard Tracy Abrams, who sat out the last two seasons with injuries, is currently 15th in the country in 3-point shooting at 55.6 percent. And Malcolm Hill is averaging 18.4 points and 6.3 rebounds and providing senior leadership. Pomeroy's model still projects a losing record in league play at 8-10. But with the parity in the middle of the league, Illinois is a team that could outperform expectations and be in the conversation for the NCAA tournament at season's end.
8. Michigan State (8-5, 1.08 PPP, .96 PPP allowed) … It seems like every season Michigan State has a bump in the road early and the narrative is, "Tom Izzo and the Spartans will figure it out." The non-conference slate Michigan State played this season was brutal as four of the losses came to Arizona, Kentucky, Baylor and Duke. The fifth loss was the one that raised eyebrows, a home defeat to Northeastern. Still, it was a loss that came without Miles Bridges, who has missed the last five games with an ankle injury. Entering league play, Michigan State needs to take better care of the ball and find an identity on the offensive glass. Izzo's teams usually crash the boards relentlessly, but this group currently ranks just 170th nationally in offensive rebounding percentage.
7. Minnesota (12-1, 1.06 PPP, .92 PPP allowed) … Don't make your NCAA tournament travel plans yet Gopher fans, but a winning record in league play would make a return to March Madness a strong possibility. The Gophers own four KenPom top 100 wins and have just one blemish, an eight-point setback in the Big Ten-ACC Challenge against Florida State. Only Wisconsin and Purdue have a higher ranked defense than Minnesota, which is benefitting greatly from the shot blocking presence of Reggie Lynch. Offensively, the Gophers are taking care of the ball and getting to the free throw line. Despite not shooting it particularly well, that's been enough to win because of strong defense.
6. Ohio State (10-3, 1.08 PPP, .93 PPP allowed) … The Buckeyes are improved, but blew two non-conference games that give some pause. The first was a total collapse in the Big Ten-ACC Challenge at Virginia, a game where Ohio State gave away a 16-point lead. The second was a home loss in overtime to Florida Atlantic. Ohio State is a very good defensive team, but has work to do offensively. The Buckeyes are shooting a dreadful 32.5 percent on 3s and are shooting less than 66 percent from the free throw line. All of that said, after an NIT appearance last season, look for Ohio State to get back into the NCAA tournament this season.
5. Northwestern (11-2, 1.08 PPP, .95 PPP allowed) … The Wildcats have won eight straight and their two losses are by a total of six points to Butler (road) and Notre Dame (neutral). Northwestern has three players averaging in double figures with junior Scottie Lindsey (14.9 ppg) and redshirt sophomore Vic Law (13.7 ppg) leading the way. That duo has covered up a slow start for Bryant McIntosh, who is shooting 41.1 percent on 2s and 25.9 percent on 3s through 13 games. The Wildcats currently are the nation's third best shot blocking team and are allowing opponents to shoot just 41 percent on their 2s, which ranks in the top 20 nationally.
4. Michigan (10-3, 1.14 PPP, .97 PPP allowed) … Michigan played a challenging non-conference slate with six games against KenPom top 100 teams. The Wolverines split those contests with wins over Marquette, SMU and Texas and losses to South Carolina, Virginia Tech and UCLA. This is a balanced offensive team with three players averaging double figures in scoring and six averaging 8.1 or more points per game. Like almost all of John Beilein's teams, Michigan takes care of the ball and shoots it well from the perimeter. While it's unlikely that the Wolverines can break into the top three of the power rankings this season, they're currently the best of the second tier in the league.
3. Purdue (11-2, 1.15 PPP, .91 PPP allowed) … Purdue has just two losses and they both came to Final Four contenders in Villanova and Louisville. The rest of the resume to this point, however, is underwhelming. A neutral court win over Notre Dame is impressive, but beyond that, Purdue's best win is over Auburn. If you're a Boilermaker fan, this is why you should expect an NCAA tournament win for the first time since 2012: Caleb Swanigan and improved guard play. Swanigan has been a monster this season with averages of 18.3 points and 12.5 rebounds per game. He's currently third in KenPom's national player of the year standings. Junior Dakota Mathias is hitting over 50 percent of his 3s and P.J. Thompson is a steady presence at point guard who makes very few mistakes.
2. Indiana (10-2, 1.16 PPP, .94 PPP allowed) … The Hoosiers own two wins over teams in the top six of KenPom, which are the two best wins any Big Ten team has in non-conference play. Indiana's offense is ranked in the top 10 nationally and the defense is 36th nationally, a significant improvement over last season. The problem remains turnovers and Indiana ranks 301st in the country in taking care of the ball. That hasn't mattered for the most part as the Hoosiers are 21st nationally in 3-point shooting and 3rd in 2-point shooting. Assuming its younger players continue to improve over the course of the season, Indiana has as much upside as any team in the Big Ten.
1. Wisconsin (11-2, 1.16 PPP, .92 PPP allowed) … Another year, another top four finish coming for Wisconsin in the Big Ten. Last season, the Badgers finished 12-6, which tied for third place. This season figures to be another top three finish and with a favorable schedule, we're giving Wisconsin the inside track on the regular season league title. Two of Wisconsin's toughest games are coming early in the conference slate as the Badgers open at home with Rutgers before traveling to Indiana and Purdue. Bronson Koenig and Nigel Hayes get all of the headlines, but Ethan Happ is the best player in the league that nobody's talking about right now. Happ is averaging 12.9 points, 9.5 rebounds and 2.8 assists through 13 games.
Filed to: Big Ten Power Rankings