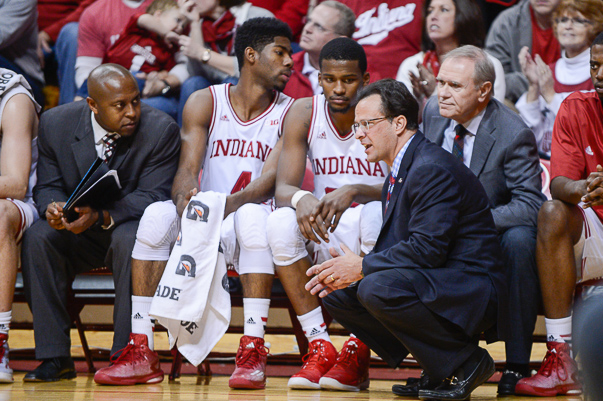 On Monday evening, Indiana coach Tom Crean spoke at his weekly radio show hosted by Don Fischer and recapped the Hoosiers' games against Louisville and Grand Canyon, while also looking ahead to finals week and the Butler game on Saturday.
Below are news and notes from what the Hoosiers' coach had to say:
· Heading into Indiana's game against Grand Canyon, Crean took note that it appeared his team did not lose focus by the lower-quality opponent following the game against No. 4 Louisville on Tuesday. When teams get distracted and don't take each opponent seriously, Crean said, the team loses sight of improvement and the distraction starts to seep into practices. But against the Antelopes, the Hoosiers maintained focus. And Crean said it's important the team continues to show that moving forward.
· Indiana's second-half performance against Grand Canyon was exactly what Crean was hoping for, especially after a first half in which the Hoosiers went 5-of-15 from plays through the paint. In the first half, the Hoosiers took too many shots after relaxing instead of playing for the best shot, and they led just 42-31 at the break. But in the second half, Crean noted, his team "dug a bit deeper" and played to get the best shot. The result: a 28-point win and a 37-of-43 rate from plays that went through the paint in the second half.
· Crean said that he has seen freshmen James Blackmon Jr. and Robert Johnson go "through walls already" in their short time in Bloomington, and that the two (along with freshman Max Hoetzel) don't stop working. In fact, Crean found the three on the court on Sunday — an off day — in a full sweat in between study halls.
· When asked about Blackmon's continued improvement, Crean said he is a great learner. After each practice, Crean said he asks "What did you learn today?" And the Hoosiers' coach always enjoys to hear his responses. As far as what Crean hopes Blackmon will improve on most: stepping back more – allowing more spacing for his 3-point shots.